If your cat is spotted, dotted, or speckled, you may want a name that reflects their pizazz. See if you can "spot" the perfect name for your feline friend on this list!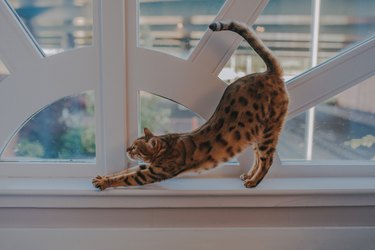 Names for female spotted cats
Anise
Bambi
Callie
Cheetah
Chevron
Chia
Chutney
Cinnamon
Cloud
Cookie
Daisy
Diamond
Dot
Dottie
Fawn
Fleur
Freckles
Ginger
Fleck
Gingham
Glitter
Honey
Ikat
Kisses
Ladybug
Latte
Licorice
Lucy
Mandala
Marshmallow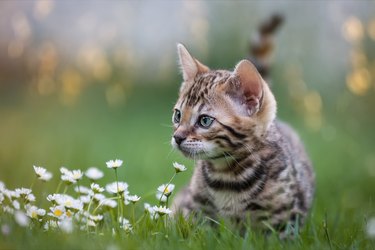 Midnight
Milky Way
Minnie
Mittens
Mocha
Paisley
Patty
Peanut
Pebbles
Pepper
Poppy
Queen
Saffron
Scout
Sesame
Snow
Sparkles
Speckles
Spice
Sprinkles
Starry Night
Strawberry
Sugar
Sundae
Tie Dye
Tiger
Twilight
Names for male spotted cats
Ansel
Argyle
Arrow
Atari
Basil
Besos
Blizzard
Boots
Bootsie
Bullseye
Buttons
Calico
Camo
Checkers
Chester
Chili
Chip
Chunk
Clove
Clover
Confetti
Constellation
Cowboy
Cumin
Dab
Damask
Dash
Dice
Dick
Domino
Doodle
Dumpling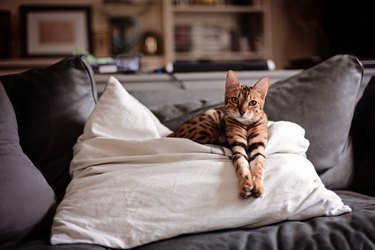 Dusty
Feather
Leo
Link
Lynx
Marbles
Moo
Orca
Parmesan
Patches
Pixel
Polka
Polkadot
Pollen
Pollock
Pongo
Pox
Rocky
Smartie
Snickers
Snowflake
Snowy
Socks
Spade
Sparky
Spot
Spottie
Stripes
Swatch
Turmeric
Twilight
Whale
Do you need more inspiration for your new pet's name?
Pets are like our children. We love them, care for them, and we get to dress them up in adorable outfits so it's extra important that we take time to find the perfect pet name that reflects their personality and potential. Because settling on a name for your new pet can be hard and emotionally wrenching (oh the indecision!), we've gathered nine pet-naming techniques to find the perfect fit, as well as assembled a handful of our most beloved lists of pet names below!