When the weather's bad and the days are short but you still want to keep your dog active, a living room agility course could be just the thing. In many cases, you can train your dog to treat the furniture and other items you already have as items for indoor obstacle courses. This might be easier if you have a small dog, but you can create a dog agility course for any size dog using some ingenuity and some fun items.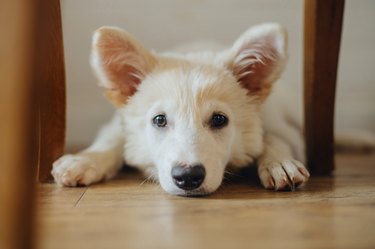 What is agility training?
You might think that dog agility training is just for competition or show dogs, but that's not the case! Any dog can benefit from obstacle courses or agility training. It's great mental stimulation as well as good exercise for active dogs, especially when weather or other issues may prevent you from taking your dog out or accessing his dog runs like you normally would. Agility training can be a great way to improve your dog's overall good behavior and increase the bonding between you two.
Small Door Vet describes dog agility training as essentially a timed obstacle course. The idea is to train your dog to complete a course of a few obstacles (the number doesn't matter so much as long as they are fun and safe for everyone) that your dog completes in a certain pattern. Usually, the dog is on a leash and the dog and the handler complete the course, in the sense that the handler is encouraging and keeping the dog moving between each obstacle.
Typical courses include play tunnels that the dog runs through; weave poles, which the dog runs through and around; jumps; and ramps. The agility equipment and obstacle courses you create can be specific to your dog, the space you have, what your dog likes to do, and the equipment you already have or that you want to purchase.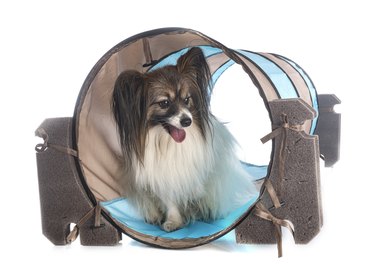 The benefits of agility training
The activities in an agility course are great exercise for a dog: running, jumping, weaving, climbing up a ramp, and more are great ways to keep active dogs happy, fit, and flexible. It can tire them out, and if your agility course is in your living room, you may not have to do more than speak commands from the couch! So if you're sick or the weather is terrible, you can still give your active dogs a good workout.
Obstacle courses reduce boredom. It's mentally stimulating, which could help you cut down on negative or destructive behaviors your dog may be experiencing, such as chewing, separation anxiety, or overzealous barking. Since the main element of obstacle course training for a dog is obeying commands, training can reinforce good behaviors such as your dog paying more attention to the things you are saying to your dog. Small Door Vet says many handlers report a feeling of increased bonding when they train their dog to run an obstacle course and they work on that activity together.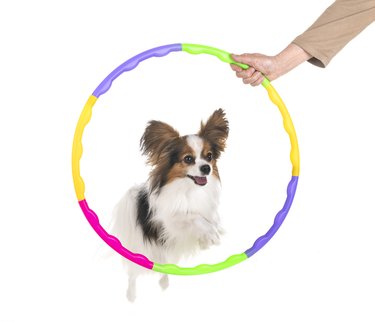 How to build a DIY dog agility course
A DIY dog agility course really is that—it's DIY based on the size of your dog, the equipment you have or want, and the space you have. It doesn't have to fit just in your living room either. Imaging one or two "stations" in your living room, one or two in your kitchen, one in your bedroom, and one in your bathroom, for instance. That way, you're utilizing the whole house and not having to move furniture.
Agility equipment can be very simple. When you're creating your own obstacle courses, take a look at what items you already have that will work.
The Bark says a play tunnel could be your coffee table with a blanket over it, or a cardboard box with the ends cut out.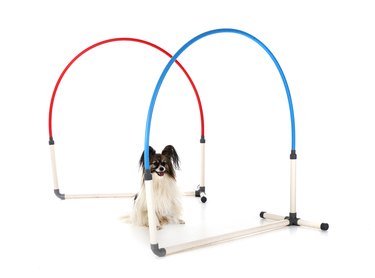 Weave poles are typically tall, slender sticks that are placed in a row that the dog weaves through. These can be anything that fits with the size of your dog. For instance, broomsticks or dowels on a stand so they stay in place, or even a few empty plastic flower pots.
​Jumping agility equipment​
A rolled-up blanket or low shelving can suffice for jumping agility equipment, especially if you have a small dog. This Old House provides plans for an entire agility course made of PVC pipe cut into lengths of different heights and fitted together. This could be an easy way to create a jump hurdle, or weave poles. A plank of wood on top of two stacks of books could also work for jumping agility equipment.
Small Door Vet cautions to get the OK from your vet if your indoor agility course is going to include jumping, because some dog breeds are prone to back problems (such as dachshunds and basset hounds) and jumping would not be good for them.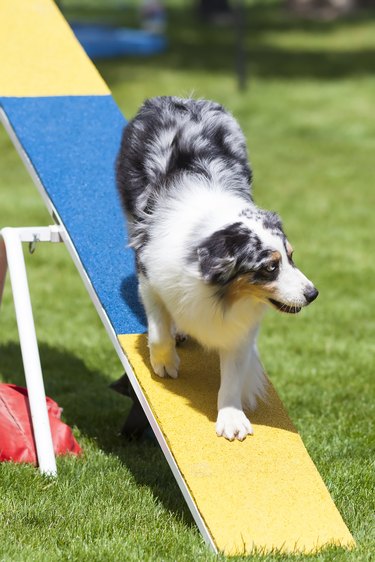 This Old House's agility course plans include a base for a teeter-totter made from PVC pipe, with a board attached to the top.
If you want to train your dog to jump through a tire jump, you could start with teaching them to jump through a hoop, such as a hula hoop. You could even make a hoop from newspaper rolls that are taped tougher, and possibly covered up with aluminum foil. Or, particularly for a small dog, wrap a bike tire in some colorful plastic tape.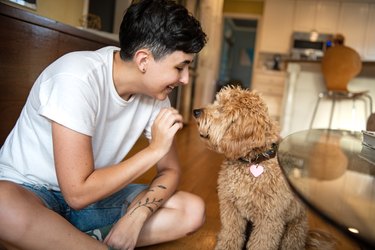 Getting started with dog agility
The American Kennel Club says to start small, and don't worry too much about how long it takes your dog to learn these new skills. Use lots of encouragement and praise, so running the obstacle courses is fun for both of you. Using treats can be an easy way to get started with dog agility. If your dog knows you have a treat and is looking for one, treat placement can be a quick and easy way to encourage your dog to complete an obstacle.
You can get your dog in the mindset by focusing on handling techniques. For instance, teach your dog to run in between your legs in a figure eight. You can toss treats to one side of you along with a command, to teach your dog to run either to the left or right of you.
The AKC recommends teaching your dog to "perch" on a box or something like a foot stool. This can help them develop some basic body awareness which many dogs may be lacking. They also say that an object that moves, like a seesaw, can be the most challenging for a dog. Teaching them to stand on an object that moves, such as a wobble board, can mean success with a ramp or teeter-totter that moves underneath them.
Finally, if your dog is afraid of the "dark" inside a play tunnel, get them comfortable with being inside a covered space. You could put them under a desk that is covered with a blanket, or inside a large cardboard box. A simple solution may simply be to put a small battery operated or motion sensor light inside your play tunnel.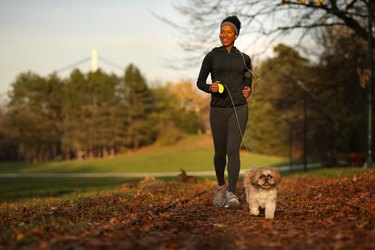 There are so many benefits to agility training for dogs, that creating a living room DIY dog agility course just makes sense. It keeps active dogs mentally stimulated, helps keep dogs fit and flexible, and is fun for rainy days or days when you just don't want to, or legitimately can't, leave the house. Agility training doesn't have to be complicated. You can start with what you have around the house for equipment.
Getting your dog ready for agility training could be as simple as getting her used to some new commands using treats, such as teaching her to move to the left or right of you by your placement of treats. She could learn to stand on a wobbly item such as a skateboard or wobble board, and perch on a foot stool. When she's ready for a dog agility course, incorporate items such as a play tunnel, tire jump, weave poles, a low jump, and a teeter-totter.