​‌Cuteness may earn compensation through affiliate links in this article.‌​
Congratulations on your new dog! If you're reading this, you've likely considered adding a new dog to your home and now that you've found the perfect pet, you're ready to give them everything they need to get settled into their new home.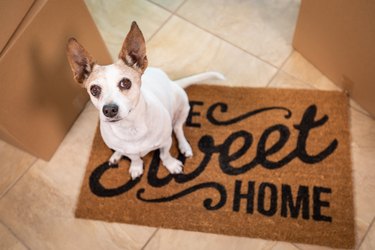 The supplies you need to welcome an adult dog are different than for a puppy. As new pet parents, you can rest easy knowing that while you likely won't need to purchase everything on this list the first day that your new dog comes home, having most of it at the ready will help you all sleep better, have more fun, and have fewer worries.
In addition to some activity-specific items to have on hand, like a leash and harness, there are some general dog supplies to have on hand that will make life easier:
Dog toothbrush and toothpaste
Bark Bright Dental Kit for Dogs
You want their teeth to stay as healthy as the rest of them, so a dog dental kit is a good investment. The Bark Bright Dental Kit For Dogs contains 30 dental chew sticks that you can top with the included 30-day supply of enzymatic toothpaste, or put on a finger toothbrush. It's pictured here in size medium, but it's also sold in sizes small and large. Use a toothbrush, and especially, toothpaste, that are specifically designed for dogs. Many human toothpastes contain fluoride, which a dog should not use.
Chew toys for your new dog
Benebone Bacon Flavor Wishbone Tough Dog Chew Toy
Pet parents know that dogs love to chew! If you don't give your dog something to chew on, they will find something to chew on ... and it's most likely going to be something you would rather them not use as a chew toy, like your expensive leather sandals or your nice throw rug. Chew toys for your new dog will help them stave off boredom and have a safe, approved outlet for stress relief. Benebone's Wishbone Chew can satisfy even aggressive chewers and is made in the U.S.A. from durable nylon and real bacon for added flavor.
KONG dog chew toys are a popular choice because they are durable, can go in the dishwasher, and can be stuffed full of treats or dog-safe peanut butter to really make your dog happy.
Food Bowls and Water Bowls
Dog food and water bowls are a necessity. Stainless steel is the best material to choose because it's durable, non-porous, and easy to clean. Plus, most stainless steel bowls can be placed on the top rack of the dishwasher for easy cleaning. The Our Pets Durapet Stainless Steel Bowl comes in multiple sizes, ranging from 1.25 cups to 13 cups, and has a bonded rubber ring to keep it in place. It's dishwasher-safe and a budget-friendly choice for pet parents.
Frisco Fold & Carry Single Door Collapsible Wire Dog Crate
Frisco Velvet Rectangular Bolster Cat & Dog Bed
Your new dog probably won't come to their new home with their own dog bed or crate. Even for well-adjusted dogs, a new home environment can be stressful. It's a good idea to have a crate that your dog can go into if they need some "time out." The Humane Society recommends using a crate until dogs learn the rules of their new home. Everything is unfamiliar at this point, including their outside break routine. Let your new dog sleep in their crate until they are really relaxed and ready to be part of the household.
Always check with your veterinarian before changing your pet's diet, medication, or physical activity routines. This information is not a substitute for a vet's opinion.