The KONG Classic and other hollow rubber toys are designed to be filled with treats for your dog to slowly eat. Stuffable toys like KONGS are fantastic tools/toys to use as part of dog training—they can provide your pup with mental stimulation and enrichment by keeping their mouth busy. These durable toys are especially useful for giving to your dog right before you leave the house or when you're busy with a Zoom meeting or making dinner. Appropriately-sized KONG toys can be given to your dog when they will be home alone to help prevent or treat separation anxiety.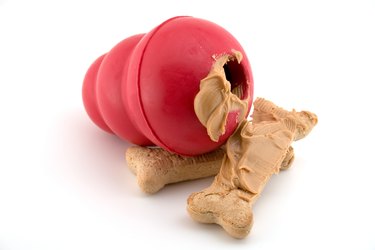 To make these treat dispensing toys more appealing to your dog, you'll want to stuff them with a variety of goodies. You can use food and treats you already have around the house like your dog's kibble, plain yogurt, cottage cheese, veggies, unsweetened applesauce, blueberries, and other dog treats. Or, you can use soft and spreadable treats. There are a variety of KONG recipes available online, but if you're looking for an easy way to engage your dog, these stuffed and spreadable treats can be pushed all the way up into the toy to keep your canine friend entertained for longer.
What to consider when purchasing KONG stuffers
‌Toy Size:‌ Before you click 'add to cart' on all of the stuffing options in this list, make sure your dog's KONG Classic toy is the appropriate size. There are six different sizes, ranging from extra-small (up to 5 pounds) to extra-extra-large (85 pounds and up). Consult the size chart to make sure you've chosen the right one—a toy that's too small can become a choking hazard.
‌Ingredients:‌ When purchasing any soft and spreadable treats for use inside your dog's KONG, make sure to examine the ingredients list closely. If you have a dog who suffers from allergies, be sure to avoid any treats or stuffers that include proteins or other ingredients your dog doesn't tolerate well.
‌Mess:‌ When selecting treats to stuff into your dog's KONG, you'll want to consider how messy they are going to be. Depending on where your dog is eating the stuffing out of their KONG, this may or may not matter, but if you're worried about the treat soiling furniture or carpet, opt for dry or frozen treats. You can always give them the messy stuff while they're outside or in their crate.
‌Difficulty:‌ When picking treats to stuff into your dog's KONG, consider how difficult it will be for your dog to get the treat out. For experienced chewers, try stuffing the KONG with stickier treats and then move on to frozen treats. A frozen KONG will be more challenging and can hold a dog's interest and attention longer.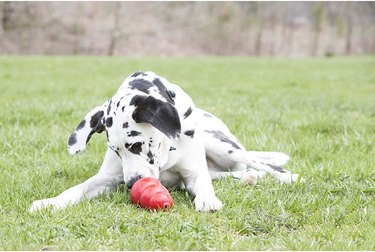 1. KONG Stuff'N Easy Treat Bacon & Cheese Recipe, 8-oz. Bottle
Designed to dispense directly into KONG toys, this lickable, bacon-and-cheese-flavored treat is an easy way to fill up your dog's toy before heading out the door. It has an easy-to-use nozzle (just like a can of whipped cream) that makes prepping KONG toys mess-free. The treat is made in the United States and doesn't need to be refrigerated. Each teaspoon of the whipped treat contains 15 calories. Beyond bacon and cheese, it also comes in liver, peanut butter, and pepperoni flavors. After filling up a KONG with the Stuff'N Easy Treat, you can pop it in the freezer for long-lasting enjoyment.
2. PureBites Plus Squeezables- Skin and Coat Dog Food Toppings, 2.5-oz. Tube, 15-Count
This chicken-flavored food topper is an easy way to add high-value treats to your dog's KONG. The squeezable pouch is small and resealable, making it an ideal KONG stuffer to bring with you when traveling. The primary ingredients in this pouch are chicken, water, tapioca starch, sunflower oil, and tuna oil. The limited ingredient pouch also has omega-3 and omega-6 fatty acids for improved skin and coat health. PureBites Plus Squeezables have a creamy texture that's enticing for dogs and contain 109 calories per pouch.
3. WEST PAW Creamy Sweet Potato & Beef Bone Broth Dog Treats, 5-oz.
Get all the nutritional benefits of bone broth in an easy-to-squeeze tube! This soft treat is made with sweet potato and beef bone broth and can be squeezed into a KONG Classic or West Paw Zogoflex Toppl without creating any mess. The treat has a creamy consistency and is gluten- and grain-free. It can be used at room temperature, or you can freeze a toy with the treat inside. West Paw's creamy dog treat is made in the United States with globally sourced ingredients. It's also sold in a peanut butter and blueberry flavor if your dog is allergic to beef.
4. Brutus Broth Bone Broth Beef Flavor Hip and Joint Human-Grade Dog Food Topper, 32-oz. Box
While you can't put this bone broth directly into a KONG Classic (there are holes at either end), you can put it in an ice cube tray, and then pop the frozen cubes into the toy. Available in beef or chicken, the non-GMO bone broth is made with 100% human-grade ingredients. It contains no artificial colors, flavors, or preservatives, and is made without soy, gluten, wheat, or dairy. The 32-ounce box of bone broth contains all-natural nutrients to support a dog's overall health and contribute to healthy teeth, nails, and skin. The bone broth also has glucosamine and chondroitin for hip and joint mobility.
5. Visionary Pet Foods Peanut Butter Alternative for Dogs, 16-oz. Jar
Xylitol is a sweetener sometimes found in peanut butter that is toxic to dogs. If you're looking to avoid the ingredient, try this two-ingredient spread that's low-calorie and made from beef and beef tallow. The peanut butter alternative is high in fat and protein, which can help dogs stay full for longer. It's made in the United States and contains 159 calories per two teaspoons (the suggested serving size). The spread is low-carb and relatively high in crude protein at 27%. Put a few spoonfuls into your dog's KONG Classic toy or spread some over a lick mat.
6. Bark Bistro Company Ruff Ruff Raw 100% Natural Dog Peanut Butter, 17-oz. Jar
If your dog prefers actual peanut butter to an alternative, Buddy Budder contains no high fructose corn syrup, stabilizers, xylitol, artificial sugar, or salts. The only ingredients are peanuts and honey, and the product is made in the United States. It's suitable for dogs of all ages (even puppies) and easy to stuff into a KONG or another treat-dispensing toy. You can use a silicone mold to create bite-sized frozen treats to fill a KONG with, or you can save time by smearing the dog-safe peanut butter into the KONG directly and then freezing it.
7. KONG Stuff'N Real Peanut Butter Dog Treat
The mousse-like consistency of this peanut butter treat makes it irresistible for dogs and easy for people to use in KONGS and other enrichment toys. The lickable treat comes in an easy-squeeze tube and has an extra-long nozzle for filling KONGS with ease. The treat doesn't contain any animal-derived ingredients, is made in the United States, and can be stored at room temperature—no refrigeration is required. It can be kept in your training bag or in the car (assuming there are no wild fluctuations in temperature) if you need to give your dog a treat-stuffed toy while you're traveling or away from home.
8. INABA Churu Wet Dog Treats Variety Pack, 40-Count
These soft, lickable treats are made with 100% farm-raised chicken and other human-grade ingredients. The variety pack includes five different chicken flavors: chicken, chicken with tuna, chicken with salmon, chicken with cheese, and chicken with vegetables. They are made without grains, preservatives, or artificial colors and flavors, making them a solid choice for dogs with certain food sensitivities. Thanks to the creamy texture, they are easy to use and add to your dog's stuffed toys. Each treat is 91% moisture, so it's also a great way to keep your dog well-hydrated.
9. Dawg Butter All Natural Peanut Butter, 17-oz. Jar
Another take on dog-safe peanut butter is Dawg Butter, available in a blueberry or cranberry flavor. Pictured here is the cranberry option, which is GMO-free and made with unsalted peanuts and honey. Ingredients include glucosamine, chondroitin, turmeric, as well as MSG to support joint health. It's also loaded with omega-3 fatty acids, which help with inflammation and skin and coat health, and fiber for proper digestion. There's no hydrogenated oil, palm oil, high fructose corn syrup, stabilizers, xylitol, or added sugar or salt. For the best consistency, be sure to stir this peanut butter well and keep it refrigerated.