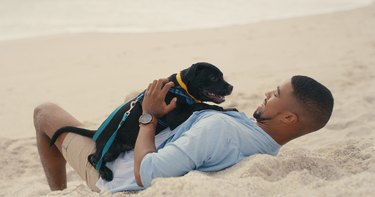 Taking your dog to the beach or lake during the hot days of summer can be an ideal way for water-loving dogs to cool off. Equipping your dog for an outing requires more than just snapping on a leash and heading out for a watery adventure.
Equipping your dog with basics such as a life vest that can keep them afloat in strong currents or when they go too far out from shore can be a lifesaver for your pet. Other less-obvious gear includes a source of freshwater to prevent your dog from getting a waterborne illness and protection from the sun and saltwater for tender noses, paws, and skin.
1. Outward Hound Neoprene Life Jacket
A life jacket can literally be a lifesaver for dog breeds that have a hard time staying afloat in the water like bulldogs and dachshunds. Even strong swimming dogs can benefit from having a life jacket when boating or swimming in water with currents that can pull them away from shore.
The Outward Hound Dawson Life Jacket for Dogs has neoprene construction that will keep your pup warm in cold water, preventing hypothermia. Balanced buoyancy keeps your dog in an ideal swimming position and head support keeps the nose above water if she should get tired before reaching shore. Dual handles provide an easy way to lift your pup out of the water or keep control on a busy beach. Bright colors and reflective piping make sure she's visible.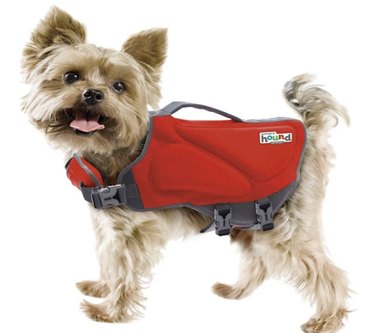 2. Animaze Pop-Up Portable Dog Tent
Give your pooch a place to chillax on the beach that is all his own. This pop-up portable dog tent gives your pup a shady place to relax away from the hot sun. Mesh windows let the sea breezes pass through. The convenient tent folds into a small, flat round tote that's easy to carry with other beach gear.
Dogs — especially puppies and older canines — can succumb easily to heatstroke. The American Kennel Club (AKC) recommends providing a shady place to lie down as one of the primary ways to prevent it.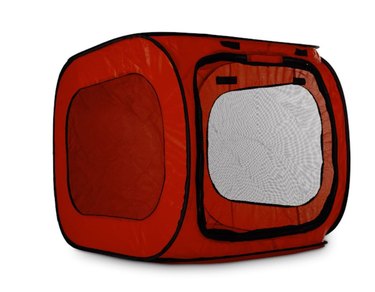 3. PlayaPup Dog Sun Protective Lightweight Solid Shirts, UPF 50+
With your dog's hairy coat, it might be easy to overlook the fact that dogs can get sunburned too. Dogs with light-colored hair, pink skin, and pink on their nose or eyes are the most sensitive, especially if they love lying on their back, according to the AKC.
Don't worry about smearing your dog with sunscreen. A UV shirt can protect your pooch's sensitive belly, shoulders, and neck. PlayaPup Dog Sun Protective Shirts have a UV protection factor of 50+ whether they are wet or dry. The lightweight fabric and pull-on style stays put, dries quickly, and won't weigh your dog down in the water.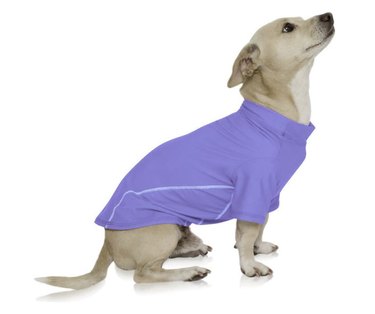 4. Lixit Water Boy Travel Water Bowl
Provide fresh drinking water for your dog to quench his thirst and he'll be less likely to drink from sources that can end up making him sick, such as saltwater or water contaminated with germs.
Get the 3-quart Lixit Water Boy Travel Water Bowl and your canine buddy will always have fresh water at hand. The flat no-spill design lets your pup sip whenever he wants — even during a car ride — without splashes or spills.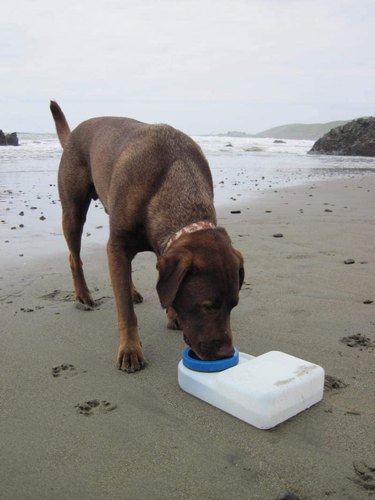 5. Obi & Willow Dog Drying Towel Coat
When it's time to dry off and head home, wrap your pup in this Obi & Willow Dog Drying Towel Coat. The super absorbent double cotton towel coat fastens snugly around your pet to absorb water and prevent rapid cooling. Let them wear it home in the car to prevent wet seats and shaking off excess water, while also minimizing that wet dog smell.
The drying towel coat comes with two drying mitts so you can rub water off of the head and ears, and clean the feet before jumping in the car. Once you're home, the towel coat and mitts can go through the laundry with your other towels.