During the summer heat, it's natural to want to take your dog along to the lake or beach for a cooling dip. Although breeds born for jobs in the water such as spaniels, poodles, and retrievers usually jump right in, other dogs prefer to cower onshore, reluctant to even get their toes wet.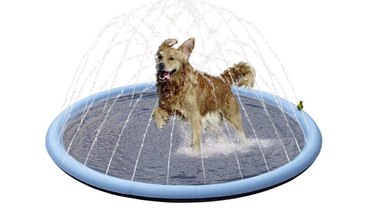 It's a myth that all dogs can swim. Your dog might instinctively know that his body type just isn't right to get around in the water. Breeds with short, flat faces such as pugs can drown easily as it's hard to keep water out of their noses. Dogs with dense bodies and uneven weight distribution — bulldogs, for example — can have a hard time staying afloat. According to the American Kennel Club, breeds with long bodies and short legs such as dachshunds also struggle with water activities.
Even with a properly fitted life vest and patient coaxing with treats, some dogs are still afraid of the water. Get them used to water play at home, suggests Purely Pets, where the familiar environment will help them relax and have fun. Check out these cool dog-water activities you can use right in your own backyard.
1. Piepea Brass Valve Outdoor Step On Dog Water Dispenser System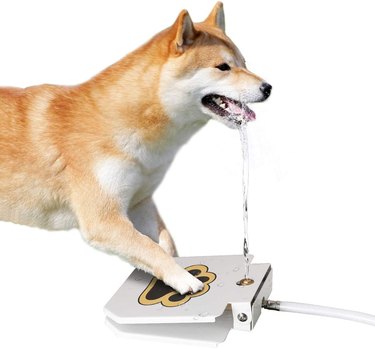 Your dog can stay cool and quench her thirst with this water fountain that activates when your dog steps on a trigger pad. Dogs will have fun snapping up water as it jets into the air. The fountain's stream has a height adjustment so you can start with it low for timid dogs and increase the height as your dog starts to enjoy this cause-and-effect water activity.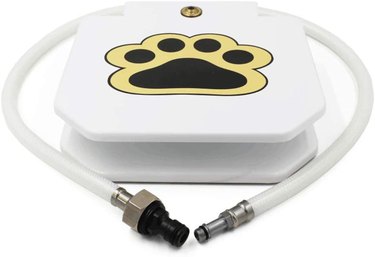 2. Pet Soft Splash Sprinkler Pad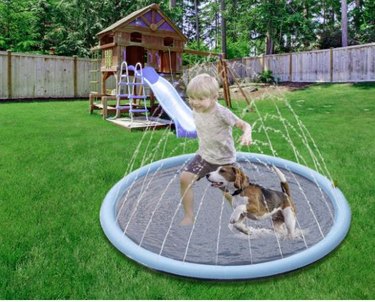 Have a fun romp through sprinkling water jets with the Pet Soft Splash Sprinkler Pad. The 59-inch pool is made from durable PVC that will stand up to your pet's claws as he bounces and romps in the spray. Roll out the pool, connect the hose, and adjust the spray height to your dog's liking by controlling the water pressure. The pool's BPA-free non-slip construction is ideal for children to join in the fun too.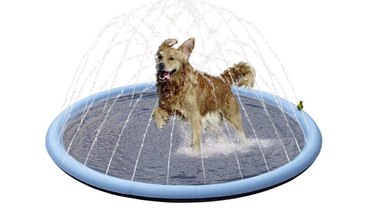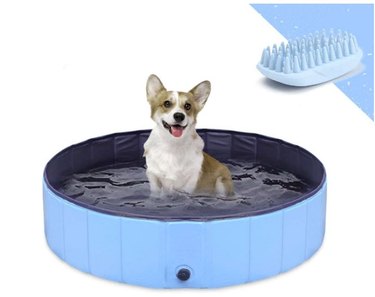 When your pup is ready to get into the "swim" of things, buy her a dog pool all her own. The GoStock Dog Pool comes in sizes that will fit any size of space and any size of dog. Sturdy high-density fiberboard panels in the sides combine with tough PVC fabric to make a dog pool that will hold up all season long.
When it's time to put it away, drain it using a convenient drain plug in the side. When completely dry, just fold the pool up into a neat cube — the high-density fiberboard panels make it easy to fold it flat to tuck away in a storage drawer or take along on an adventure.