When you're getting ready to head out for an outing, you wouldn't dream of going out without the gear you need to keep yourself going for the day. Whether that be snacks and a water bottle for a day of running errands around town or a backpack and hiking shoes for hitting the trail, you always pack what you need. When your adventure dog goes with you, he needs to be just as prepared as you are.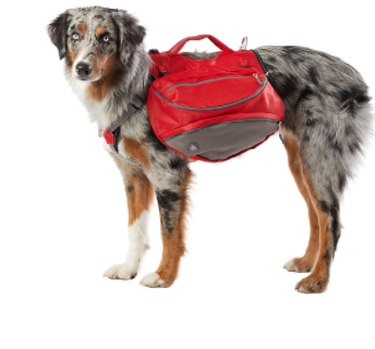 When you have the right gear at hand, you and your four-legged pal can take off whenever you need to, or whenever inspiration strikes. If your dog is sturdy enough, keep a day pack or backpack filled with their own gear that he or she gets to take — poop bags, food, a water bowl, leash, etc. Before you know it, when your dog feels that backpack clipping on their back, they'll know they're gearing up for a day of fun, and you'll have everything you need at hand. Here are 10 picks for the gear and accessories you need on long day trips or outings with your best friend.
The Best Dog Backpacks & Gear for Day Outings
1. lesotc Foldable Water Bottle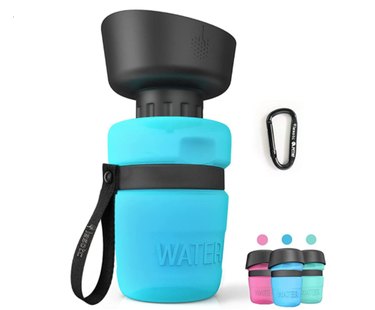 No matter what you're doing, whether that be a day at the lake or running errands all day, water is essential for both you and your pup. Even if you remember the water, it is often easy to forget that your dog can't drink out of a water bottle the same way that you can, so he needs his own bowl. But with this Iesotc water bottle, you don't have to worry about forgetting a bowl because the patented design gives you a water bottle and water bowl two in one.
The soft cap acts as a water bowl. With the cap still attached, give a slight squeeze to the bottle and water will flow into the bowl. After your dog is done drinking, fold the cap back and be on your way. It's designed to not leak water out, and the bottle and cap are BPA-free and easy to clean. As a bonus, it's affordable and lightweight, weighing only 0.3 pounds when empty. It holds 18 ounces, so it's enough to keep your friend hydrated for a long time.
Attached water bowl
Lightweight
2. Arcadia Trail Ultimate Harness with Backpack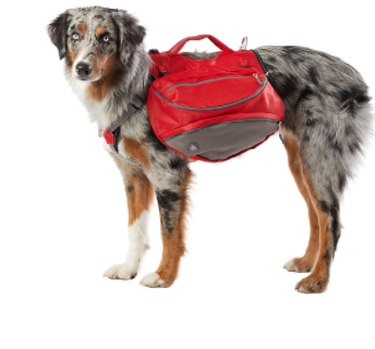 The Arcadia Trail Ultimate Harness with Backpack is essential on outdoor adventures. Not only does the attached harness and leash help you keep your dog securely in hand, but it also provides plenty of space to be sure your sidekick has everything they need right with them. This harness/backpack combo comes with two backpacks, each featuring dual-zippered openings for maximum storage space. It is also available in bright, reflective coloring with reflective trim.
The fabric is water-repellent. It even has space for a name tag with your name and number on the inside of one of the storage bags in case your dog gets separated from you. It's available in five sizes from small to XX-large, to be sure your sidekick has the fit that's just right. The side bags attach with clips.
Use with or without side bags
Reflective trim
3. Top Paw Outdoor Dog Booties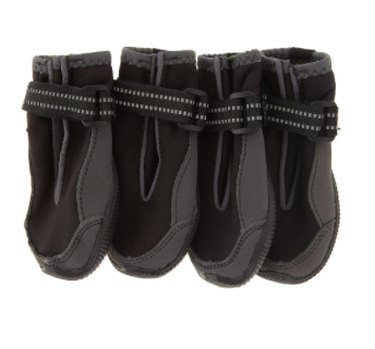 Tuck these dog booties into your travel bag (or your dog's backpack, if you got something like the backpack/harness combo listed above!) and you'll be ready for walking across hot pavement, hot sand, less-than-smooth rocks, or whatever your adventure day brings. Yes, dogs are tougher than humans are, but their paws are tender, and on hot days, even walking across a parking lot can be painful for your pup.
These booties slip on and off easily, with adjustable straps for maximum comfort and fit. They are available in stylish colors of black or red and are also reflective. The booties are made of water-resistant fabric with non-skid rubber bottoms, so they'll be great for whatever the weather, and they are available in five sizes from small to XX-large.
Adjustable, four sizes
Water-resistant and non-skid
4. Sgoda Dog Cooling Vest Harness Cooler Jacket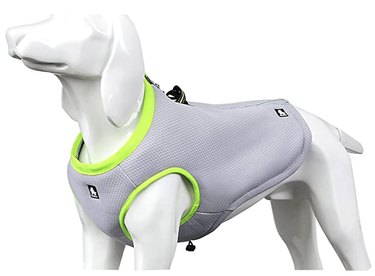 Let's say you get a text that your friends are at the lake and want you to come. You're finishing up your last errand so why not? Except, you don't have an umbrella for your dog and you know how hot it's going to be. With this dog cooling vest, never fear! If you're headed to the lake, beach, or even a backyard picnic, all you need is some water to activate this dog cooler with three layers of cooling fabric.
Soak it in cold water, wring it out, and put the cooling vest on your dog. The material holds the water in and evaporation keeps him cool. The fabric is soft and lightweight and your dog likely won't even notice he's wearing it. There is a leash attachment point, so you can keep him near you, and the strap with reflective trim offers high visibility.
Adjustable fit
Water-activated
5. Downtown Pet Supply Training Dog Lead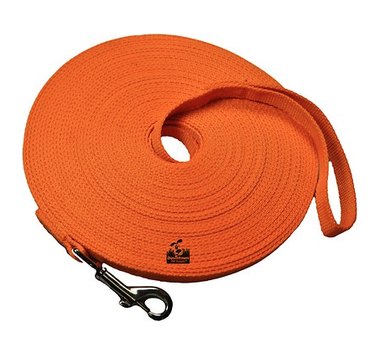 When you're at the beach or on the trail, you need to follow leash laws, but you also want to give your dog some freedom that she may not normally get to enjoy. You can do that with an extra-long leash like this one. This type of leash gives a lot of freedom because of its extra-long length of 50 feet. This heavy-duty long lead is 5/8 of an inch wide and 100 percent cotton. The length and strength of this webbed leash are enough that your dog could even enjoy a game of fetch while still leashed.
The webbed material is strong, with a no-twist design. Choose your favorite color from among five: black, orange, red, green, or blue. The leash has a loop on the end for a handle and is suitable for use in water.
Extra-long for freedom
Design resists twisting
6. Rayco International Ltd. AKC Pet First Aid Kit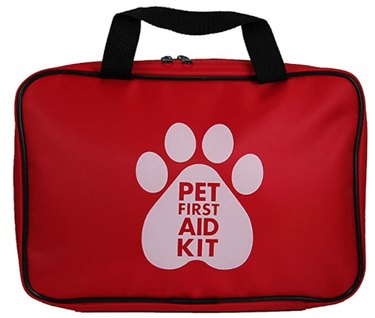 Stash this in your car or luggage and you'll be equipped to handle just about any minor emergency involving your furry friend. Yes, you could put together your own dog first aid kit, but if you want to feel like you've got a comprehensive kit already prepared, this one fits the bill. At 50 items, it covers just about everything, but the kit is packed loosely in the bag — the manufacturers intentionally left room so that you could customize it with any additional items your pet might need.
It has items that can be used for everyday occurrences such as tick removal or insect bites, but it also covers true emergency items, such as a thermal foil emergency blanket. If you ever forget your collapsible food and water bowls, never fear, because this kit has them, that's how comprehensive it is. Other items include alcohol wipes, antiseptic, tweezers with an attached magnifying glass, a pet safety guide, and more.
Comprehensive kit
Customizable
7. Blazin' Safety LED USB Rechargeable Nylon Dog Collar
If you're coming down a mountainside after dark or walking back to your car from the lake once the sun goes down, it can help to have everyone know where your dog is. Keep him extra visible with this bright LED-powered rechargeable dog collar! It stays lit for more than 8 hours when fully charged and is visible for up to 350 yards.
For even more visibility, you can set it to strobe or blink. Sold separately is a matching Blazin' Safety LED USB Rechargeable Dog Leash. Both are crafted from a durable yet soft nylon material with a protected USB charging port. This comes with a 100 percent lifetime guarantee. As a bonus, it is easily charged from just about any device.
Rechargeable from most devices
Runs more than 8 hours
8. AceCamp Lightweight Mini Stainless Steel Foldable Trowel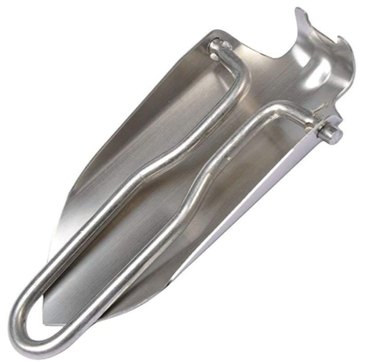 When you're hiking, biking, or just walking, you've got to deal with your dog's business. When you're at a campsite or a lake with trash cans, it's no problem to toss your poop bag into the can when you're done. But if you're in a wilderness area, it's a little more problematic to have to carry around a squishy and smelly bag. Options include having your dog pack it out in his backpack (tuck in a dryer sheet to cover up the smell!) or burying it.
A dog poop trowel won't be found in the pet section — it's a camping trowel. But it's perfect for dog duty because it is made of lightweight and durable stainless steel, it folds, and it comes with its own carrying case. If you're in a spot where packing out the poo just isn't practical, bury your dog's waste properly. Carry it at least 200 feet from water, trailheads, trails, or campsites and use the trowel to dig a hole 6 to 8 inches deep.
Foldable
Carrying case included
9. Bone Dry Embroidered Paw Print Microfiber Bath Towel
After a day touring a new city or even making pit stops if you're traveling cross-country, your friend's paws are going to need some TLC. When you have a dog towel with you, you can wipe off mud, sand, or water before they get back into your car. When you're not using it in your gear bag, this towel is perfect for bath day.
The microfiber towel is ultra-absorbent and fast drying — because the last thing you need in the car is a clean dog but a wet towel! It can be used for so many things — a shade cover if you need one, a cuddly blanket for the crate, a towel if you get caught in the rain, or a picnic blanket to sit on. This one is 27.5 x 44 x 1/2 inches. Preserve its absorbency by skipping the fabric softener when you wash it. It comes in your choice of five colors (taupe, gray, red, pink, or blue) with an embroidered paw print.
Super-absorbent and fast drying
Lightweight and machine-washable
10. Ezierfy Waterproof Reflective Dog Raincoat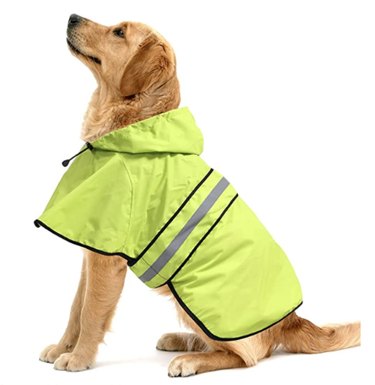 Some dogs are happy to tag along with whatever you're doing, but when it comes to going for a walk in the rain, they just aren't into it. If your dog is the type who thinks the party runs out of fun when it starts raining, pack this light and portable raincoat for those unexpected downpours or snowstorms. This poncho-style raincoat is made from 100 percent polyester water-resistant fabric. It goes on easily with adjustable belly and chest straps.
In case you need some visibility, this coat has reflective strips in the belly area. The elastic allows you to adjust the size of the hood and a rope-lined hole allows it to be connected to the leash and your other accessories easily. Fold this coat into any shape to pack it along for trips to the park, beach, or hiking trails.
Adjustable
Water-resistant
Whatever it is you're up for doing on your day outing, having the right gear is what makes the difference between being ready for any adventure that comes your way or needing to bow out because you're just not prepared. Most dogs love the same activities as their owners, and your four-legged companion needs to be prepared for the day's activities just the same way that you are — stay hydrated, keep their energy up with food, protect their paws, and stay cool, no matter the weather. In addition to fun, safety is the main priority so make your plan and enjoy your outing even more when you have all the gear you need.