Whether you hit the trails only on the weekends or early in the morning before you head to work, hiking can be one of the most fun and enjoyable activities for a lot of people, and their dogs often enjoy this time outside too. Taking your canine companion out on a trailhead is a great source of exercise and can make for a wonderful bonding experience for the two of you, and with a little care and preparation you and your dog can get the most out of your hike together, all year round.
Safety on the trails
When it comes to outdoor excursions, safety comes first, and the best place to start is with a healthy, vaccinated dog who is protected from pests commonly found outside, like fleas and ticks. The overall health and activity level of your dog is a very important thing to consider, so before you head out on a hike, make sure your dog is up to the challenge. An older dog, or a dog with health issues like arthritis or difficulty breathing may not find even an easy hike to be as enjoyable as you do.
If your dog tends to get overly excited or aggressive around other people, dogs, children or bikes, a day on a designated trail may be more stress than it's worse for you, your dog, and your fellow hikers. Being out on a hike and away from home is not an ideal time to test the limits or obedience level of a dog, so if you worry about her health or behavior, the kinder thing will be to leave her at home with a favorite toy, and exercise her as usual before you leave or after you return home.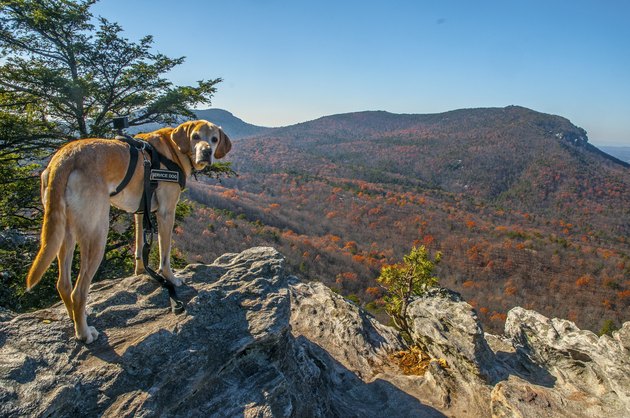 What to pack
You wouldn't head out on a hike in the hot sun with just the clothes on your back, would you? Hopefully the answer to that question is "no," and should remain the same when considering what to pack when you set out on a hike with your dog. Like people, dogs need to protect and replenish themselves from a number of things ranging from dehydration to sunburn to bugs, which requires a little bit of planning, and outdoor retailer REI has some helpful suggestions to keep your dog safe on a hike. One thing you should always pack for your canine pal is a container of water and a dish to drink out of, like a collapsible water bowl. A snack can go a long way in keeping anyone's energy level up enough to complete a hike and your dog is no different, so if you're going to be out for more than an hour or two, be sure to pack some dog food for your pal to enjoy on a break in case he gets hungry.
Other than the basics of food and water, you can elect to add things that your dog may need to stay comfortable on a long day outside. Short-haired dogs may need a jacket in cooler months, or if it's raining. Alternatively, sunscreen can help keep dogs protected from harmful UV rays, which may become more harsh if you're climbing up in elevation. Just be sure to reach for zinc oxide-free formulas created for dogs, says Banfield Pet Hospital.
If you're going to be out for a while and want to bring any additional items for your canine companion, like a tennis ball or toy to play with, or hiking booties for scaling rocky or icy terrain, a dog pack may help lighten your load. For especially hot days, a cooling collar, or even a water-soaked bandana wrapped around your dog's neck can help keep body temperatures regulated, for you or your four-legged friend.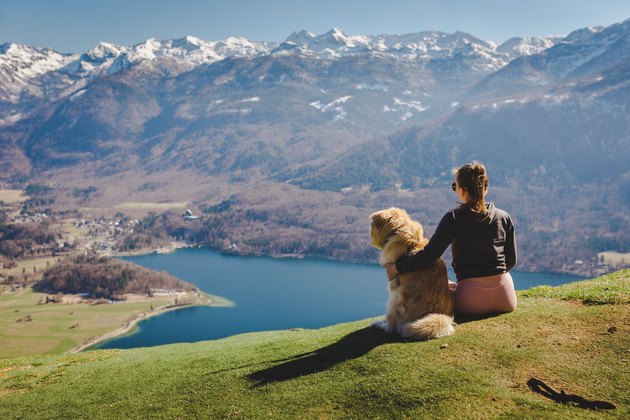 Common courtesy
Part of sharing a great day with your dog means sharing space with other hikers. Before you take your dog on an outing, research the trail you're about to hike, and make sure she's allowed to join you, suggests American Hiking Society. If she gets the "dogs allowed" OK, be sure to keep her on a leash, especially if you're hiking a crowded area, or one where a lot of other dogs may be — just because your dog is good with other dogs, and is usually fine off-leash doesn't mean every passing dog, or person, will get along with her, so keep her close for safety's sake. This tip can also keep her out of harm's way in the even that you run into any predatory animals, and can keep her from running in the way of mountain bikers, who often share the same hiking paths. Finally, every trail should be left as clean as it was when you got there, so be sure to pick up the poop and toss the bag in a garbage can or other receptacle if she goes while you two are out and about.