Keeping your pets cool in the summertime can be crucial to their good health. Dogs and cats don't sweat like humans do — their fur and skin are designed to hold heat in, not let it out, according to the Washington State University College of Veterinary Medicine. Instead, they rely on panting and perspiring small droplets through their nose and feet. Panting can inflame the nasal passages, causing them to swell. This can be particularly dangerous for short-nosed breeds such as Persian or Himalayan cats, bulldogs and pugs.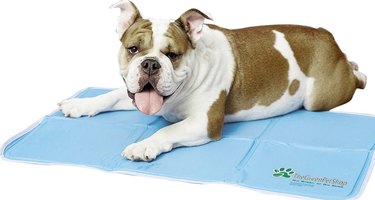 Keeping pets indoors, supplying lots of fresh cool water, and never leaving them in a vehicle during the summer months are three ways you can help your dog or cat deal with hot weather, according to the University of Wisconsin-Madison School of Veterinary Medicine. Cooling pads offer an additional way for your pet to stay chill during the dog days of summer. As your pet stretches out along its surface, cooling gel, water, or increased airflow work to help lower the animal's body temperature.
Best Year-Round Cat-Friendly Mat: Kroser Pet Bed Mat
If your pet uses a crate for sleeping or travel, install a cooling crate liner rather than using a blanket that will hold your pet's body heat. The Kroser Pet Bed Mat uses a breathable canvas surface that lets air flow under your pet's body, reducing the amount of heat captured next to the skin.
The mat comes in several sizes, making it appropriate for both dogs and cats. It helps cool your pet through increased airflow without the use of gel or water, making it the best choice for cats who claw their bedding.
When the weather cools down during the winter months, simply flip the mat over to use the plush side. Your cat or dog will feel cozy snuggling into the fuzzy fabric.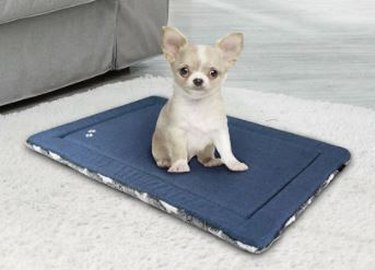 Best Water-Filled Mat: K&H Products Coolin' Dog Mat
Use the natural cooling effects of water to keep your pet chillin'. Just fill the K&H Products Coolin' Dog Mat from the faucet or hose to give your pet a comfy waterbed. Adjust the support to suit your pet by how much you fill it. You can also place it on top of your pet's bed.
The water inside the mat stays at the ambient room temperature, keeping it cooler than your dog or cat's body temperature. Rugged vinyl stands up to pet paws and resists mildew.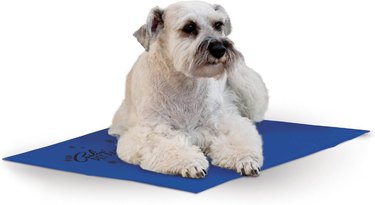 Best Play Time Dog Pad: Flyboo Splash Sprinkler Pad
When it's time to head outdoors, let your dog have a blast with the Flyboo Splash Sprinkler Pad for Dogs. Connect it to the hose and adjust the spray. Water forms a wading pool at the bottom, making it a natural way for kids and dogs to share some supervised bonding time.
Thick PVC material resists trimmed dog claws, and the bottom is slip-resistant for secure footing. After you're done, drain out the water and fold it up to store it away or transport it to your next adventure.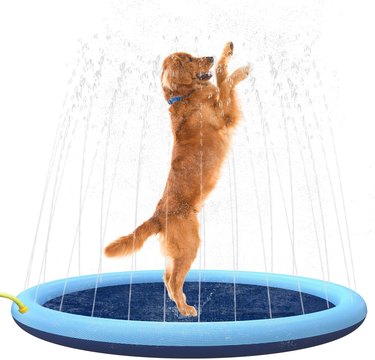 Best Scratch-Proof Mat: Arf Pets Dog Self-Cooling Mat Pad
This comfortable cooling pad is lab-tested and made of 100 percent-safe materials. The outer nylon fabric is tough enough to resist most dog nails and withstand wear-and-tear, while also pliable enough to fold up neatly. The solid gel interior provides simple yet powerful cooling. Your dog (or cat) can enjoy up to three hours of cooling comfort, and the pad "recharges" quickly and simply through 15 minutes of non-use. That's right — as a self-charging pad, no water or electricity is needed for it to work.
The versatile mat is designed to work well in cars, crates, on top of pet beds or simply on the floor. It measures 23 inches by 35 inches and is a quarter of an inch thick. It can support dogs up to 80 pounds.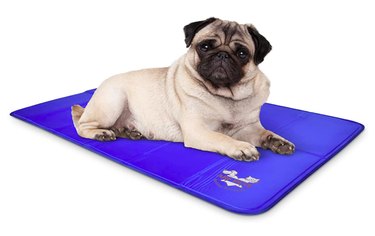 Best Space-Saver: The Green Pet Shop Cool Pet Pad
Interior cooling gel that is weight-activated is the key to The Green Pet Shop Cool Pet Pad. Gel absorbs the body heat into the mat for up to four hours. The Cool Pet Pad recharges itself without having to use any electricity or putting it in the refrigerator, making it ideal for summer travel.
The pad is just 0.02 inches thick and folds up to tuck away in its own carrying case. It's important to store the pad in the case or a plastic bag to prevent the gel pad from dehydrating over time.
After use, you can throw it through the washing machine or clean it with a damp sponge. The gel inside is non-toxic, but it's not recommended for pets that chew or claw. If your pets ingest any of the gel, contact your vet, as some pets can have an allergic reaction.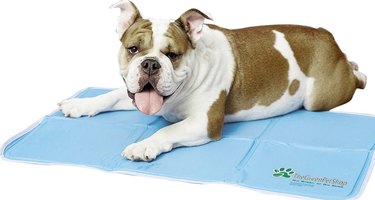 Your pet doesn't have to suffer through the dog days of summer. There are a variety of options your cat or dog will enjoy that will help them stay cool. Make sure that you supervise your pet with the pad to make sure they don't claw or chew the item. Consult your vet if your animal ingests any pieces, even if they're non-toxic