There's a stigma attached to dog strollers that needs to be addressed. More often than not, the owner is pushing their dog around due to mobility issues, old age, or recovery from surgery—not because they're pampered and cooed over like a newborn baby. While exercise is important for your dog's mental and physical well-being, if they're not as agile as they used to be, taking them out in a stroller is a great way to provide environmental enrichment.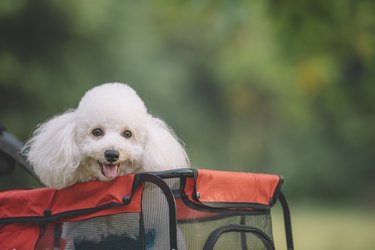 Compared to carrier backpacks and tote bags, which can cause back or shoulder strain, strollers are also far gentler on human handlers. If you're considering buying a stroller for your dog (and hey, no judgment if you just want to take them to Target), there are a few things you should keep in mind when choosing a model that fits your travel needs.
What to consider when purchasing a dog stroller
‌Ease of Loading:‌ Getting your dog in and out of the stroller can be tricky, especially if they're injured, old, or heavy. A model with more than one entry point can make this process a little easier. It's also a good idea to measure the openings to ensure that your dog will fit through them comfortably. Some stroller canopies are closed with a buckle rather than a zipper, which makes securing your dog less of a struggle.
‌Safety Brakes:‌ Dogs are wiggly creatures—if they spot a squirrel, another dog, or a friendly face, the chances of them trying to stand up to catch a better glimpse are pretty high. Additionally, if you plan to use the stroller to transport more than one dog, they might engage in a bit of play or bump into one another while getting comfortable. This is where safety brakes come in handy, as they can prevent the stroller from rolling away or tipping over. Some strollers have linked braking systems that connect to all of the wheels, while others tout individual brakes.
‌Collapsible:‌ Most strollers, even those intended for tiny dogs, are rather bulky. Therefore, it's crucial to select a model that folds up with the push of a button. Some strollers are so compact they can be stored in an overhead compartment on a flight. A one-hand folding mechanism is particularly useful, and choosing a lightweight model can make loading the stroller into your car or coat closet a hassle-free experience.
‌Wheel Type:‌ Before you settle on a stroller for your dog, think about where you'll be taking them on excursions. A grassy park? A dirt hiking trail? A sandy beach? If you require an all-terrain vehicle, look for something with heavy-duty rubber tires in lieu of hard plastic wheels. Select models have shock absorbers for a smooth ride, and most feature 360-degree rotating front wheels for easy maneuvering. If you'll be using the stroller mostly on flat or paved surfaces, swiveling plastic wheels should suit you just fine.
Ahead, check out Cuteness' reviews of the best pet strollers in 2023.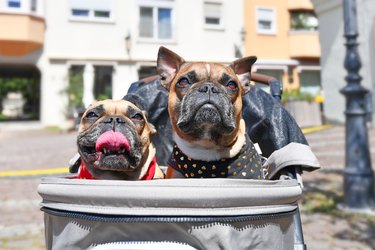 The best overall dog stroller
If you're searching for the Rolls Royce of dog strollers, the Ibiyaya Monarch Premium Pet Jogger is it. Once you've gotten over the sticker shock, you'll see that this model truly checks all the boxes. It boasts dual entry points, a sturdy aluminum frame, a linked braking system, and a roomy interior. It's lightweight at only 17 pounds and can be folded with one hand by pressing, twisting, and pushing down on a section of the handlebar. Assembly requires no tools and takes just a couple of minutes.
The stroller can accommodate dogs weighing up to 44 pounds and the spacious cabin measures 26 inches long, 15.4 inches wide, and 20.9 inches high. It comes with two safety tethers and an easy-to-clean pad, although it's a bit thin so you might want to add a blanket or cushion. The retractable canopy boasts a "flip-open screen" with locking zippers to prevent your furry friend from escaping. Meantime, the handlebar has two cup holders and there's a storage compartment under the cabin for larger items. The stroller is made from water-resistant materials and the brushed gold accents offer a luxe look.
‌Weight Limit:‌ 44 lbs.
‌Collapsible:‌ Yes
‌All-Terrain:‌ Yes
‌Entry Points:‌ 2
‌Safety Brakes:‌ Yes, linked
The best budget dog stroller
If you're unsure how your dog will react to their new mode of transportation, consider an entry-level stroller like this model by Nova. It's best suited for small dogs weighing up to 35 pounds and the cabin measures 21.65 inches long, 13.38 inches wide, and 21.26 inches high. The stroller has front and rear entry points with breathable mesh windows that zip closed. It's constructed out of waterproof Oxford cloth and includes a thick, removable pad that's easy to clean.
There are four plastic wheels (the front two swivel 360 degrees) as well as a rear brake for safety. It's intended for strolling the aisles of your local grocery store, but not off-roading. The center tray has two cup holders and a compartment for your keys or phone, and a large storage basket can be found under the cabin. Although a tether for your dog's harness or collar is included, this isn't the most secure stroller for canine escape artists.
‌Weight Limit:‌ 35 lbs.
‌Collapsible:‌ Yes
‌All-Terrain:‌ No
‌Entry Points:‌ 2
‌Safety Brakes:‌ Yes, one per wheel
The best multi-pet stroller
Although some stroller cabins are generous enough to fit two small dogs, a model with an upper and lower cabin might be a better option for pups who value their personal space. The Ibiyaya Double Decker Pet Bus can accommodate pets weighing up to 13.2 pounds in its upper cabin, and pets weighing up to 33.1 pounds in its lower cabin. It features multiple entrances with zippers for security. The mesh windows ensure proper visibility and airflow, and there are roll-down shades to protect your pets from the sun or give them some privacy.
The upper cabin measures 11.8 inches long, 15.7 inches wide, and 9 inches high, while the lower cabin measures 11.8 inches long, 23.5 inches wide, and 11.5 inches high. Each compartment has safety tethers and a pad for comfort. In terms of storage space, there are two cup holders, a small tray, and a mesh pocket at the rear. The wheels are made from hard plastic—the back two have safety brakes, while the two in the front swivel 360 degrees. The stroller also folds up for easy storage by pressing a button on the handlebar and pushing it down. The only potential drawback is the color; although it's advertised as "silver gray," it's really more of a light blue.
‌Weight Limit:‌ Upper compartment, 13 lbs.; lower compartment, 33 lbs.
‌Collapsible:‌ Yes
‌All-Terrain:‌ No
‌Entry Points:‌ 3
‌Safety Brakes:‌ Yes, 2 rear wheels
The best stroller for small dogs
Zipper closures can be annoying, especially when you're in a rush or don't want to remove your gloves in cold weather. With the Pet Gear Happy Trails Lite No-Zip Stroller, the canopy closure is a singular "easy locking latch," meaning it's entirely zipperless. The cabin interior includes a safety tether and a pad with a ​​removable, waterproof liner. The handlebar has two cup holders and there's a mesh undercarriage for your shopping bags.
Made of hard plastic, the wheels have rear safety brakes and front shock absorbers. The stroller requires some assembly, weighs less than 12 pounds, and folds up easily (although it doesn't lie perfectly flat). It's available in two colors, pine green or boysenberry, and has a weight capacity of 25 pounds, meaning it's suitable for small- and toy-sized dogs.
‌Weight Limit:‌ 25 lbs.
‌Collapsible:‌ Yes
‌All-Terrain:‌ No
‌Entry Points:‌ 1
‌Safety Brakes:‌ Yes, 2 rear wheels
The best stroller for medium dogs
This stylish stroller holds up to 50 pounds and has a spacious interior that measures 25 inches long, 13 inches wide, and 21.5 inches high. It can fit French bulldogs, West Highland terriers, Miniature Schnauzers, and similar-sized breeds. There are front and rear entry points, two safety tethers, a retractable canopy, and a mesh window complete with a pre-threaded zipper closure.
The raised yet artfully concealed bar serves as an additional safety feature and a peek-a-boo window in the canopy allows pet owners to monitor their dogs while they're on the move. The removable, washable poly-fill pad could be thicker, so you might want to add some memory foam underneath. Expect front-wheel shock absorbers and rear-wheel brakes, in addition to dual cup holders and several storage pockets. The stroller collapses with the push of a button and the company sells a handy rain cover if you live in a wet climate.
‌Weight Limit:‌ 50 lbs.
‌Collapsible:‌ Yes
‌All-Terrain:‌ Yes
‌Entry Points:‌ 2
‌Safety Brakes:‌ Yes, 2 rear wheels
The best stroller for large dogs
Admittedly, this is a wagon, not a traditional stroller, but it's the ideal mode of transportation for large dogs weighing up to 150 pounds. The interior measures ​​32.5 inches long, 17.5 inches wide, and 10.5 inches high. It's constructed out of 600D polyester fabric that's UV- and mildew-resistant. There are two mesh cup holders for storing water bottles or poop bags, and the telescoping handle can be adjusted to different lengths.
The wagon is fully collapsible and only eight inches thick when folded up. There's even a handle on the top for toting it around. Although you won't find any safety brakes or extra padding, the 22-pound wagon is a reliable option for larger dogs or senior dogs who want to get some fresh air. Aside from transporting your pup, you could use the wagon to cart around groceries, laundry, or camping gear.
‌Weight Limit:‌ 150 lbs.
‌Collapsible:‌ Yes
‌All-Terrain:‌ Yes
‌Entry Points:‌ 1
‌Safety Brakes:‌ No
The best multi-purpose dog stroller
Part stroller, part dog carrier, part car seat, this travel system gets high marks for its versatility. It's designed for small dogs under 30 pounds as the interior dimensions are 20 inches long, 12 inches wide, and 18.5 inches high. The retractable canopy opens and closes with the push of a button rather than a zipper, and there are mesh panels all the way around for optimal airflow. The interior has a washable fleece pad and two safety tethers to prevent pups from breaking free.
The high-quality carrier utilizes "click n' go technology" to attach it to the included booster seat frame or stroller frame. The wheels of the stroller are made of hard plastic and have a locking mechanism for secure parking. It's intended for smooth surfaces rather than rough terrain. The stroller's lightweight frame folds up easily with one hand but doesn't lie completely flat unless you remove the front wheels. You can attach a storage basket under the pet carrier when it's in stroller mode and the padded handles are covered in brown faux leather for contrast.
‌Weight Limit:‌ 30 lbs.
‌Collapsible:‌ Yes
‌All-Terrain:‌ No
‌Entry Points:‌ 1
‌Safety Brakes:‌ Yes, linked
The best dog stroller for jogging
If you like to integrate your dog into your daily exercise routine, consider this all-terrain model that can be used as a jogging stroller or converted into a bike trailer. It has three air-filled tires made of rubber (a portable tire pump is included) and a one-step, dual-wheel brake. The handle is adjustable and covered with soft foam for a comfortable grip. There are mesh panels on all four sides, zippered front and rear entries, and peek-a-boo windows at the top and rear.
Two large pockets allow you to store personal belongings or pet supplies, and reflective strips promote visibility at dawn and dusk. The stroller is designed for dogs weighing up to 60 pounds and has a roomy cabin measuring 28 inches long, 15 inches wide, and 23 inches high. It comes in two colors: Blazin' Berry (hot pink and magenta) and Sailboat (three shades of blue).
‌Weight Limit:‌ 60 lbs.
‌Collapsible:‌ Yes
‌All-Terrain:‌ Yes
‌Entry Points:‌ 2
‌Safety Brakes:‌ Yes, linked