When teaching your dog anything from basic obedience and manners to complicated tricks or dog sports activities, having treats on hand is important. When training your dog, especially if you're working on new skills or complicated cues, it's important to use high-value treats. What constitutes a high-value treat is going to be different for each dog and ultimately depends on their taste preferences. The majority of dogs are most attracted to treats that are flavorful and aromatic, which capture and maintain dogs' attention while learning.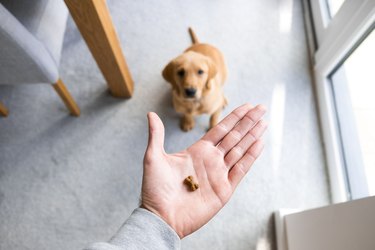 What to consider when purchasing high-value dog training treats
‌Activity:‌ Depending on what you're working on teaching your dog, you may require different sorts of treats. For example, for some activities like cooperative care grooming or crate training, you may want a lickable treat that will take your dog a long time to eat. Alternately, for teaching your dog to sit or walk on a loose leash, you will want to use a small treat that will be easy for your dog to chew.
‌Variety:‌ When selecting a new high-value training treat, look at the other training treats you already have or have used recently. Having a variety of treats is important for keeping your dog engaged. Many dogs prefer variety with their training treats, so try to select a treat with different flavors or proteins than the treats you already have in your cupboard.
‌Dietary Restrictions:‌ When selecting new high-value training treats, be sure to consider your dog's dietary restrictions. If your dog has any allergies, you'll want to read the label carefully to make sure the treats you're purchasing don't contain any of the ingredients your dog is allergic to. Additionally, if you have a dog who struggles with their weight, you'll want to consider the size and number of calories each treat has and factor that into the diet your veterinarian recommends for your dog.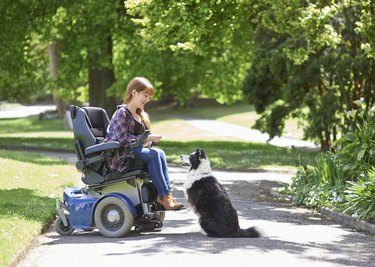 The best overall dog training treats
These high-value training treats are made of 100% beef lung—a high-protein, low-fat option that's irresistible to many dogs. These slow-roasted, single-ingredient treats don't have any added chemicals, artificial colors, flavors, or preservatives. The large, freeze-dried pieces of beef lung can be put into your training pouch and easily broken into smaller pieces. The product is made in the U.S. and has a crunchy texture. While the size of each treat varies, there are 109 calories per ounce.
The best crunchy dog training treats
Made with real chicken liver—and without any wheat or corn—these bite-sized treats are intended for training. Designed to be crunchy without being crumbly, you can keep a few of these treats in your coat pocket or fanny pack without creating a mess. As an added bonus, the treats aren't greasy, so you could use them in treat-dispensing toys or while playing enrichment games with your pup. Made in the U.S., these tiny treats have only 2 calories per morsel. Each 8-ounce bag contains 450 treats to use while training, so it's also a great value.
The best soft dog training treats
These natural treats are made with deboned rabbit meat as the first ingredient. The protein-rich meat is combined with sweet potato for a grain-free, soft training treat. The treats have omega fatty acids that promote coat and skin health. These treats only contain natural ingredients and are free of artificial preservatives, flavors, and colors. They're also cooked in the U.S. in facilities that adhere to strict FDA guidelines. The chewy, star-shaped treats don't contain any soy, corn, or wheat.
The best training treats for small dogs
These training treats are made specifically for small dogs with chicken liver listed as the number one ingredient. These treats have a strong, meaty scent that's enticing to dogs while training. The treats come in a double-zipper resealable pouch to keep them fresh between training sessions. There are three bag sizes to choose from—4 ounces, 10 ounces, or 16 ounces. Containing less than 3 calories per treat, these "guilt-free" morsels won't derail your dog's diet. They're also made in the U.S. and are free of gluten meal, soy, or added rendered fat.
The best fruit-infused dog training treats
Looking to switch up your dog's training treats? These soft morsels combine chicken with natural apple and banana flavors. Chicken is listed as the number one ingredient, followed by chicken liver and chicken meal. Produced in the U.S., the treats don't contain any soy products or gluten. The 1-inch squares are 8.1 calories each and can easily be broken into smaller pieces while training.
The best lickable dog training treats
If you need a soft and easily spreadable treat, this bacon and cheese-flavored paste can be fed directly to your dog or smeared on a lick mat to reward them for a job well done. The easy-to-use canister has a nozzle for controlling how much treat is released at a time, similar to whipped cream. The highly-digestible paste can also be used for filling classic KONG toys, which are great for crate-training dogs and puppies. The treat does not require refrigeration, making it easy to use at home or on the go, and is free of trans fats. The suggested serving size is 1 teaspoon, which contains 15 calories.
The best single-ingredient dog training treats
These single-ingredient training treats are made of 100% freeze-dried raw chicken hearts. Produced in the U.S., the treats are naturally gluten- and grain-free. The morsels are ideal for use when training dogs who have food sensitivities to certain ingredients or proteins. They have a strong, meaty scent that's attractive to many dogs. These freeze-dried raw treats contain natural oils and omega fatty acids, which support dogs' coat and skin health. Plus, natural enzymes and raw ground bone ingredients help to clean your pup's teeth and gums. While treat sizes vary, each ounce contains 119 calories.
The best low-calorie dog training treats
These bacon-flavored treats have pork liver listed as the number one ingredient and don't include soy, BHA, corn, or BHT. These treats are small, soft, and ideal for training dogs of all sizes. With only 3 calories per treat, they're suitable to use as a reward for training repetitions. They can also be broken up into even smaller treats if your dog is on a diet. The treats are manufactured in the U.S. and have a yummy bacon flavor. They come in a resealable, 1-pound package for keeping the treats fresh in between training sessions.
The best pocket-sized dog training treats
These soft salmon training treats have less than 4 calories each and can be broken down into even smaller pieces for your dog without crumbling. The moist, B-shaped treats don't have any artificial flavors or preservatives and are made without gluten or grain. They're made in the U.S. using wild-caught Alaskan salmon, which is listed as the first ingredient. Unlike other salmon-flavored treats, the Bixbi Pocket Trainers aren't super smelly and off-putting to humans. If your pup isn't a fan of salmon, the treats are also sold in bacon, chicken, and peanut butter flavors.