Do you and your dog enjoy spending time outside in the yard or on your patio in the spring and summer? An outdoor dog bed provides your dog with a comfortable place to relax while basking in the sun or observing their surroundings. Outdoor dog beds can even help keep your dog cleaner by preventing them from laying in the dirt. They can also help with training by giving your dog a dedicated spot to lounge in while you're barbecuing or entertaining guests—this can prevent your dog from begging or stealing food off the picnic table. Our roundup of the best outdoor dog beds will help you choose a model that looks nice in your yard while keeping your pup comfortable as they snooze outside with you this summer.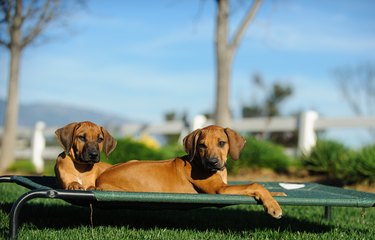 What to consider when purchasing an outdoor dog bed
‌Supervision:‌ Dog beds are not chew toys. If you have a puppy or an active chewer, be sure to supervise your dog while they are utilizing the outdoor dog bed or have access to it.
‌Raised Options:‌ Elevated pet beds are ideal for outdoor use because they help keep your pet cool thanks to improved airflow. Most models are made with breathable fabric that dries quickly if left out in the rain. There are a variety of raised options on the market, ranging from portable and collapsible pet beds to prominent yard furniture. Raised outdoor dog beds may also be good for dogs with joint pain as they're supportive and resistant to sagging.
‌Covering:‌ Some outdoor dog beds come with tents or covers to protect dogs from the sun and help prevent overheating. Most are removable, allowing your dog to use them with or without the extra protection. If your dog regularly seeks out dark, cozy spots or spends a lot of time on a patio with full sun, this type of outdoor dog bed might be just what you're looking for.
‌Preferences:‌ The right outdoor bed for your dog will ultimately depend on their preference. Some dogs prefer soft and cuddly beds, while other dogs like to lay on firm, raised platforms. Select the dog bed that will be most comfortable for your dog and fits best in the space that you have available.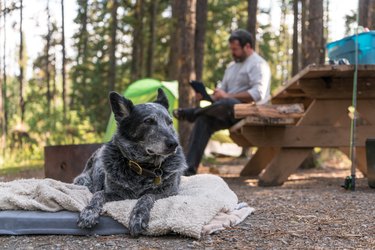 The best collapsible outdoor dog bed
This elevated cot with a canopy attachment comes with a water-resistant, roll-down sunshade to provide your dog with protection from the elements. The outdoor bed is designed for large dogs up to 150 pounds. Assemble the bed by placing the canopy legs into the corner holes of the cot and pushing up in the center. The canopy part is detachable if you'd prefer to set up the bed without it. The cot can be assembled in minutes and collapses for convenient storage when not in use. It's great to take on camping or fishing trips and comes with stakes to secure it to the ground as well as a carrying case with straps.
The best budget outdoor dog bed
This raised outdoor dog bed is perfect for decks and patios. It's available in sizes small, medium, large, and extra-large—the latter of which can accommodate dogs weighing up to 150 pounds. Aside from gray, it's also sold in brown. The elevated platform is 8 inches off the ground to help keep dogs clean and cool. The platform of the bed is made with breathable, recycled mesh fabric, which allows for better airflow. It also prevents pet hair from sticking to it. The dog bed is supported by a metal frame and legs with skid-resistant feet. To clean the bed, simply hose it down or hand-wash it with water and mild, nontoxic soap.
The best bolster outdoor dog bed
This raised pet cot includes soft bolster sides for dogs who like to rest their head while taking a snooze. The largest size can support dogs weighing up to 200 pounds, but Chewy also sells the bed in sizes small and medium if your pup isn't quite that big. The bed's mesh fabric center promotes air circulation to keep your dog cool and comfortable. It can be assembled without tools and has non-skid rubber feet to prevent slipping when your dog climbs in or out of the bed. It also features a removable, machine-washable cover. Plus, the bolster border is waterproof and can be removed if your dog prefers the bed without it.
The best covered outdoor dog bed
This is the perfect outdoor bed for dogs who like a little privacy. The elevated bed is water-, mold-, and mildew-resistant. It has a sturdy metal frame with a mesh fabric platform for comfort and optimal airflow. There are also two zippered windows and an open entrance for cross-ventilation. It comes in sizes small, medium, and large and can support dogs weighing up to 200 pounds. Just note that the overall height is 32 inches for the large size, so it may be too tight for some dogs when the cover is on (you can opt to remove it). The cover is machine-washable but the roof is spot-clean only. This indoor/outdoor bed is easy to assemble without tools and it's great for anxious dogs in need of a safe space.
The best luxury outdoor dog bed
Looking to pamper your dog this summer? This deluxe elevated wicker bed is aesthetically pleasing and comfortable for your dog. The bed has an aluminum frame, making it built to last and supportive for your dog. The elevated bed comes fully assembled and ready to place in your yard. It can be wiped clean with a damp cloth when it gets dirty. The plush mattress is 3.5 inches thick and covered with high-quality, UV- and fade-resistant polyester fabric. The mattress is also mold-, mildew-, and water-resistant. The indoor/outdoor dog bed is sold in one size, measuring 34 inches long, 21.5 inches wide, and 12 inches high.
The best orthopedic outdoor dog bed
Available in green, blue, and red, this plush platform bed is made with 3-inch temperature-regulating gel memory foam, which provides excellent joint support and prevents stress on pressure points. The orthopedic dog bed is especially helpful for dogs with hip dysplasia or arthritis. It's sold in three sizes: medium, large, and extra-large. Medium is suitable for dogs under 40 pounds, large is suitable for dogs under 65 pounds, and extra-large is suitable for dogs under 120 pounds. Intended for outdoor use, the dog bed is made with 600D oxford fabric and features a zippered, waterproof cover with reinforced stitching to prevent moisture from seeping in. However, to maintain its lifespan, this pet bed should not be permanently stored outside.
The best portable outdoor dog bed
If you and your dog are often on the go, this portable outdoor bed can provide your dog with a comfortable place to sleep while camping, hiking, or spending time outside in your yard. The bed is made from Oxford cloth that is water-resistant. It's available in two sizes, large (43 inches by 26 inches) or extra-large (51 inches by 35 inches), as well as two colors (orange or blue). The channel tufted mat is scratch-resistant and machine-washable. It can be rolled up into the included carrying bag, making it easy to bring along anywhere you take your dog.
The best canopy outdoor dog bed
Built with a sturdy steel frame, this outdoor bed is elevated for your dog's comfort. The bed comes with a canopy to shield them from the sun, wind, or light rain. It's sold in three sizes—30 inches long, 36 inches long, and 48 inches long—and two colors, gray or red. As the bed is 8.5 inches off the ground, it helps promote airflow and keeps your pup clean and dry. The surface is also extremely supportive and does not sag even under the weight of large dogs. The detachable canopy easily snaps into place, and there are two supports under the bed in addition to its four legs. It comes with a carrying bag so you can take it with you wherever you and your dog go.
The best waterproof outdoor dog bed
This indoor/outdoor dog bed is ideal for pups who prefer a stuffed bed. The bed is made with a durable waterproof lining but has shredded foam filling for maximum comfort. You can even remove some of the plush filling to adjust it to your dog's liking. The removable cover is machine-washable and dryable, plus it can withstand biting, chewing, and scratching. Pillo comes in two sizes: small (26 inches long, 2-6 inches high, and 18 inches wide) and medium (32 inches long, 2-8 inches high, and 20 inches wide). Choose from pewter, a medium gray, or ash, an off-white color. The bed is designed to fit the Revol dog crate, which ranked among our best dog crates in 2023.