Just like humans, dogs get cold at night and can benefit from a heated dog bed—especially dogs with short hair, those who spend a lot of time outdoors, older dogs with circulation issues or achy joints, and puppies who can't regulate their body temperatures yet. Sure, you can place a blanket over your chilly dog at night, but since dogs move around a lot, chances are high that the blanket is going to move around too. A heated dog bed keeps your dog warm during the colder months, and the heater can often be removed so the bed can be comfortably used throughout the year. Plus, if you don't enjoy your dog jumping into bed with you when they get cold at night, a heated dog bed is a great way to get them to stay put.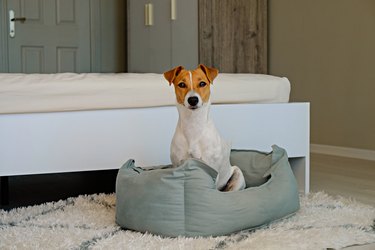 Heated dog beds are safe for dogs as long as the cords are chew-resistant and the beds are water-resistant. Electrical heating beds are always low voltage, with an internal thermostat that heats to the standard body temperature of your pet. Some heated dog beds have adjustable temperature options. They also tend to be energy efficient. Self-warming dog beds are cordless and rely on a dog's body heat, so you don't have to worry about any safety issues, but they might not keep your dog as warm as an electric bed.
What to consider when purchasing a heated dog bed
‌Material:‌ It's important to look for durable materials that can withstand wear and tear as well as provide extra warmth. Many heated dog beds are made from the following materials: fleece, cotton, faux wool, polyester, faux fur, sherpa, and PVC. It's helpful if they have a removable bed cover that can be easily machine washed when needed.
‌Style:‌ There are various available styles of heated pet beds, so you'll need to choose the type that works best for your dog.
‌Bolster:‌ A heated bolster bed looks like a traditional dog bed that offers cushioned walls for head support, which is a naturally comfortable position for dogs. The heat feature or heat setting is on the bottom of the bolster and provides a comfy and warm place for your dog to sleep.
‌Flat Pad:‌ Flat pads are similar to a heating pad you'd use on your bed, but they're designed to fit inside a dog crate on top of a dog crate bed or crate pad. They usually feature orthopedic foam pads that add an element of comfort and are especially good for dogs with joint issues. Flat pads come with a removable and machine-washable cover.
‌Outdoor Heated Bed:‌ If your dog spends a significant amount of time outside, a heated bed can keep them warm. An outdoor heated bed is meant to be used in a covered area, like a porch, dog house, or garage. They are generally made with a water-resistant PVC exterior that protects them from weather or accidents.
‌Self-Heating:‌ Self-warming dog beds are cordless and rely on a dog's own body heat. They feature heat-reflective and insulating materials built into the cushion of the bed. It works by reflecting a dog's infrared radiation (or body heat) back to them to keep them warm.
‌Cord:‌ Some heated dog beds have a cord that needs to be plugged into an outlet while others are wireless. If your dog is a chewer, you might want to steer clear of anything with a cord for your dog's safety or at least purchase a heated bed with a chew-resistant cord. Even if your dog isn't a chewer, make sure any cord is out of reach. You can also skip the cord altogether and opt for a self-heating dog bed.
Ahead, you'll find the best heated dog bed options.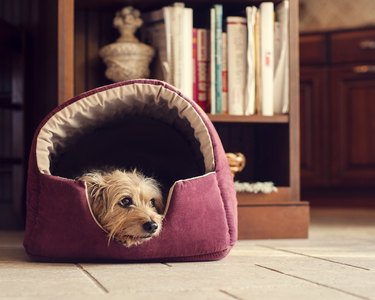 The best overall heated dog bed
You can't go wrong with a classic bolster bed, especially a heated bed that cradles your dog in cuddly warmth. This electric-heated dog bed is controlled by a thermostat. It's energy-efficient with low wattage, and the heater can be removed so the bed can be utilized year-round. The bed features a removable and machine-washable cover for easy care. It's made from polyester and comes in sage and tan. Choose from two sizes: medium or large.
The best overall self-heating dog bed
Electrical heating might be the warmest option, but it isn't always the best option, specifically if you have a dog that chews on everything. American Kennel Club's Self-Heating Bolster offers warmth in the safest way. The dog bed has a plush quilted surface along with self-heating thermal technology. Since there aren't any cords, the bed is machine washable. This black and tan-colored bed is best for medium-sized dogs.
The best budget self-heating dog bed
Made with the same technology as self-warming mylar blankets, this Amazon Basics self-warming pet bed uses your dog's body heat to keep them warm. The heated dog bed is made of faux sherpa fleece and supple corduroy, so it's extra soft. There are no cords to worry about and no electricity, so you won't need to supervise your mischievous dog as they sleep. Unfortunately, this bed can't be machine washed, so it'll need to be spot cleaned if necessary. It comes in a round or rectangle shape in gray and tan. It's available in six sizes—extra-small through extra-large.
The best outdoor heated dog bed
The most important feature of an outdoor dog bed is its durability and weather resistance. This K&H heated dog bed has both, along with several other notable features. It's made of soft PVC material that can withstand water, and the orthopedic foam makes it comfortable for all dogs—especially seniors. The bed uses an internal heating element to keep the temperature at 102 degrees when your dog is on the pad, and it remains 10 to 15 degrees above ambient air temperature when your dog is away from the bed. Even though the heated dog bed is designed for the outdoors, it's meant to be placed in any sheltered outdoor space, like a porch, dog house, basement, garage, or shed. The pet pad is available in sizes small, medium, and large.
The best adjustable temperature heated dog bed
Just like a feature you probably appreciate with your own heating pad, an adjustable temperature control on your dog's heating pad helps keep them comfortable. Made from PVC material, this heated dog pad from Toozey is long-lasting, waterproof, and flame-retardant. An intelligent temperature sensor is built into the heating pad to prevent your dog from overheating. A timer function provides auto shut-off controls from 4 to 24 hours to conserve energy. A unique dual-resistant cord protection design prevents dogs from chewing on wires, and a machine-washable cover provides cozy comfort and easy cleaning capabilities. You can buy this bed in sizes medium or large with three color options: beige, green, and gray. It makes for a great crate bed as well.
The best self-heating dog pad
Whether you plan to place this self-heating pad inside your dog's crate or on the floor in your home, it's a warm and snuggly option for small and large pets. The pad has a plush exterior that's machine washable and an insulated polyester fiber core that captures your pet's heat and radiates it back. It's a great option for dogs or for one or multiple cats who want to stay warm. The heating pad comes in six colors and designs and is available in size small or large.
The best orthopedic self-heating dog bed
If joint relief is something your dog needs, this orthopedic self-warming bed can help. The walls of this bolster bed are extra high to help ease joint pain and to provide a deep dish-like space for your dog to cuddle up and feel safe. The bottom of the bed is water-resistant and the entire thing can be thrown in the washer and dryer as needed. It's available in 16 color options, so you're bound to find something that fits with your home decor—and maybe even add a splash of color. Choose from two sizes: standard and jumbo.