If your dog is constantly taking over your living room couch or could really just use a place of their own to lounge and sleep, a sofa dog bed will be a win-win for the entire family (AKA your dog and whoever's seat they steal). We can't actually promise that your dog won't still take over your favorite spot on the couch, but at least they'll have a place to go when you tell them to hit the road.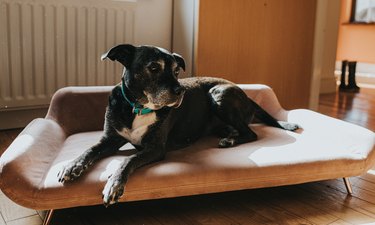 Sofa beds for dogs aren't just practical places for dogs to sleep, they're also miniature couches and arguably the most adorable piece of furniture you could ever add to your living space. There are all types of sofa dog beds to choose from, so to help narrow down your search, we researched the most comfortable and stylish pet sofa beds for dogs of all sizes and abilities, with enough options to match most home styles.
What to consider when purchasing a sofa dog bed
‌Size:‌ Dog couches are designed for dogs of all sizes. You may want to check the dimensions of the sofa bed you're interested in purchasing and compare them to the bed your dog already has to make sure it's the right fit. If this is the first bed you're buying for your dog, grab a tape measure and take some measurements. First, measure your dog from the tip of the nose to the base of the tail, then from shoulder to shoulder at the widest point for the minimum width that the bed should be. Then add 6 to 12 inches to the final number to give your dog some room to spread out.
‌Material:‌ Most importantly, the material of the bed needs to be cozy enough to entice your dog to cuddle up. But the material also needs to be durable enough to hold up to wear and tear, especially if your dog tends to be rough on their bed. You can find sofa beds made of suede, faux fur, faux leather, and cotton, as well as some fabrics that are machine-washable. They don't always use them destructively, but dogs do have claws, so any upholstery fabric needs to be able to withstand getting scratched as your dog climbs in and out of the bed.
‌Style:‌ There are so many sofa dog beds that are cute and aesthetically pleasing, so you shouldn't have a hard time finding one that is comfortable for your dog and fits with your home decor or other pet furniture. There are plain sofa beds that come in neutral colors to match any room, luxurious and bright modern couches to add to your decor, and leatherette couches to bring some classic style to your living space.
Check out our top picks for the most comfortable and stylish sofa dog beds of 2022 below.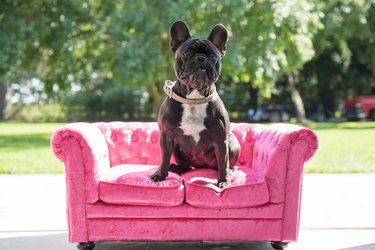 The Best Overall Sofa Dog Bed
Sofa dog beds can be a bit pricey, so if you're going to spend the money, you might as well do it right. Our favorite pet couch is this beauty from the BlvdCouch Etsy shop. A memory foam base makes the bed a comfortable spot for your dog to cozy up on all day and night if they want to. Supportive, yet soft arms provide structure and a place for your dog to rest his head. The best part of this adorable pet bed is that you get to have the bed custom-made to your specifications. Choose from leatherette, everyday tweed, premium cotton, velvet, or versatility for the fabric. All of the upholstery options have accident-proof liners and are removable and machine-washable, so you don't have to worry about stains or smells. The small can hold up to 30 pounds, the medium up to 60 pounds, and the large can hold up to 120 pounds.
‌Dimensions:‌ 29" x 21" x 9.5" (small), 37" x 25.5" x 9.5" (medium), 49" x 37" x 9.5" (large)
‌Colors:‌ Ash, charcoal, natural, denim, rose, indigo, storm, etc.
‌Materials:‌ Leather, tweed, premium cotton, velvet, versatility
The Best Budget Sofa Dog Bed
This pet bed is the least expensive on our list, but it doesn't lack comfort for your best friend. The price varies widely because there are a few options to choose from, including cooling gel foam, memory foam, and orthopedic foam in five sizes: small, medium, large, jumbo, or jumbo plus. The machine-washable cover is lined with faux fleece with a foam mattress underneath. Squishy bolsters on three sides give your dog something to lean against or rest their head on. Memory foam and orthopedic foam beds are good choices for senior dogs or those who need extra joint support, and the cooling gel foam can decrease the temperature of the bed by 1 to 2 degrees, which is a great way to keep your dog cool during the summer months.
‌Dimensions:‌ 20" x 15" x 5.5" (small), 30" x 20" x 6.25" (medium), 36" x 27" x 6.5" (large), 44" x 35" x 8" (jumbo), 53" x 42" x 9.5" (jumbo plus)
‌Colors:‌ Coffee, cream, orion blue
‌Materials:‌ Faux fleece, chenille
The Best Sofa Dog Bed for Small Dogs
Your best dog will love this extra soft and cozy pet bed made just for them. Whether they want to take a nap or use the sofa as a bed, this modern gem will be a stylish addition to any room. While it can support dogs weighing up to 70 pounds, due to its size, it's best suited for small and medium breeds. The oval-shaped lounger features a memory foam cushion with a removable, machine-washable cover. It's covered in plush velvet (available in navy blue or dark gray) and has a wooden frame with slim, flared legs in a black finish. It's as durable as it is stylish, so your dog will always have their own space to rest.
‌Dimensions:‌ 34.25'' x 22.44'' x 15.35''
‌Colors:‌ Dark gray, navy blue
‌Material:‌ Velvet
The Best Sofa Dog Bed for Large Dogs
Intended for a large dog, this comfy extra-large sofa bed is designed to lure your dog in so they'll want to sleep in their own space instead of yours. It has three bolsters like a couch normally does, which gives your dog a place to rest her head or lean against. The company allows you to personalize the bed with your dog's name for just a couple of extra dollars. The removable cushion cover is machine-washable and the high-quality fabric is waterproof to help with any accidents that might occur.
‌Dimensions:‌ 37" x 26" x 7.8" (XXL)
‌Colors:‌ Black, gray
‌Material:‌ Cordura
The Best Orthopedic Sofa Dog Bed
Your dog isn't going to want to leave this sofa bed. Made of super soft plush material and a memory foam cushion, this couch is ideal for older dogs who need a little more cushion due to joint pain or arthritis, or even just any dog who loves being extra comfortable. It's made with a water-resistant liner and a cover that you can remove and machine wash. Available on Amazon, this sofa bed will be delivered in two days with Amazon Prime, as opposed to the other options on our list which might take a bit longer for shipping.
‌Dimensions:‌ 25" x 20" x 5" (small), 36" x 28" x 9" (large), 44" x 34" x 10" (XL), 50" x 40" x 13" (XXL Jumbo)
‌Colors:‌ Pewter gray, cocoa brown, khaki beige, vanilla
‌Material:‌ Polyester
The Best Faux Leather Sofa Dog Bed
Does this couch look like it belongs in a den where your dog will do some evening reading while drinking whiskey on the rocks? It sure does, which is what makes it so endearing. In all seriousness, the sofa is a comfortable spot for your dog to lounge and sleep, and its traditional details like button tufting, turned legs, and nailhead detailing add to its charm. Upholstered in easy-to-clean, high-quality faux leather, this sofa offers the style and comfort you and your dog both deserve. The sofa bed is recommended for dogs under 80 pounds.
‌Dimensions:‌ 14'' x 44.5'' x 27.5"
‌Colors:‌ Brown
‌Material:‌ Faux leather