Keeping dogs cool in the summer can be challenging. If you employ a crate to transport your dog in the car or utilize a crate when you leave the house, having a crate fan can help keep your dog cooler. Crate fans can be attached to the front of your dog's crate or placed near the crate to blow cool air in on them. Crate fans can be used at home, in the car, at training classes, or anywhere else your dog might need some quiet time in the crate.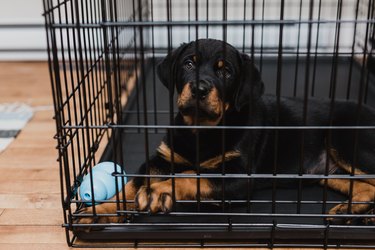 What to consider when purchasing a crate fan for your dog
‌Dangerous Heat:‌ Dogs can easily overheat, which can lead to heatstroke. The presence of a crate fan does not make it OK to leave your dog in a location that is too hot for them. Dogs should not be left crated in the heat for any reason. If it's hot and you're utilizing a crate, try to keep your dog in air conditioning if possible. It's also essential to make sure your dog has access to fresh, cool water.
‌Introductions:‌ Some dogs take to the presence of a crate fan right away while other dogs may initially be wary or scared of it. Dog owners should slowly introduce dogs to the crate fan while they are outside of their crate and have freedom of movement. Pair the presence of the crate fan with treats and allow your dog to explore it while the fan is off. After your dog is comfortable approaching the fan, turn it on low and reward your dog in the presence of the fan. Your dog should be calm and comfortable with the fan blowing on them before you attach it to the crate.
‌Supervision:‌ When you first begin using a crate cooling fan, supervise your dog to ensure they are completely comfortable with the sensation of the fan blowing on them. If your dog shows signs of distress when you turn the fan on, turn it off immediately, and discontinue use unless and until you've been able to use positive reinforcement techniques to shift your dog's feelings about the crate.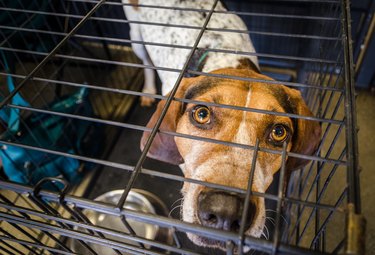 The best overall crate fan
Made specifically to attach to a dog's crate, this efficient fan can help keep dogs cool while crated. The fan has two speeds to keep the airflow circulating and even removes warm air from inside the crate. It has retractable arms, making it possible to hook the fan onto different parts of a metal wire crate or kennel. There's also a built-in thermometer so pet parents can monitor the temperature in their dog's crate. It's powered by four C-sized batteries but you can purchase an AC/DC adapter separately if you would rather plug it into an outlet. The fan is ultra-quiet and compact at 8 inches high, 6.25 inches wide, and 2.5 inches deep.
The best misting crate fan
This small-sized misting fan can help keep your dog cool and refreshed. The fan has a 300-milliliter (10-ounce) water tank for the two optional misting modes, intermittent and continuous. The fan also has seven colorful lighting options, although your pup probably won't care about that feature. The fan weighs less than a pound, making it easy to use at home or on the go. The personal fan has three speed settings and is fairly quiet. It's powered by a USB rechargeable battery and can run for hours on a single charge. This fan does not attach directly to a crate but can be positioned directly in front of a crate door to provide misting coolness during the dog days of summer.
The best solar-powered crate fan
This solar-powered fan is designed to provide cool air relief to an outdoor dog kennel or chicken coop. When the sun isn't shining you can also plug this fan into a USB port to power it. It needs to be positioned under direct sunlight to work properly, so if your yard is shaded this may not be a good pick. The 10-watt solar panel measures 8.66 inches by 7.48 inches, while the fan itself measures 5.4 inches in diameter. Although not as powerful as some of the other fan options in this list, the solar aspect of this fan makes it ideal for camping or power outages.
The best ultra-quiet crate fan
Designed specifically for dogs, this battery-operated fan hooks onto wire crates and kennels. It's compact at 5 inches in diameter and foldable, making it easy to store when it's not in use. The fan has an ultra-quiet operation and two cooling speeds to keep dogs comfortable while crated. It's especially useful for dogs or other small animals who are sensitive to sounds. The fan requires two D batteries and is on the smaller side, so it's best suited for small breeds.
The best clip-on crate fan
This powerful clip-on fan can be attached to different styles of kennels, crates, or playpens. It's USB powered and needs to be plugged into a USB port or a power bank to operate. The cable is 43 inches long, so the fan may require an extension cable depending on where your dog's crate is located. The fan is super powerful for its small size and can be felt up to 10 feet away. The clip opens up to 2.5 inches and has a rubberized grip that keeps it in place and prevents it from damaging surfaces. The 6-inch cooling fan is quiet while running and has narrow gaps in the cage to keep dogs away from the moving fan blades. Plus, it's sold in blue, pink, white, or black.
The best flexible crate fan
Originally designed for baby strollers, this fan's flexible tripod makes it ideal for use with different kennel or crate setups. The tripod has a BPA-free, elastic silicone surface, so it's waterproof and a breeze to clean. The fan has a 360-degree range of motion and is easy to adjust. It's completely portable with a battery life of 4 to 16 hours depending on which of the three speeds you're using it on. When the juice runs out, simply recharge the battery using the included USB type-C cable. The fan is foldable and fits into a purse or backpack if you ever want to take it on the go. The motor is quiet and the gaps in the fan's cage are extremely narrow (less than 6 millimeters) for safety. It's sold in four colors: black, light blue, pink, or white.
The best pet carrier with a built-in fan
For small dogs weighing up to 17 pounds, this peach-colored pet carrier with a built-in fan is an ideal way to tote around your best friend during the warmer months. The backpack-style carrier has a tinted viewing window so your dog can look out but not get overwhelmed by the sun. The built-in fan is quiet and provides your dog with proper ventilation by replacing stale air every 20 seconds. The fan is powered by a rechargeable battery that's located in a side pocket. The carrier has a wide bottom, giving your pet more room, and metal-plated foot pads to prevent it from toppling over when placed on the ground.