Winter weather can make it difficult to get dogs out on their regular walks. The winter slush that comes with snow, ice, and rain combined with road traffic can make your dog's legs wet, dirty, and uncomfortable. Puppy clothes aren't just for aesthetics. Wearing a full-body dog snowsuit or dog raincoat that includes leggings can actually help keep your dog cleaner, dryer, and warmer in the cold and wet winter weather.
These coats can also help prevent snowballs from building up on your dog's leg fur. A dog sweater can keep your dog warm in cold weather, but it won't protect their full body. These full-body dog snow outfits can even help prevent your dog from needing as many baths in the winter as their bodies will stay cleaner while out on walks. For extra warmth for thin-coated dogs like greyhounds and chihuahuas, consider adding dog pajamas or a warm fleece under the snowsuit for an added layer of protection.
What to consider when purchasing a slush suit for your dog
‌Sizing:‌ Always consult the sizing chart when purchasing any type of clothing for your dog. Sizes are not universal and will be different for each dog snowsuit. Some are designed only for small dogs, while others come in a range of sizes to fit big dogs as well. The goal of these slush suits is to keep your dog dry and comfortable. A suit or leggings should be well fitted, meaning not too tight so they restrict your dog's movement, but not so loose that your dog trips or gets stuck in their outfit. Also take into account if you'll be putting a warm fleece or sweater on your dog to wear under the outerwear and plan for that when you select the right size for your dog. Be sure to supervise your dog while they are wearing a slush suit, and remove it if they begin showing signs of distress.
‌Care Instructions:‌ When selecting a slush suit or leggings for your dog, take a look at the care instructions to find out whether it's machine-washable or hand-wash only. Since your dog will be wearing the outfit in inclement weather, something that you can easily clean in the washing machine and then hang up to dry is preferable.
‌Weather Conditions:‌ Consider the weather conditions that you regularly walk your dogs in. If you have a lot of snow and ice, you'll want to get your dog leggings that are designed to keep dogs warm as well as dry. If you live in a wet climate that isn't as cold, you may want a full-body raincoat that's lighter in weight but wind and waterproof.
‌Foot Protection:‌ Although these suits protect a dog's legs and body from slush, they don't include booties to protect a dog's feet. If you're walking your dog in cold, wet, and slushy conditions you'll want to also consider adding dog boots to protect your dog's paws from harsh deicing chemicals.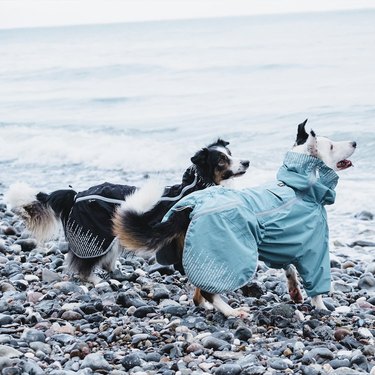 The best overall slush suit
Available in black or pink, this slush suit from Canada Pooch helps protect your dog from harsh weather conditions. The slush suit has a side zipper closure to make it easy to put on and take off your dog. It features an adjustable neck for comfort and a water-resistant exterior so your pup stays dry on their walk. When the slush suit inevitably gets dirty, you can spot-clean it or turn it inside out and throw it in the washing machine on a cold, gentle cycle. It should then be hung up to dry. The suit also has a belly cutout, making it possible for dogs to comfortably potty.
The best slush suit for small dogs
This waterproof raincoat is lightweight and designed to keep dogs dry while walking in rainy and windy weather. The shell of the jacket is nano-stitched to be breathable and has reflective stitching and reflective tape down the sides and around the hood. The zippers on this suit are air-tight and waterproof to keep dogs warm and dry. The four legs of the suit have ribbing to conform to the size of your dog's legs to keep them dry while walking. There's a behind-the-neck keyhole for attaching a leash with zippers on either side so that only a sliver of skin is left exposed. To help dogs achieve a comfortable fit, this suit has elastic banding around the body and each sleeve.
The best slush suit for large dogs
Available in sizes up to 4XL, this transparent dog suit is designed to keep dogs dry and comfortable when walking in slushy and wet weather. The raincoat is made with nontoxic TPU, which is waterproof and durable. It has reflective striping on the front legs and hood to help keep dogs visible while walking at night. The suit has an adjustable drawstring waist for a comfortable fit, and it provides full leg coverage for dogs who are prone to fur snowballs. If your dog is between sizes, it's recommended to size up for the best fit.
The best reflective slush suit
If you're looking to keep your dog warm and dry while walking in winter's wet and messy weather, this complete dog suit is laminated with Houndtex membrane. The fabric is extremely breathable while also being waterproof. The coat has an adjustable waistband as well as an adjustable collar and legs to ensure a comfortable fit. There are 3M reflectors on the coat to make dogs more visible while walking. Wearing this coat can also help protect your dog's skin and fur from inclement weather as well as deicers that may be on streets and sidewalks. Wearing a winter coat like this one can help keep dogs clean and eliminate the need for frequent baths during winter.
The best hooded slush suit
Available in yellow and gray or pink and gray options, this suit is made with a polyester blended outer shell to be fully waterproof. This suit protects a dog's entire body and has full leggings attached, as well as a hood that can shield your dog's face. For easy carrying, this suit can fold up to be stored in the coat's front pocket, making it easy to pull out and use anywhere. The slush suit is fully machine-washable to keep it clean between walks. Hook-and-loop and button closures provide a secure fit, and a mesh lining promotes breathability.
Available in red, black, and gray, these dog leggings help protect your dog from snow and slush. The pants come in sizes small to extra-exra-large to fit most sized dogs. These leggings have an under-belly cutout allowing dogs to go potty without restriction. For a comfortable fit, the leggings have built-in adjustable straps that secure across a dog's back to hold the pants up. There are hook-and-loop straps at each ankle that you can tighten to keep out the snow, too. The leggings are water-resistant and machine-washable, complete with built-in reflective striping for added visibility. They can be worn on their own or under a full coat or parka for added warmth.
The best full-coverage slush suit
Available in black, red, and blue, this fully waterproof suit provides dogs with total-body coverage. It has a pop-up hood, which can help prevent dogs from experiencing frostbite on their face in cold weather. The suit also has full leg coverage for warding off those pesky fur snowballs. Reflective piping makes your dog more visible on nighttime walks, and the windproof inner and outer shell keeps them comfortable even when the temperature dips. The coat has hook-and-loop adjustable sleeves, as well as a belly and chest hook-and-loop closure. Overall, it's a well-made snow suit that will shield your dog from snow and wind while maintaining breathability.
The best lightweight slush suit
If you live in a place with wet weather and mild temperatures, you might consider this lightweight dog jacket. It provides full body coverage during nasty weather, and is windproof and waterpoof. It's even got a turtleneck design to provide protection to your dog's neck. The coat has reflective striping to help make dogs more visible at night or in fog. It boasts adjustment points at the feet, chest, neck, and waist to get a customizable fit. The jacket has a smooth metal zipper to make it easy to put on and take off your dog. Reinforced stitching also helps keep dogs dry and comfortable.
The best design-forward slush suit
This stylish rain jacket is waterproof and breathable. Available in four colors, including a green camo print, the coat touts reflective 3M accents and provides total body coverage. The company provides a detailed size chart that should be referenced closely before ordering. This dog coat provides front leg total coverage to minimize the amount of muck that gets on your dog's fur while out walking. It has adjustment points on the neckline, waist, and back to get a custom fit for your dog's unique shape. The coat also has a rain collar to help keep dogs dry and prevent moisture from getting in through the neck area while outside in the rain or snow.