Has your dog been naughty or nice this year? If your pup is eagerly counting down the days until Santa Paws comes to town, you might want to get them their very own advent calendar. Dog advent calendars can be purchased one time or reused year after year, and are typically filled with treats, chews, or toys that your dog can receive in the lead-up to Christmas or Hanukkah. Even though dogs might not understand what the holidays are all about, after a few days of getting a treat or toy, they'll start to anticipate the reward—making an advent calendar a fun way to include your dog in the season's festivities.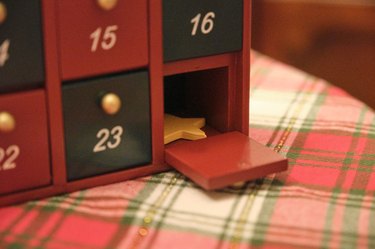 What to consider when purchasing a dog advent calendar
‌Allergies:‌ For any advent calendar that includes treats or chews, keep in mind any allergies or food sensitivities that your dog has. Read the ingredients list closely to make sure the calendar doesn't contain anything your dog struggles with like gluten or lactose. If your dog has allergies, the best dog advent calendars are going to be ones that you can fill yourself with treats you know your dog is able to safely eat.
‌Location:‌ When purchasing an advent calendar for your dog, place it in a secure location where your dog can't reach it. Especially if you purchase an advent calendar with treats that are visible, you'll want to ensure that your pooch can't get into the advent calendar before they're supposed to.
‌Size:‌ Pay attention to the dog breed size recommendations for each advent calendar, especially those with chews and toys. You'll want to verify that the included goodies are an appropriate size for your dog. Chews and toys that are too small can be choking hazards for large-breed dogs.
1. Frisco Holiday 12-Day Advent Calendar with Toys for Dogs
Help your dog count down to the Christmas holiday with this assortment of 12 full-size dog toys. The set includes plush, rope, TPR, and latex toys in the shape of Santa, a reindeer, gingerbread man, and more. The advent calendar is designed for small and medium-sized dog breeds. Some of the toys feature squeakers to encourage your dog to play. The Christmas tree-shaped advent calendar can be reused year after year and purchasers rave about the quality of the included toys.
2. Dog Bone 'Deck the Paws' Hanging Christmas Advent Calendar
Countdown the days until Christmas with this "deck the paws'' hanging advent calendar. The felt calendar is bone-shaped and has 25 small pockets. Each pocket in the advent calendar can be filled with small dog treats, and it also comes with a small star attached to a red string that allows you to keep track of the days. This festive countdown calendar is designed to be hung on the wall as part of your Christmas decorations and can be used year after year.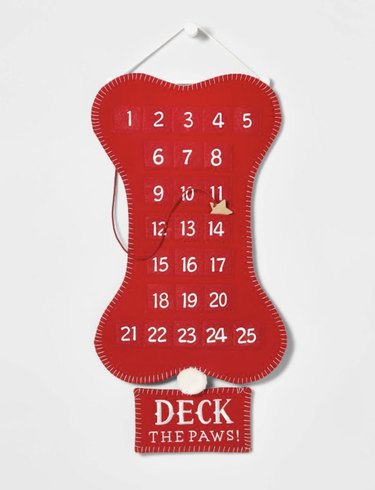 3. Snif-Snax Happy Holiday Advent Calendar, Salmon & Sweet Potato Dog Treats, 25-Count
Help your dog to count down to the arrival of Santa Paws with this treat-filled advent calendar. Stuffed with 25 human-grade treats, this advent calendar is grain-free and ideal for pups with food sensitivities. The included treats are made with Atlantic salmon, sweet potato, and only two other ingredients. They're rich in omega-3 fatty acids, DHA and EPA, while being free of GMOs, antibiotics, and chemical additives. The treats are small in size, so they're best suited for small breeds.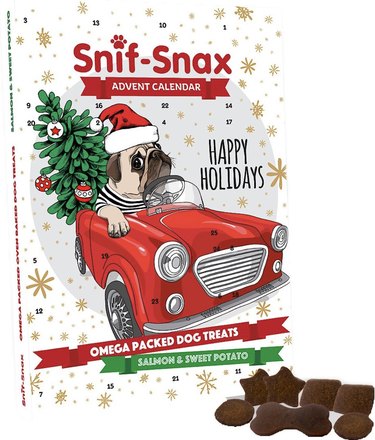 4. Himalayan Pet Supply Best Friend's Advent Calendar Dog Treats
This advent calendar features a festive winter village scene of people walking and playing with their dogs. Behind each of the 24 doors are treats made with natural ingredients for your dog to enjoy in December. The included treats are cheese, chicken, bacon, and peanut butter flavored to keep your dog interested and coming back for more each day. The treats are made without gluten or lactose and use vinegar as a natural preservative. These daily December treats are perfect to use with training or to treat your dog while the rest of the family opens their advent calendars.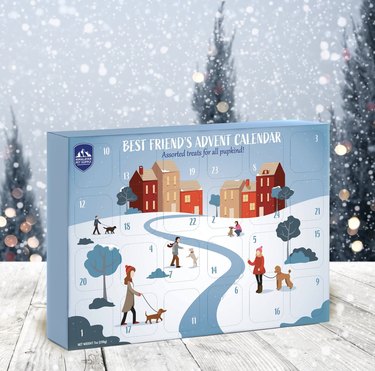 5. Wüfers Dog Advent Calendar 2022
If you're looking to spoil a very good dog this holiday season, don't pass on this specialty advent calendar. The fold-out box has 24 delicious treats for your dog to enjoy. The advent calendar features an illustrated winter scene, complete with dogs wearing sweaters, scarves, and hats. It has bone-shaped, punch-out doors that reveal holiday treats in a variety of colors. The cookies are made in North America with human-grade ingredients. They're freshly baked and then hand-decorated with dog-safe yogurt and yummy sprinkles. Each Christmas cookie is packaged in individually wrapped plastic bags to preserve freshness.
6. SmartBones Furry Christmas Advent Calendar
These holiday-themed chews are made specifically for small dogs. They're made without rawhide for a safer chewing option. Instead, they're created with real chicken and vegetables like dried sweet potatoes and carrots, enriched with vitamins and minerals. The advent calendar has a festive design that resembles a holiday sweater, complete with dogs pulling Santa's sleigh through the night sky. The chews are easy to digest and help keep small dogs' teeth healthy. The chews included in the advent calendar are eight mini candy canes, eight mini sweet potato bones, and eight mini chicken-wrapped sticks.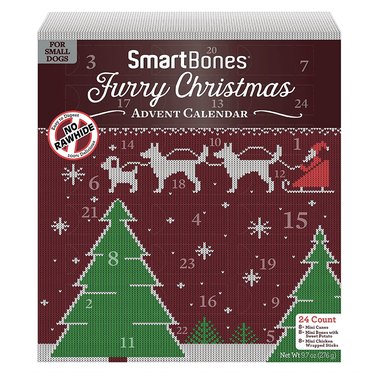 7. Midlee Christmas Tree Advent Calendar for Dogs
This reusable advent calendar is perfect for treating your dog year after year. The advent calendar is shaped like a large Christmas tree (it measures 25 inches tall and 19 inches wide) that can be hung on your wall. There are 25 numbered pockets just waiting to be filled with your dog's favorite treats. The tree is made with durable, high-quality felt and includes a loop for hanging it up. Perfect for dogs who have food allergies or certain medical conditions, this advent calendar allows you to treat your dog with biscuits that are safe for them.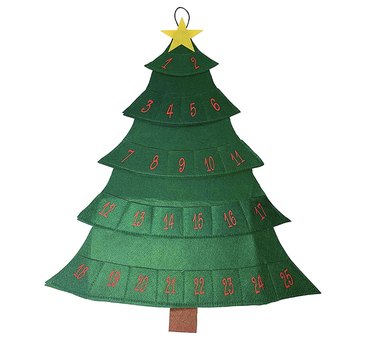 8. Frisco 8 Days of Hanukkah Cardboard Advent Calendar with Toys for Dogs
Involve your dog in celebrating the eight days of Hanukkah with this toy-filled calendar. Meant for small and medium-sized dogs, the box includes a variety of plush and rope toys—all with squeakers for added fun! Highlights include a dreidel, menorah, and a loaf of challah. There's even a version for cats if you have a multi-pet household.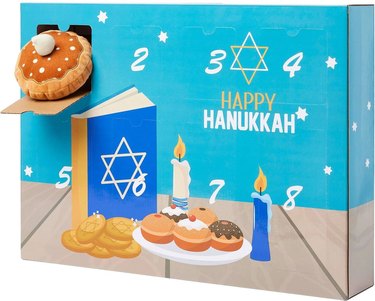 9. Personalized Dog Advent Calendar - Pet Christmas Countdown
This heirloom-quality dog advent calendar can be reused each Christmas season. It's meant to be hung on a wall—a jolly addition to your holiday decor—and features a red doghouse with multicolor lights and a twinkling Christmas tree. The green and red plaid border is a nice touch, too. The 25 hand-stitched pockets can be filled with treats and are big enough to each fit a Milk-Bone. The advent calendar can even be customized with your dog's name. It comes with a wooden dowel that slides into place to keep the advent calendar steady when it's hanging up.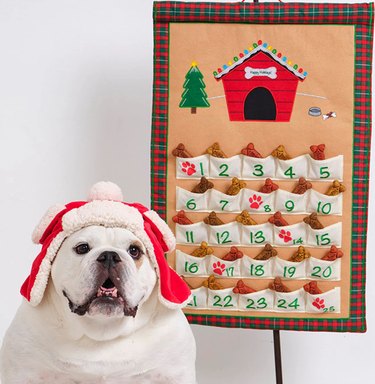 10. Personalized Dog Advent Calendar
This customizable advent calendar would be a great gift for the dog lover in your life. It's made of wood and shaped like a large dog bone, measuring 18 inches long and 10 inches tall. It's engraved with the phrase "Countdown to Santa Paws" and is personalized with your pet's name. There are 25 spaces for attaching dog treats with the included red pipe cleaners, with the biggest space of all (and hence, the biggest bone) reserved for Christmas day. This advent calendar is made by hand in Londonderry, New Hampshire, and can be ordered with or without bone treats.