For many cat owners, having a play mat in the home for their feline friends to enjoy is a huge part of enriching their lives. Similar to other pieces of traditional cat furniture, like cat trees, hammocks, or cat beds, play mats can help to prevent boredom in indoor cats while also engaging some of their natural tendencies, like pouncing, running, nesting, and hiding. Play mats come in a wide variety of sizes, prices, and designs. Many mats are flat and rest on the floor, and some contain added elements, like tunnels and hanging toys.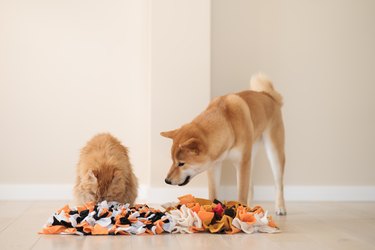 What to consider when purchasing a play mat for your cat
‌Texture:‌ A great way to entice your cat to use a play mat you've purchased for them is to be sure it contains a texture they love to indulge in. For many, a sisal scratching post is a very enjoyable playtime and enrichment activity. Other cats may love the feel and sound of crinkle material, while some others may prefer a simple and soft fleece mat that serves as a cat bed or comfortable place to rest. Finding play mats with a combination of these things is fairly common.
‌Durability:‌ When many cats play, they play hard, and their toys and cat furniture may be worse for the wear because of it. If you know your cat is a strong player, finding mats that contain durable, high-quality materials will help your purchase last longer. Sisal is very good at holding up to scratching, and nylon is also known for resisting bites and scratches quite well.
‌Replacement Parts:‌ If the play mat you're looking at contains additional parts, like hanging toys or a moving object, some companies offer replacement parts at no cost, or as part of a package that ends up costing less than buying the part separately. Be sure to check, especially if you anticipate your cat using the mat regularly.
‌Space:‌ Most play mats are designed to rest on the living room floor, so taking the size of a mat into account will make you happier with your purchase in the long run. Play mats can absolutely be found in smaller sizes if you have limited space to work with.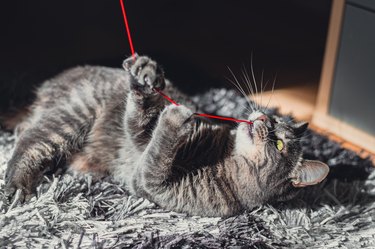 1. SnugglyCat Ripple Rug Cat Activity Play Mat
When it comes to play mats that cats love, and people love to watch in use, the ripple rug is pretty hard to top. This single toy is actually three items in one—a bed, a scratching pad, and a play mat all in one. Cats love it because the design indulges their natural tendencies to scratch, hide, tumble, and squeeze into tight spaces, and people love it because it won't fray, is partially made of recycled plastic bottles, and assembles easily using velcro strips in just minutes. This mat measures 47 inches long, 35 inches wide, and 2 inches high, and folds down quickly for easy storage when it's not in use.
Tunnels are another beloved shape for curious cats to explore as they allow them to hide, run, and pounce. This hideout tunnel folds and collapses easily, making it simple to store, and is made with crinkle material that entices cats and keeps them entertained. There are no small parts, hanging strings, or cords that cats could hurt themselves on, and the product does meet child safety standards. It's designed with two openings, one on either end, as well as a hole cut out of the top for cats to jump into or out of, or just to peek outside. If you have more than one cat in the home, this could be a very fun toy for them to play hide and seek or chase games with.
3. Grey Ghost Gear Multifunctional Cat Tunnel
If a tunnel that stays put is more suitable for your cat or your home, this play mat features a soft tunnel for cats to hide in, run through, or catch a little rest inside. Made entirely of durable felt material, this mat also contains cutouts in the tunnel for your cat to play with, and for cat owners to peek inside of and watch their cats enjoying themselves. It also comes with a small pendant toy that you can hang on the outside of one of the openings for your cat to bat or pounce on as they see fit.
4. SmartyKat Hot Pursuit Electronic Concealed Motion Cat Toy
There's not much that will catch a cat's attention quite like quick movement on the ground, and this toy uses that dynamic to encourage cats to exercise and focus on one activity. This is a battery-powered mat that sends a feathered toy around the edges of the mat in erratic motions, much in the same way that a cat's natural prey like rodents and birds would. Additionally, this enrichment mat lights up to keep your feline friend even more excited, and the mat is made of crinkle fabric, creating a sound that most pets love.
5. Petstages Jungle Mat Cat Activity Play Mat
If your cat prefers to lay in one spot and bat their toys around, this mat is designed with a soft base that rests under several hanging toys for your cat to play with. The base even contains catnip, which is an enjoyable treat for many cats, and the inner circle of it is covered in sisal material that will hold up to and encourage scratching. The toys hang from two, crisscrossed arches that support the unit, and include two stuffed and feathered plush toys with sound chips, and two jingle balls. The entire structure measures 20.07 inches long, 21.65 inches wide, and 16.54 inches high, and is made of synthetic fabric.
6. Petmaker Cat Activity Center Interactive Play Area for Cats and Kittens
For another activity center at less than half the price, this option is a great one to consider, although it does contain a few fewer features than the previously mentioned play mat. This play center is made of zebra-print fleece so it's cozy and soft in case your cat prefers to rest on it like a cat bed. It comes with four pet toys that hang from two arches that cross at the top, and the base is filled with cotton to make a soft bed mat or pouncing station. The dimensions of this item measure 22 inches long, 22 inches wide, and 14.5 inches high, and it does collapse to save space when it's not in use or needs to be moved.
Offered in a cat face shape or a fish shape, these mats rest on the floor and contain several pockets for hiding any type of pet toys your cat prefers, be that balls, plushy mice, or catnip toys. The mat is made of cotton and quilted faux fur, so it's a super soft piece of cat furniture your feline friend can rest on or play with. The top of the mat includes seven pockets for hiding all kinds of pet toys. This mat is machine-washable, lightweight, folds easily, and is moderately sized at 18 inches by 20 inches to fit in just about any living room.
8. KONG Play Spaces Cloud Cat Toy
If your cat just loves to lay around and cuddle up in something soft that sits on the living room floor, this cozy yet durable play mat by KONG offers that. It's dual-sided, with one side covered in soft plush and the other made of satin for a smoother and cooler rest in the warmer months. The inside of this mat contains crinkle material as well as catnip to keep felines entertained for hours. The mat rolls up well and is easy to move around weighing less than six ounces, but it is not machine-washable, so you will need to spot-clean it if it becomes dirty or stained.
9. Hartz Just For Cats Peek and Play Pop-Up Tent Cat Toy
If you're looking for a great interactive toy that won't break the bank, this one by Hartz is an excellent option to consider. Because of the small size of this play mat, which measures 8.5 inches long, 14.8 inches wide, and 24 inches high, it's best left for kittens or very small cats who just like a simple tunnel to play around in from time to time. Although it is small, it does contain several design elements, making it a great interactive cat toy, including a tunnel, windows, a detachable crinkle mat that can be used as a cat scratcher, and two hanging toys.
10. Pet Parents Forager Cat and Dog Snuffle Mat, Forest 12"
This may not be a play mat, exactly, but many cats will enjoy it just the same, and it does work as a similar enrichment activity as any standard mat made for play. This snuffle mat works as an interactive food bowl, and to use it, all you need to do is drop some of your cat's dry kibble on the mat and let it sink into the texture. Then, your cat will sniff and paw it out, which not only slows down their eating but encourages their natural foraging instinct that doesn't get engaged when they eat from a bowl of food. This mat is sold in two sizes, is machine-washable, and is made of synthetic fabric.