If you're looking to treat your special kitty this Halloween season, consider building your kitty a customized pumpkin puzzle. This festive game is a great way to provide your cat with mental stimulation and enrichment. This puzzle is not only fun for your cat, but it doubles as a festive decor item for decorating your home during the Halloween season. This puzzle can be reusable, or you can make it with a fresh pumpkin and make a new challenge for your cat each year.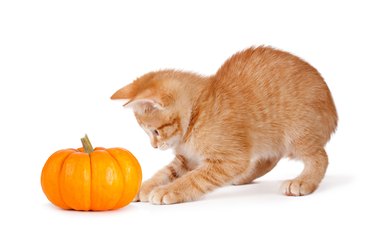 Cats can become bored easily. Providing your cat with puzzles is a great way to help fight boredom and cat depression to give your cat mental stimulation. Puzzle toys challenge cats to use their reasoning skills, as well as all of their senses to figure out how to get to their treats and toys. Interactive enrichment toys like puzzles can inspire cats to engage in solo play which can help keep them more active. Cats who are getting their mental and physical exercise needs met are also less likely to display behavioral challenges and experience boredom.
Option 1: A real pumpkin to provide your cat with some natural enrichment
Option 2: Hollow craft pumpkin (these can be used year after year)
pumpkin carving supplies
Assorted cat treats

small cat toys
printed pattern stencil online (optional)
marker (optional)
How to make a pumpkin puzzle for your cat
If you've ever carved a jack-o-lantern, you'll have a very easy time making this puzzle for your cat! When completed, this puzzle will look like a carved pumpkin. But, isn't designed to put a light inside. Instead, you'll be putting treats and toys inside for your cat to find and pull out.
​1.​ Decide on what kind of pumpkin either an artificial craft pumpkin or a real pumpkin. If you're using a real pumpkin, you'll want to open the top and clean out the inside before you get started.
​2.​ Select the face or design stencil online that you want to carve into your pumpkin. Try to pick a design that will have wide enough holes or open areas. That way, your cat will be easily able to fit their paws in and out of the carved pumpkin.
​3.​ Tape your stencil onto the pumpkin. You can also use a washable marker and draw your design onto the pumpkin. If you're drawing a design, make sure that the holes in the pumpkin are going to be big enough for your cat to get their paws into.
​4.​ Carve the design into your pumpkin. If you want to add more play opportunities for your cat you can also add in some extra holes separate from your decorative design in the back of the pumpkin.
​5.​ When your pumpkin is carved add some of your cat's kibble, cat treats, and/or toys into the pumpkin and show your cat the pumpkin. Allow your cat to explore engaging with the pumpkin. Then, praise and encourage your cat to paw into the pumpkin and get to the treats!
For an extra challenge, you can ball up clean newspaper or magazine pages and put them inside the pumpkin. Then, layer in cat treats, kibble, and/or cat toys. This will provide an additional challenge for your cat as they reach inside.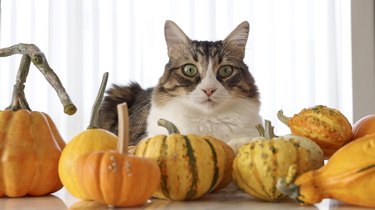 Supervise your cat during puzzle time
Be sure to supervise your cat while they play with their pumpkin puzzle to ensure they aren't getting frustrated or overwhelmed by the game. If your cat gets stressed out by the activity, engage them in play with another toy. Or you can make the puzzle easier by putting treats in front of the pumpkin for them to engage with first. You'll also want to make sure your cat isn't chewing or trying to eat the pumpkin. This is especially important if you have used an artificial pumpkin.
This cat puzzle toy is as aesthetic as it is practical and is sure to keep your cat engaged all spooky season. By carving a real or artificial pumpkin you can create an interactive puzzle for your cat that doubles as festive décor. When carving a pumpkin for your cat be sure to select designs with carved spaces wide enough for your cat to comfortably reach in to access the treats and toys. This puzzle can help inspire your cat to engage in solo play and can also help to fight boredom.