Most of our meetings here at Cuteness kick off with a discussion about things we've recently purchased for our dogs or cats, or a viral TikTok we saw about Amazon pet must-haves. We're constantly seeking out new trends in the pet space, and looking into products that enrich our pets' lives (and keep them occupied during those aforementioned Zoom meetings).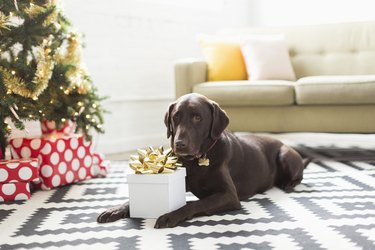 With the holiday season in full swing, we thought who better to turn to for gift ideas than our doting dog and cat parents on staff? Pets are sources of comfort and joy, and can improve our mental health by simply being their goofy selves—they absolutely deserve to be spoiled this December! Here we've compiled a list of 13 editor-recommended holiday gifts for dogs and cats that you'll want to get your paws on.
Allegra Ringo, Senior Editor
1. Inaba Churu Tuna & Chicken Puree Variety Pack Lickable Cat Treats
Churu is a lickable pureéd treat that comes in a tube, and cats go wild for it. I've truly never met a cat who doesn't love Churu. I give it to my cat just for fun/for love, but I also use it for training and for disguising medication. You can buy a big tub of 50 or 100, or smaller bags of various sizes if you're just looking to dip your toe in. I like to buy the biggest tub at the holidays and give the individual tubes out as stocking stuffers to all the cat parents in my life!
2. Frisco Velvet Rectangular Bolster Cat & Dog Bed
Bolster beds have a padded "pillow" that runs along one side or more, giving the dog (or cat) a nice comfy place to lay their head. I like that the Frisco Velvet Rectangular Bolster bed has a bolster on all four sides, and I love how soft the fabric is. I bought this for my dog, but I had to buy a second one because my cat kept taking it over. I recommend sizing up for maximum loungability—my dog loves to stretch out in this bed.
3. Burley Tail Wagon Pet Bike Trailer
Burley has long been a trusted name in the bicycle world for making high-quality sturdy bike trailers for cargo and passengers. With their Tail Wagon (cutest name ever!) you and your best friend can be ready for every kind of adventure. It's got everything you and your pet need including mesh windows to keep them cool, and a storage pocket for your treats and leash. The inside is specifically designed with a pet's comfort in mind with nothing sharp or anything to get hooked on. A removable floor makes it easy to keep clean, and the best thing is that the trailer easily folds down to store it or to put it in your car. This wagon holds up to 75 pounds.
4. The Cat Ladies Cat Grass Kit & Decorative Wood Planter
Cats love to nibble on fresh grass, but it's not always easy to give indoor cats the chance to munch. Grass in a kit like this is easy to grow, can help with your cat's digestion or help prevent hairballs, and can keep cats away from your other houseplants that you don't want them nibbling on. This kit comes in a nice wooden planter and is a nutritious, non-GMO blend of wheat grass, oat, barley, and rye. The kit comes with seeds and a soil disk, so along with some water, it's all you need.
Kelsey Pudloski, Commerce Editor
5. Frisco Pizza Snuffle Mat
Using a snuffle mat is a great way to provide your dog or cat with some enrichment as it stimulates their natural instincts to hunt and forage. Chewy just came out with two new snuffle mats under their Frisco line that I'm totally obsessed with (and I'm sure my dogs will be too). This one is in the shape of a pizza and has a crust base and reversible slices to make it more challenging. It's suitable for small- to medium-sized dogs and cats. For bigger dogs, I'd recommend the Frisco Vending Machine Snuffle Mat, which is equally as cute and features plenty of hidden compartments.
6. Happy and Polly Mushroom Cat Scratcher
Happy and Polly might be the most adorable corner of the internet. They sell aww-inducing cat trees, scratchers, fountains, beds, toys, and more. This mushroom-shaped cat scratcher has a sisal-wrapped 'cap' and a sherpa fleece-covered 'stalk,' complete with dangling mushroom charms for your cat to swat at. The round, brown carpet base features a faux moss-covered stone on it, which is a playful touch. It measures 13.4 inches tall and 11 inches wide, so it won't take up a lot of floor space. At $65, the scratcher isn't as expensive as Happy and Polly's elaborate cat trees, so if your cat totally ignores it, you won't feel as though you've wasted a bunch of money on some whimsical mushroom.
Ariana Goldsworthy, Editorial Assistant
7. Frisco Brunch Bagel with Lox Plush Squeaky Dog Toy
This humorous plush bagel dog toy is part of Chewy's Frisco collection of brunch dog toys. I would give this to any friend that has a dog—and enjoys a good bagel. The toy is complete with all the plush-version ingredients of a delicious bagel sandwich. It also includes a squeaker and crinkled paper sewn inside. The toy is appropriate for medium-sized dog breeds, measuring 8 inches long, 8 inches wide, and 4.5 inches high. This plush bagel may not keep your dog away from your actual bagels and lox, but it might keep them entertained!
This cat tree cat tower from VETRESKA is multi-levels of cute. The tower measures 24.4 inches long, 21.2 inches wide, and 37.7 inches high. Each heart level is at a distance of 11.8 inches for a cat of any size. Natural sisal rope covers the scratching posts between the heart shelves for cats to scratch. The shelving material is teddy velvet, which is easy to clean and scratch-resistant. It is also made to keep your cat warm while they're perched on each shelf. For me, the little dangling heart cat toy gives the design an extra layer of sweetness.
Michael Munoz, Manager, Audience Development
9. Temptations Classic Tasty Chicken Soft & Crunchy Cat Treats
My cats are ‌very‌ picky eaters. But one thing they both agree on is their Temptations treats! When I first brought them home, I tried everything, and these were the only ones that kept them running every single time. These treats have a crunchy shell that's filled with a soft chicken filling that my kitties can't get enough of. If I ever need to find the cats, I just give this container a shake or two and they're at my feet in a heartbeat!
Catherine Flanagan, Director, Operations
10. Yeowww! Catnip Yellow Banana Cat Toy
Does it seem that no matter what you gift your cat, they don't appreciate it? Or worse, they're only interested in the packaging or tag rather than the toy or treat? For the cat who's perpetually apathetic, the Catnip Yellow Banana from Yeowww! provides hours (and yes, my cats play for hours) of entertainment and enrichment. It's made with 100% organic catnip and comes in a potent blend that's sure to keep even the most uninterested cat entertained for weeks and weeks to come. I always make sure to include one, two, or three of these bananas in my cats' stockings every year!
11. OllyDog Goodie Treat Bag
A good quality treat bag is a must for any dog owner. My dogs, who enjoy their walks just as much as any other pup, can be a challenge on walks if they see another dog, a squirrel looks at them funny, a leaf blows the wrong direction, they cross a speck of dirt that smells off, etc. You get the idea. So, I've been working with them (using treats as motivation) to be a little less reactive on walks. This treat bag is great because it's hands-free and has a magnetic closure, meaning I can really focus on enjoying walks with my pups without worrying about losing any training treats. It comes in 18 colorways, so you're sure to find one to fit your and your dog's style!
When I moved into my new home, I was faced with quite the dilemma—giving the cats a place to ... do their business, but also making the ‌place of business‌ match the style and aesthetic of my home. Since I wasn't fortunate enough to hide the litter box out of sight, I had to hide it in plain sight. And after a LOT of research, I landed on the configurable extra-large litter box from Modkat. Marketed as a box where modern cats want to do their business, this litter box is great because it can be configured for cats who prefer top-entry litter boxes or side entry litter boxes. It's super durable, easy-to-clean, and the best part, can be used with reusable liners for an environmentally-friendly, easy-to-clean up option. Use the D liners for the front-entry option or the C liners for the side-entry option.
Jacob Lauing, Senior Manager, Operations
13. Carhartt Firm Duck Dog Bed
The best part about adopting a dog? Applying your own style and brand preferences to your four-legged friend. As a workwear enthusiast myself, I ordered this Carhartt canvas duck bed before welcoming a 60-pound pal into my apartment. It's super lightweight and easy to transport from room to room—I end up leaving it in my home office during the day and moving it into the bedroom at night so my dog is always close by. It also has a removable cover, so I throw it in the washing machine every few weeks to keep it fresh. And despite the dense, cloud-like comfort, the whole bed also compresses fairly easily—squeezing it into the trunk for a road trip was a piece of cake. Carhartt's Firm Duck Dog Bed comes in three sizes and six classic workwear colorways.