If you have a puppy who is struggling with stress or anxiety, they may be able to benefit from calming aids. These are toys and other products that can help soothe your puppy and make them feel more relaxed. We've also included a handful of products that can refocus a worried puppy's attention and prevent them from partaking in destructive behaviors like chewing or digging. These can be particularly useful when you need to leave your puppy home alone or jump on an important work call. Below, we've outlined what to consider when purchasing a calming aid for your puppy and recommended 10 options including lick mats, calming diffusers, and white noise machines.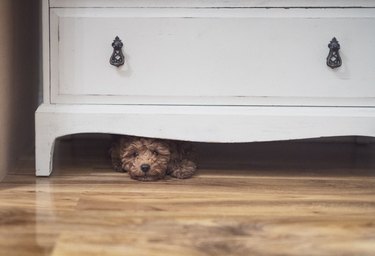 What to consider when purchasing a calming aid for your puppy
‌Experiment:‌ Each puppy is an individual who will have their own anxiety triggers. With that in mind, you may need to experiment with different calming aids to figure out what will help your puppy's anxiety the most. It could be a multi-textured lick mat (Fun fact: Licking releases happy endorphins, helping your pup calm down) or a plush toy with a heating pack and heartbeat sound effect to remind them of their mother and littermates.
‌Supervision:‌ When introducing your puppy to new calming aids, keep an eye on them. You'll want to make sure your dog isn't at risk of chewing up or trying to ingest small pieces of toys, lick mats, snuffle mats, or anything else. You don't want the calming aids to cause your dog more stress or frustration, either, so show them how the products work before leaving them to it.
‌Get Support:‌ If you have a puppy who is struggling with stress or anxiety, it's important to get support for you and your puppy. Talk with your dog's vet about the symptoms that your dog is having to make sure there isn't an underlying medical component. You also will want to work with a qualified and experienced dog trainer in your area who utilizes positive reinforcement training and will be able to offer you guidance.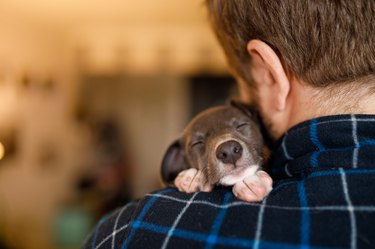 If you've ever come home to a scene of puppy destruction, you may be wondering if Fido was just burning off some energy or suffering from anxiety. A pet camera is a great way to find the answer to your question. The Furbo 360° Dog Camera connects to Wi-Fi, allowing you to keep tabs on your dog using the free smartphone app. The HD camera provides a 360-degree rotating view, color night vision, 1080p live view video quality, and 4x zoom. It boasts two-way audio, allowing you to talk to your dog (or anyone else who happens to be home), and treat-dispensing capabilities to distract your pup if they start to get anxious. You'll also get real-time push notifications if your puppy starts to bark or is distressed while they are home alone. You can also opt for Furbo's Dog Nanny subscription if you'd like to receive additional safety alerts.
The KONG Classic Dog Toy is classic for a reason—it's been providing dogs and puppies with much-needed enrichment and mental stimulation since the 1970s. The beehive-shaped natural rubber toy can be stuffed with dog-safe peanut butter, wet food, or other soft and spreadable treats. It comes in sizes extra-small through extra-extra-large and is made in the United States. The acts of licking and chewing can be stress-relieving for puppies. It will likely take your puppy several minutes (or longer) to get the food out of the KONG toy, so it's great for long-lasting play. Give your pup a stuffed KONG right before you head out the door or jump in the shower to give them something to focus on, which can prevent them from getting worried.
3. LIVEKEY Dog Snuffle Mat
Help your puppy relax by stimulating their natural foraging instincts with this fabric snuffle mat. Available in yellow, blue, and purple, or pink, purple, and blue, the snuffle mat measures 17 inches square. It's made of dense fabric strips, creating endless hiding spots for puppy kibble or treats. To use it, simply sprinkle your food of choice over the mat—letting it sink into all those nooks and crannies—and let your dog explore. For added convenience, this mat can be cleaned in the washing machine when it gets dirty. You can throw it in the dryer too, but it's a good idea to put it in a mesh laundry bag and dry it on low heat to extend its life. Foraging for treats and food in a snuffle mat is a great way to help your puppy self-soothe before, during, and after times of stress.
4. WEST PAW Zogoflex Toppl Treat Dispensing Dog Toy Bundle
Distract your puppy and challenge their brain at the same time with the Toppl by West Paw. You can purchase the blue and orange pieces separately, or bundled as seen here. The toy can be stuffed with treats and kibble, or a soft, spreadable treat such as dog-safe peanut butter or wet food. Combining the two pieces turns the Toppl into a more complicated puzzle for your puppy to master—they must paw or nudge the toy with their nose to dispense the treats inside. The bundled toy is designed for moderate chewers and is nontoxic, recyclable, dishwasher-safe, and made in the United States. It even floats if your puppy grows up to be an enthusiastic swimmer!
5. Adaptil 30 Day Starter Kit Calming Diffuser for Dogs
If you have a puppy who is struggling with stress and anxiety, consider adding this calming diffuser to your home. The electric diffuser plugs into an outlet and releases synthetic canine-appeasing pheromones to help your dog to relax. The diffuser's scent mimics a mother dog's pheromones that are released during nursing. These pheromones are soothing for dogs and puppies of all ages. Each diffuser can cover 700 square feet of space in your home. If you live in a larger house or apartment, use the diffuser in areas of the home where your dog spends the most time.
6. LUKITO Licking Mat for Dogs & Cats, 2-Count
To help your puppy feel more relaxed in new situations, consider giving them a lick mat covered with a favorite spreadable treat or wet food. They're a handy tool for preventing destructive behavior and can be used during grooming sessions, nail trims, and at vet visits. This set comes with two licking mats, each featuring four different textures, that measure 7.87 inches square. Choose from blue and purple or pink and yellow. On the back of each lick mat are 77 high-strength suction cups, allowing you to position the lick mat virtually anywhere in your home, like shower walls or the kitchen floor. The mats are made of premium food-grade silicone and are dishwasher- and freezer-safe, so you can use them for delicious frozen treats during the warmer months.
For a different type of lick mat experience, opt for the bowl-shaped LickiMat Wobble. The shape extends the amount of time it takes for your puppy to eat the food because it wobbles as they lick. The bowl is made of food-grade natural rubber that's recyclable and dishwasher-safe, making it easy to clean. It's also microwave- and freezer-safe. To use, spread wet food or dog-safe treats like yogurt, canned pumpkin, and peanut butter onto the different ridges inside the bowl and then give it to your puppy. This bowl is suitable for both small and large puppies, and ideal for pulling out during grooming sessions or vet visits.
8. Furhaven Snuggery Round Orthopedic Dog Bed
Many puppies find comfort in being able to cuddle into small spaces when they are worried. This cuddler dog bed has an attached blanket that allows your dog to burrow into their own private cave. The bed is available in a variety of colors, materials, and sizes, and features a removable cover that is machine-washable for easy cleaning. The bottom is made from egg crate orthopedic foam to provide a soft and supportive place for your dog to sleep. This snuggly bed can give nervous puppies a sense of comfort and a safe place to retreat to when they get worried.
9. Snuggle Puppy Sleepy Time Behavioral Aid Dog Toy
Giving your puppy a surrogate friend can help them adjust to their new home and being away from their mother and littermates for the first time. For young puppies, this soother toy helps them feel less alone and less stressed. The cuddly plush dog toy has a built-in pulsing heartbeat sound that helps to comfort and soothe your puppy back to sleep when they wake up during the night. The heartbeat is battery-operated (AAA batteries are included) and has two modes for soothing anxious puppies. Each purchase also comes with a disposable heat pack that works for up to 24 hours, which you can slip into the toy. Choose from five different colors and various accessories options.
10. Yogasleep Rohm Travel White Noise Sound Machine
This portable white noise machine can go anywhere your puppy goes. It's charged via an included USB cable, so you don't have to worry about batteries running out of juice. It has multiple noise options and adjustable volume settings, allowing you to drown out background noises that may trigger your puppy. The sounds are soothing and relaxing, helping your new puppy get to sleep or feel more comfortable in their new environment. The white noise machine comes with a lanyard so you can hang it from a doorknob, your dog's crate, or a pet carrier, making it perfect for travel.