If you and your dog spend time in the car together, it can be helpful to set up a barrier in your vehicle. A dog barrier will keep your dog contained in part of your vehicles the backseat or, if you have a station wagon or SUV a barrier, can keep your dog inside the hatchback area. These barriers are useful because they help to give your dog a secure place to be in the vehicles and can prevent drivers from being distracted by their dogs while driving.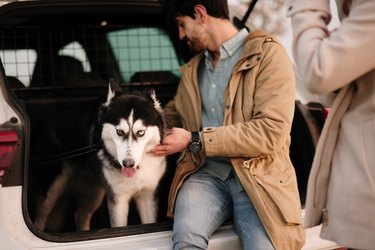 What to consider when purchasing car barriers for dogs
‌Restraints:‌ It's important to remember that these barriers don't take the place of other restraints like a dog seatbelt harness, booster seats, or a dog crate, which can protect dogs in the event you were to get into a car accident. It's a good idea to have a combination of seatbelt harnesses or other safe restraints and barriers to keep your pooch safe.
‌Vehicle Size:‌ When purchasing a car pet barrier for your dog, be sure to consider the size of your vehicle. Most barriers have specific types or sizes of cars they fit best in. You'll want to be sure that any barrier you are looking at will appropriately fit into your car, so it's advisable to take measurements.
‌Material:‌ Take into account your dog's size and temperament when considering what barrier materials are made of. Some barriers are soft and flexible, while other barriers are metal and attach more firmly into the vehicle. Determined dogs may be able to get through a soft barrier.
‌Visibility:‌ By installing a car barrier, there's always the risk that your rear-view visibility may be at least somewhat impaired. While no intelligently-designed barrier is going to completely block your rear visibility, it's wise to consider how safe you'd feel as the driver with one installed. Most barriers either don't reach the ceiling or are made of a grid pattern with holes for visibility, but some barriers are even see-through, which can both enables your dog to see into the front seat and allows for better rear visibility.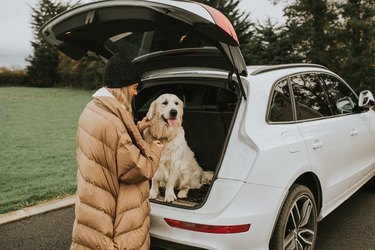 1. Kurgo Backseat Barrier
Designed to keep dogs from accessing the front of the vehicle, this dog barrier is a universal fit design and can fit most vehicles, including compact cars and SUVs. This dog barrier is easy to install, but creates a durable barrier between the front of the vehicle and the back. Using a barrier like this can help keep drivers from being distracted by dogs while driving and prevent dogs from being thrown forward in the event of sudden stops. The barrier also includes a cup holder storage pocket to help keep your car and dog gear organized.
2. MidWest Wire Mesh Universal Car Barrier
This barrier is made with wire mesh to keep dogs safely contained in the back of a vehicle. The barrier is adjustable and can fit a variety of sized vehicles, including SUVs, vans, and hatchbacks. The metal barrier has a e-coated black finish, which refers to an immersion wet paint finishing process and helps to prevent glare and increase visibility for the driver. The barrier is made of steel and is durable, so even strong dogs are unlikely to break through. The barrier is held in place with adjustable rods for a secure fit. It's easy to install and features rubber molding to protect both your dog and vehicle interior.
3. Bushwhacker Deluxe 56-Inch-Wide Dog Barrier
To keep your dog contained in the back of a vehicle, you can attach this barrier to the front seat headrests in your vehicle and then mount it around the car seat frame. This dog gate is made of scratch- and tear-resistant screen and mesh material. The mesh material of the barrier allows rear air conditioning and heater vents to still provide airflow to your dog in the back. The durable screen has metal piping borders and is designed to keep active dogs restrained behind it. The barrier can fit well in vehicles of many sizes, including sedans, trucks, and large SUVs. It does reach up to the ceiling, so it may make rear visibility a tad tougher, but it's still a see-through mesh.
4. PetSafe Happy Ride Front Seat Mesh Dog Barrier
This dog barrier has a mesh construction that is damage-resistant. The barrier collapses for convenient storage when your dog isn't in the car with you. The mesh barrier attaches to your vehicle by attaching around the front headrests with a support rod and seat anchors. This barrier fits into most SUVs, trucks, and cars. This mesh barrier is easy to install into cars without tools. The mesh design allows you and your dog to clearly see each other through the barrier, while still preventing your dog from getting into the front seat and causing a distraction while you're driving.
5. Frisco Quilted Water-Resistant Hammock Car Seat Cover
This portable barrier turns your car's backseat into a hammock to prevent your dog from accessing the front of the vehicle while driving. The barrier fits most models of cars and has adjustable straps that attach to the seats to hold it in place. This barrier is easy to install by looping the support straps around the headrests and putting anchors through the seat gaps. This barrier has a nonslip mesh backing to support holding it in place. The barrier has built-in storage pockets to hold your dog's supplies while you're driving. When in use, the hammock not only keeps your dog from accessing the front of the vehicle, but also helps to protect your car's upholstery and prevent stains and other damage.
6. rabbitgoo Car Net Barrier for Dogs
For small dogs and larger dogs who are very respectful of barriers, this small barrier net is an easy-to-install way to keep dogs from accessing the front of the vehicle. This barrier folds down into a storage net when not in use. The net is made with polyester stretchy cords and metal hooks to attach to the front seat of the vehicle. The barrier is adjustable and flexible to fit most sized SUVs, jeeps, hatchbacks, and vans. The barrier is easy to install by clicking around the front seats, and can be installed without any tools. It also stays below headrest level, so it shouldn't impact your rear visibility.
7. Pawple Mesh Dog Car Barrier
This barrier is designed to keep dogs in a cargo area of a vehicle, like the back of a van or hatchback. This barrier keeps dogs from accessing the passenger area and is adjustable to fit a variety of SUVs, hatchbacks, and many sedans. This barrier is made of steel wire construction and is easy to adjust and install without the use of any tools. The universal fit of this barrier attaches to car seat headrests. This barrier has padded brace pads to prevent damage to the interior of your vehicle. The mesh wire barrier can easily be seen through and prevents blind spots for drivers. This barrier has a lifetime warranty, too.
8. DYKESON Pet Net Barrier for Cars
This space-saving barrier keeps dogs in the back of vehicles and prevents them from moving forward into the front of the car. This car barrier is lightweight but made using a strong dual-mesh design that is stretchy to fit into a variety of sizes of vehicles. This barrier attaches with hooks to the car and doesn't damage the car when being used. The barrier can be mounted to the middle gap between left and right bucket seats, or to prevent dogs from getting to the front of the car. The barrier also has built-in storage for a variety of supplies you might need while out with your dog. Since it doesn't rise above the main section of the front seats, it shouldn't impair visibility.
9. Petsfit Dog Car Barrier With Adjusting Rope
This pet barrier allows you to keep your dog (or cat) in the back of your vehicle while also providing useful storage in the car. The barrier fits most SUVs and cars that have separated adjustable headrests. This barrier is made of soft and durable material that is breathable and scratch-resistant, while also not blocking the flow of air from your heater and air conditioner from reaching your dog in the back of the vehicle. Built into this barrier are three pockets to aid with organizing your vehicle and dog supplies while you are traveling.