Many dogs and pups will happily eat anything semi-tasty that comes their way (and yours might be one of them), but it might surprise you to learn that while most dogs aren't picky, there is actually a hierarchy of snacks in the dog training world. Ever heard of the term "high-value treats"? Unlike kibble or doggy biscuits, these refer to savory, full-bodied treats that prove to be extra enticing to dogs, which makes them super effective as delicious rewards during dog training.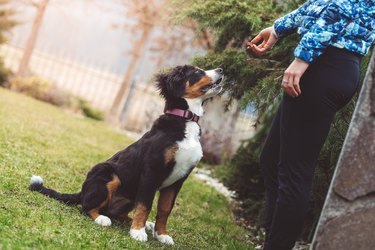 Examples of high-value dog treats might include string cheese, lunch meat, unseasoned cooked meat such as chicken, steak, bacon, and pancetta, hard-boiled eggs, and peanut butter. Compared to most dry dog foods, these morsels will really get your dog's mouth watering, and according to a 2018 study, most dogs prefer food out of the three "rewards" (food, praise, or petting) for good behavior or during training, and there is some evidence that some dogs prefer varied treats to constant ones.
All that said, high-value treats do pose a minor problem—but one that you can easily solve. High-value treats tend to be salty, squishy, and stinky, which likely means filmy residues and undesirable smells lingering in your treat pouch, not to mention an increased risk of bacterial growth. The solution? Silicone treat pouches. Instead of fabric, these dog treat pouches are made from silicone or food-grade rubber that's designed to be hand-washable, so you can keep them nice and clean between training sessions or excursions with your dog. We've done some digging and rounded up a list of the best silicone dog treat pouches, so you can begin rewarding your doggo with high-value treats without ruining your traditional treat pouch.
Tip
It's important to note that high-value treats like bacon and lunch meats are also high in fat and sodium. We ‌do not‌ recommend giving your dog these types of foods on a daily basis, but to use them sparingly as high-value treats for teaching new behaviors in a distracting environment.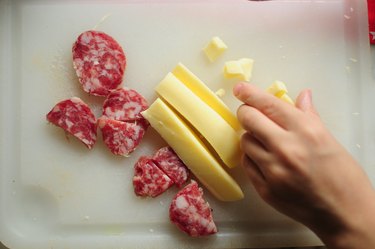 What to consider when purchasing silicone treat pouches
‌Food-grade/BPA-Free Silicone:‌ Most reputable manufacturers will already use this, but look for pouches that are made from food-grade or BPA-free silicone to avoid potential health hazards. Knock-off brands with little product information or sales history are less likely to be FDA-compliant (or an international equivalent) and may not all use nontoxic materials.
‌Versatility:‌ Some silicone treat pouches may contain divided sections that allow you to keep dry treats and moist, high-value treats in the same pouch without cross-contamination. Other products come as a two-pack so you can keep treats entirely separate. While it's not a must-have, a pouch that offers some flexibility may be useful on hikes or outdoor trips with your dog, when you may want to pack lightly.
‌Preferred Style:‌ As with any treat pouch, take into account your personal preferences, such as what type of pouch or bag you're most comfortable carrying. Some treat pouches use a carabiner to clip to your belt loops; others may come with a waistband or a shoulder strap. There's generally less style variation between silicone treat pouches, but it's worth considering.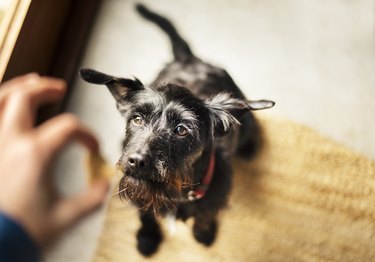 1. The Original Trainer's Pouch
This flagship product from The Trainers Pouch looks simply designed, but the company put a lot of care into it. Designed (and manufactured) in Australia by professional animal trainers, each pouch is made from safe, BPA-free silicone that boasts a number of plusses: It's non-porous and won't absorb odors or promote mold growth; it's suitable for all wet and dry treat types, including raw meat and fish; it's flexible for easy reinforcement; and it's waterproof and top shelf dishwasher-safe.
The pouch comes with a high-quality, easily-adjustable belt and fits onto any standard belt. It measures approximately 5.9 inches long, 2.75 inches wide, and 4.7 inches tall. Choose from five colors: black, blue, magenta, purple, and orange. A slightly smaller version called the Pocket Trainers Pouch, is also available.
‌Note:‌ This pouch (and others like it) doesn't come with a zipper; instead, a thin slit in the flexible silicone material allows you to reach your hand in for treats while keeping treats inside.
2. RoyalCare Silicone Dog Treat Pouch, 2-Pack
These bright and cheery treat pouches (yes, you get two!) from RoyalCare are just about perfect, especially for high-value treats. Each holds 10 ounces of food and is made from food-grade memory silicone that's flexible yet sturdy. Its patented magnetic closure design allows you to easily plunge your hand through the top, then uses a magnet to snap shut again after you've retrieved the treats.
To clean them, simply rinse with soapy water and let them dry. Each pouch comes with a built-in clip for fastening to your waistband. Overall, they're light, portable, and give you the option of bringing both dry and moist treats on-the-go while keeping them separated.
3. New Oasis Dog Treat Pouch, 2-Pack
This two-pack of silicone treat pouches open up much like a coin purse or clutch wallet; in fact, you could use the second one as a miniature purse, if you wanted. The pouches aren't 100% airtight, though. Each pouch has a 10-ounce capacity and is made from nontoxic, BPA-free silicone that's easy to clean and won't leave residue, odors, or encourage bacterial growth.
Both pouches come with a carabiner so you can clip them to a belt buckle or backpack strap for easy portability. Choose from three color combinations: pink and blue, blue and orange, or blue and dark blue. You can also buy a single pouch or a three-pack, depending on your needs.
4. Dexas Popware for Pets Silicone Treat Pouch
This treat pouch was also featured in our Best Treat Pouches for Dog Training in 2023 roundup, and it's not hard to see why. It's made from soft-touch memory silicone that's resistant to warping and stretching, and it's non-porous, meaning it won't absorb odors and oils from the delicious high-value training treats you store inside. Best of all, it's dishwasher-safe, so you can just pop it in along with your dishes whenever you're ready to do a load. The pouch comes in either gray or light blue colors and includes a clip for attaching to a bag, belt, or waistband.
5. Kibble Bubble Dog Treat Pouch
Probably the cutest dog treat pouch on this list, contrary to its name, the dog bone-shaped Kibble Bubble Dog Treat Pouch can be used for high-value treats like hot dogs, chicken, and cheese, not just kibble. It's made from durable food-grade silicone for long-lasting use and features a slit on one end to dispense treats (you may need to do a bit of squeezing to empty the last remaining slippery morsels). It comes with a keychain clip, is available in four vibrant colors, and is dishwasher-safe for hassle-free cleaning.