Whether you're retired and RVing around the country full-time, doing the van life thing, or just on a road trip, traveling with a pet can make the drive so much fun. In the same way that we have certain essential items for the road, like phone chargers, water bottles, and snacks, our pets also have needs for keeping them comfortable on the road. RV life is just as much about the outdoors as it is about the open road, so you'll want to pack things that will allow your pet to experience their surroundings, and keep them entertained on those long drives. We've come up with a list of essentials for RVing with dogs to help make your next RV adventure as fun and safe as possible.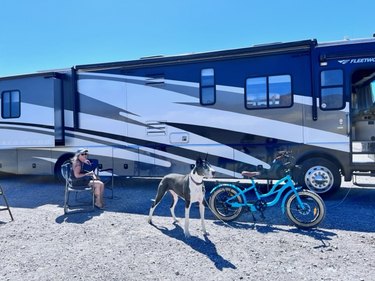 What to consider when purchasing RV essentials for your dog
‌Keep It Simple:‌ One great piece of advice we got from an RVer on the road with his two chihuahuas was to do your best to keep things as similar to home as possible while you're out on the road. This way, your pet will still be able to count on their routine while they traverse new sights, smells, and spaces, which can help them feel calmer, and make the trip enjoyable for them (and you). So, if your pet has a favorite bed, toy, or treat, bring it with you! You don't need to buy all new things for your RV life with a pet—keep in mind what makes them comfortable and be sure to pack it before you leave.
‌Your Dog's Needs:‌ RV and van life essentials will differ for every pet, so only take what you need from this list. Taking into account your pet's age, attachment to you, exercise needs, and boredom-quellers will make the trip more enjoyable for both of you. For example, if you have a dog with limited mobility, consider a ramp or stairs to make entering and exiting the vehicle easy, or if you have a cat who loves to look out the window, set up a bed in a safe spot where they can look outside while you drive or camp.
‌Space:‌ You'll definitely need to bring at least a few things for your canine or feline pal, but always consider what's manageable in your vehicle before you go packing dozens of items. RVs and campers can obviously hold more things than a van or car, but whatever size vehicle you're traveling in, think about storage, and how easy it will be to get things in and out of their designated spaces before you buy.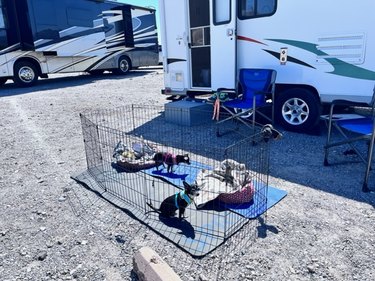 1. Neater Pets Neater Feeder Deluxe Elevated & Mess-Proof Dog Bowls
You can't go anywhere with a dog without food and water bowls, and these are designed to keep messes in place, which is perfect to have in a moving vehicle. It's made with high plastic walls to keep dog food spills and splashes of water contained in a small area that's off your floor and is fitted with stainless steel bowls that are available in three sizes—2 cups, 2.2 cups, 5 cups, and 9 cups. It's elevated to make reaching your pet's food and water easier on them and keeps ants and other pests out of the bowls, and is fitted with a built-in reservoir to hold spilled food and water until you're able to dump it at your next stop.
If you're parking for a while in an RV park, or in a state park or national park campground that won't allow your dog to run around off-leash (this is true for just about all of them), then you'll need something that will give your dog a break from the vehicle. A dog pen like this one is the perfect thing to keep on hand if you have the room for it as it's collapsible and breaks down and assembles easily, no tools required, and will keep your pet contained while you all relax outside. This pen is sold in five sizes and is made of steel, so it's not meant for long-term use in the outdoors but will offer a nice, occasional reprieve from your RV. It does come with ground stakes and corner stabilizers for a bit of added durability, but it doesn't include a door, so it may be best left for smaller dogs or dogs who will tolerate being picked up.
3. Reyox Realistic Artificial Turf Grass, 2' x 3.3'
For a bit of added comfort and protection from the heat, if you're parking your pen on a concrete lot, you can add a pad on the floor for your pets to relax on. Fake grass or turf is a great option to keep under your dog's pen as it's built to withstand the elements, and you can clean it easily with a little bit of water when it's time to pack it back up. This turf is made for dogs so the nontoxic, synthetic material is soft to the touch. The bottom of this pad is fitted with a rubber backboard and drainage holes so waste won't settle in it, and it adds a bit of added cushion so dogs can rest comfortably on hard or rocky terrain. This mat is only sold in one size—2 feet by 3.3 feet and comes with a 5-year warranty.
4. Chuckit! Travel Pillow Dog Bed
Anyone who's camped or slept in their vehicle knows the importance of a comfortable, clean place to rest their head at the end of the day, and our pets are no different. This particular bed is designed for traveling and camping with dogs, as evidenced by the thickness and material. It is padded to create a soft surface, but not bulky, so it's easy to keep in your RV, van, or car, or take camping with you. This bed is machine-washable and breathable so it will dry quickly if you wash it or it happens to get wet. While it says it's designed for dogs small to large, the reality of that will depend on your particular dog as it's not the biggest—this bed measures 30 inches by 39 inches. That said, it's a great option for any dog who can find comfort in that size range and comes with a stuff sack for easy transport and storage.
5. Springer Dog Travel Water Bottle
Even if you do have a water bowl for your pet, and even if you don't plan to do a lot of hiking or walking around on your travels, it's always a good idea to have a backup water container with you just in case. This travel water bottle is, honestly, the best one we've seen in action. You just fill the bottom with water and screw the top on. When it's time to water your dog or cat, simply unscrew the cap and squeeze the bottle and let the water fill the reservoir, and close the cap. When your pet is done, unscrew the cap again and all of that water goes back into the bottle, not a drop wasted. This bottle comes with a carabiner clip so it's perfect to take on a hike or camping trip, and is made of BPA-free, food-safe material that's dishwasher-safe.
6. MiraGiftsWorld Personalized Dog Collar
When you're RV living with your best friend, keeping your dog safe is of the utmost importance, especially if you're moving locations frequently. One of the best ways to keep your pet safe is to fit them with proper, up-to-date identification that will help get them back to you in the event that they ever get lost. We chose this embroidered dog collar because it makes their name and your phone number big enough to read without necessarily being right up on your furry friend. This shop sells collars in eight colors and three adjustable sizes and stitches your dog's info in a different color so it's easy to read. It's also fitted with a side-release buckle that's sturdy enough to stay on, and you can personalize this collar with up to 20 characters, which should fit your pet's name and your phone number.
7. KONG - Classic Dog Toy
We wanted to include a toy option to help keep your pet busy, entertained, and enriched on the road, but of course, the right toy will depend on your pet and their preference. We included the KONG because it's a tried and true favorite for so many dog parents, and could make RV camping and commuting more fun for everyone. This is a durable rubber toy that won't shred, so no messes in your motor home. You can also fill this with your pup's favorite treat, like dog-safe peanut butter, Easy Treat, or a chew treat, or you can freeze it to keep them occupied while you're driving. This toy is sold in sizes extra-small to extra-extra-large and is veterinarian and trainer recommended as one of the best ways to keep your dog enriched.
8. PetSafe Come With Me Kitty Nylon Cat Harness and Bungee Leash
We know this list was intended for dogs, but so many people who live the RV lifestyle have other types of pets with them as well, including cats! RV travel doesn't necessarily have to mean boarding your cat if you make the right accommodations ahead of time. One thing that cats need in order to feel happy, healthy, and less stressed out is exercise.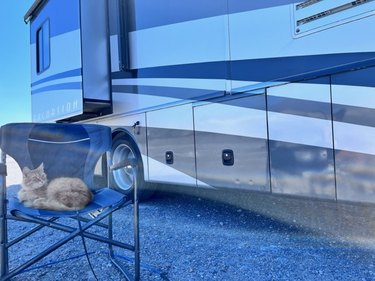 A great way to offer your cat a break from full-time RV habitation is to take them on a walk or let them wander outside a little with the help of a harness and leash. This particular leash comes in four sizes and is designed to keep your cat from escaping it thanks to the adjustable chest cinch in the front. It also comes with a bungee leash, which you can use to walk your feline friend or keep them tethered while you hang out outside.