Many dog enthusiasts love watching the annual AKC Westminster Dog Show, either live ringside or televised. But what does it take to create that show ring look? A behind-the-scenes visit to the grooming zone at the 147th AKC Westminster Dog Show reveals the challenges of breed-specific show ring clips and snips.
Westminster Dog Show new venue
The AKC Westminster Dog is the second-longest continuously held sporting event in the United States, second only to the Kentucky Derby. Since 1877, dogs have strutted their stuff in the show ring at Madison Square Gardens in the heart of New York City — until 2023, when the show moved to a new public venture in Flushing, Queens.
During the pandemic locked downs of 2021 and 2022, the show continued but was not open to the public. The 147th AKC Westminster Dog Show, May 8 and 9, 2023, however, is back to being a fully public event. The show ring energy is once again enhanced by the oohs and aahs of a large crowd.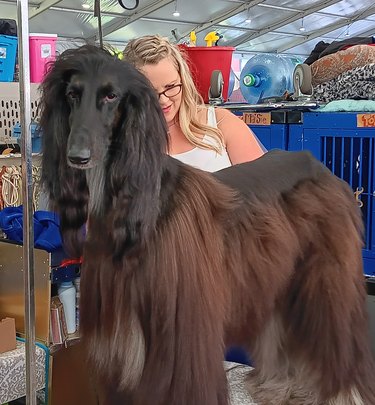 Westminster Dog Show grooming secrets
‌All dogs look their best prancing around the show ring circle, but what does it take to create that look?‌ How are show dogs groomed? Apparently, it depends on the breed, and each groomer at the AKC Westminster Dog Show competition has their own challenges and trade secrets:
Chalk substances can brighten coat colors
Corn starch is good for drying wet areas on the face and avoiding tear staining on white dogs
Long fur on ears and faces is wrapped before the ring appearance
So don't feel too bad if you look at one of these show dogs and think that they look so much better than other dogs do! There's a lot that goes into it and what you see is not always the dog's "natural" look.
Dog breed standards vary widely, and so do dog show grooming requirements. Some dog breeds, like the Bracco Italiano, require almost no grooming, according to Westminster Dog Show Bracco Italiano dog handler Izzy Eaton. Short-haired hound breeds need a brush for shine and of course a last minute jowl wipe in case of drool.
Other breeds, like wire-haired terrier breeds, require a thorough oiling of the dog's coat before several shampoos to create that healthy shiny look. Similarly, the Afghan Hound blowout is a lot like a fashion model photo shoot with their fur fluffed with brushes. Let's face it, these dogs are catwalk beautiful at any time, but the extra grooming makes them even more so.
Then there are breeds like poodles and Bichon frise. These maliciously coiffed canines have unique show standards that require hours of careful trimming and clipping. Standard poodles, for instance, have an unusual show clip requiring tuffs in strategic places such as around their ankles.
However, there's more. "Poodles have very wiry coats," says Cathy Gillooley, standard poodle breeder and groomer, "so in the ring, their coats should not be too soft." Dog hair coat spray is the secret groomers use to keep the fur standing up.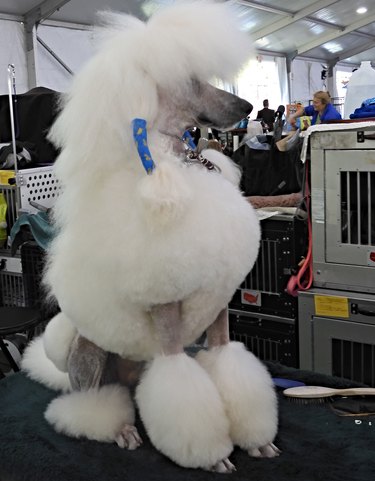 Conversely, the American Eskimo is a fluffy white dog and should feel that way. According to Susan Caltrider, groomer and handler of Stetson, "Brushing only takes about a half hour, but the drying after a thorough bath takes much longer. Breed standard dictates the coat should be soft and fluffy like a cloud."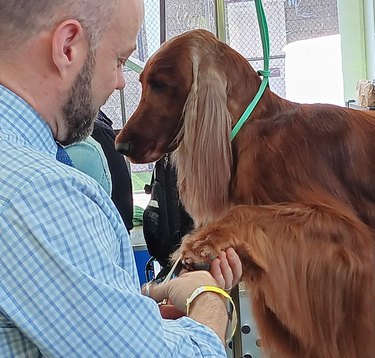 Westminster dog show preparation
‌Grooming stations at the AKC Westminster Dog Show rival the best hair salon for tools, equipment, and products.‌ Many dogs spend hours on the table before the show, others require a quicker clean and wipe down.
"I wouldn't say there's a challenging to grooming a Pekingese, but it's time consuming," says Matthew Perry, handler of Fonzi the Pekingese from New York City. "Blow drying must be slow and steady to avoid matting."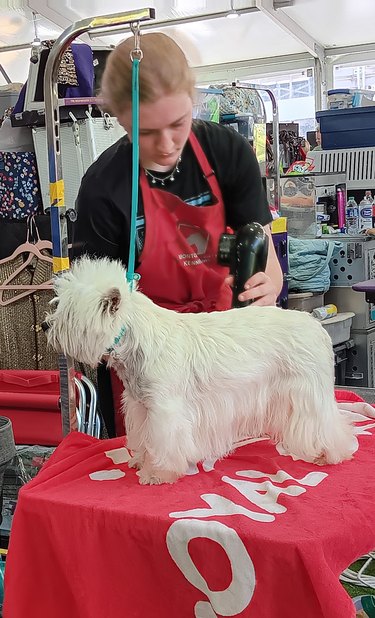 Whatever the breed, weaving between grooming tables behind-the-scenes at the Westminster Dog Show reveals a buzz of focused activity and some very mellow pups. For the dogs, it's just another weekend in the ring.