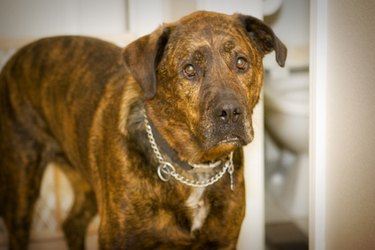 Whether going on vacation or moving cross-country, many people have embraced the concept of flying with their dogs. Although taking a dog on a commercial airline can be complicated (see Resource 1 for a complete list of tips and things to do prior to traveling) and expensive (pet fees can range from $50 to $300 each way, as of 2010), it is far from impossible. However, some airlines are more accommodating than others.
Pet Airways
By far the best airline for traveling with a dog is Pet Airways, the world's first airline dedicated to transporting not only dogs but cats and small animals as well. The "pawsengers" are given regular and monitored bathroom breaks and frequent attention. Puppies and kittens are monitored especially closely. Unfortunately, as of 2010, Pet Airways only flies out of nine major cities in the United States (including New York, Chicago and Los Angeles). Also, pet owners are not allowed to fly on Pet Airways.
JetBlue
According to the Department of Transportation, the only incidents involving pets (including loss, mishandling, injury and death) involved those that were traveling in the cargo hold. Because of this, JetBlue (as well as Southwest) does not allow pets of any size to be shipped as luggage—instead, they all ride in the cabin with their owners. Their JetPaws program provides passengers and their pets with a special tag for the dog's carrier, a pet travel guide (which covers, among other things, pet-friendly hotels in major cities) and 300 TrueBlue points (similar to frequent flier miles). JetBlue does impose a limit of four pets per flight, and the pets must weigh under 20 lbs. to ride in the cabin.
Honorable Mentions
AirTran is the best budget airline, charging $69 each way to transport a pet in the cabin. Like JetBlue, they do not allow pets to travel in the cargo hold.
United Airlines will ship unaccompanied pets in the cargo hold, and will accept weaned and trained dogs and puppies in the cabin. Pets are not allowed on flights to and from Hawaii.
Delta also ships unaccompanied pets and allows a maximum of three pets per flight to travel with their owners in the flight cabin.
Frontier Airlines allows pets to travel either in the cabin or in the cargo hold. They are also one of the more budget-friendly options, costing $75 each way for a pet traveling in the cabin.
Additional Information
See Resource 3 for an easy-to-read list of prices and policies arranged by airline. Be sure to check in with the airline, as prices and policies change often.