Treating a cat nose injury can be a bit complicated due to the tendency of cats to lick, causing the cut on the cat nose to split open again. Whether your cat scratched his nose by sniffing around where he shouldn't or he got scratched in a fight, prompt treatment helps to prevent infection and more serious problems down the road. Large and deep cuts may need veterinary attention, but you can often treat small cuts or scrapes on your cat's nose with a first aid kit at home. Treat the wound quickly to help it heal properly.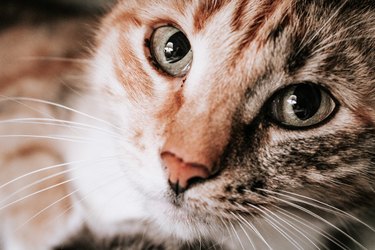 Before you can treat a cat nose injury, you need to restrain your feline friend to ensure uninterrupted access to the wound. Some cats will calmly allow you to administer first aid, but others may lash out or struggle to get away, especially if he is in pain or scared from the event that caused the injury.
Move slowly and speak quietly to reassure him. Once you catch him, a safe way to restrain him is by wrapping him in a towel or blanket. This can be reassuring for your cat and keeps his claws safely contained. Ask a friend or family member to help you hold the cat so that you can focus on treating the wound quickly and calmly.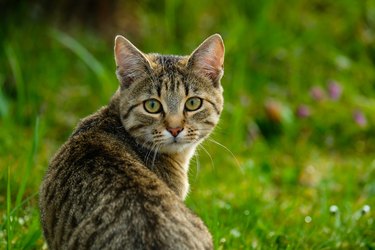 Treat the cat nose injury
Before you can evaluate and treat the wound, you must first stop the bleeding. Use gauze or a clean, dry cloth to apply direct pressure to the cut. Maintain firm pressure for about 10 minutes to fully stop the bleeding. Lifting the pressure early, or wiping and dabbing at the cut reopens the wound and removes clotted blood, causing the bleeding to start again.
With bleeding under control, analyze the wound so that you can see the actual size, shape, and depth. Clean the wound with water and mild soap to remove any dirt or debris. Move slowly and take care not to get soapy water in your cat's eyes and avoid running water over your cat's nostrils. Do not use hydrogen peroxide, alcohol, or witch hazel to disinfect the wound. Gently dry the area by patting it with clean gauze.
Apply a thin layer of triple antibiotic ointment to the wound to help prevent infection. Keep the amount small in case your cat licks the wound. Reapply the ointment at least three times a day to promote quick healing and protect the injured area from infection.
When to see a veterinarian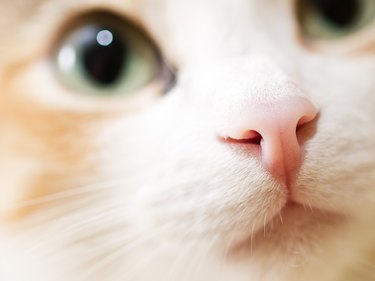 While you can treat most mild scrapes and scratches on your cat's nose at home with a basic first aid kit, there are certain times when a trip to the vet is necessary. If the cut shows any signs of infection, such as an odor, discharge, redness, or swelling, your cat needs medical treatment from a professional.
Deep cuts, bite wounds, puncture wounds, and a cat's nose that is split open should be treated by your veterinarian immediately. Take steps to stop the bleeding and transport your cat to the clinic for further care. Do not apply any ointments to a deep cut unless your vet advises you to do so. You should also avoid removing any debris or material from the wound.
These types of wounds have likely been exposed to bacteria and pathogens deeper in the tissue. Your vet may need to debride (remove dead tissue) and disinfect the wound and prescribe antibiotics to prevent infection and abscesses from developing. This will help ensure that the wound heals properly and your cat is on his way to being happy and healthy again.