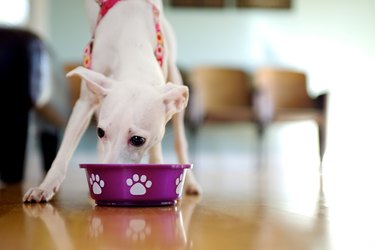 You take control of your dog's well-being and health when you eschew commercial dog kibble to become your best friend's in-house chef. Soon, the art of cooking ground meat and combining it with wholesome, nutritious ingredients is second nature. Since most dogs prefer beef, knowing a few tantalizing ways to cook this protein powerhouse is the key to a satisfying, nutritionally complete homemade diet.
Benefits of a homemade diet
Like people, dogs thrive on a varied diet. Prepared with fresh, whole foods such as beef, grains, vegetables, legumes, eggs, and cottage cheese, home-cooked meals are tasty. When properly prepared, they provide adequate quantities of quality protein, fats, carbohydrates, vitamins, and minerals. Most importantly, homemade food does not contain the nasty tidbits found in many commercial foods, such as slaughterhouse wastes; heavy-metal contaminants; pesticides and herbicides; artificial colors, flavors, and preservatives; and non-nutritive fillers. Always consult your vet when changing your dog's diet to make sure your dog is getting the proper nutrition.
Health benefits of beef and choosing a cut
Beef is rich in omega-3 fats, vitamin E, beta-carotene, lutein, and conjugated linoleic acid, all of which support cell development and energy.
Buy ground lean beef chuck, or grind lean cuts such as top round, bottom round, the eye of round, flank and strip loin in a food processor.
Buying your beef from local farms in bulk to store in the freezer is an economical alternative.
Boiling ground beef
Since most dogs love beef, it's the ideal choice of meat for a homemade diet. Dogs don't require the higher protein content of meats such as lamb, fish, chicken, and turkey, but if your dog doesn't like beef, these meats can be cooked in the same way.
To boil ground beef, add the meat to a large, cold skillet, break it up and spread to fill the pan, then cover in water and bring to a boil. Turn down the heat and simmer until the meat is no longer pink. Pour into a colander to drain off the fat if your dog is overweight, otherwise use the meat and its juices.
Sauteed ground beef
For extra flavor, sauté ground beef with vegetables such as finely grated carrot or zucchini and chopped, fresh parsley using the ratio of two tablespoons of veggies to one cup of beef. Heat one-to-two teaspoons of olive oil in a large skillet over medium heat and sauté the carrot or zucchini for two-to-three minutes. Crumble in the beef and sauté, cooking until it's no longer pink — about five-to-seven minutes. Mix in the chopped, fresh parsley and let it cook on low heat for a few more minutes.
Making muttballs
For fun, scrumptious "muttballs," roll ground beef into one-inch balls, sprinkle with low-fat, grated Parmesan cheese, place on a parchment-paper-lined baking sheet, and bake at 350-degrees Fahrenheit for about 30 minutes, or until a meat thermometer indicates they are well-done. Serve on a bed of brown rice and your dog's favorite cooked vegetables or as a side with polenta.
Mix it up
Meat is dramatically low in calcium, so home-cooked recipes must contain other ingredients in addition to beef to ensure the optimum balance of nutrients. Select organically grown produce whenever possible.
Cooked whole grains such as brown rice, whole wheat couscous, cornmeal, oatmeal, and quinoa.
Cooked legumes such as split peas, lentils, kidney beans, and pinto beans.
Raw vegetables and herbs such as carrots, zucchini, alfalfa sprouts, parsley, and basil.
Cooked vegetables such as corn, green beans, broccoli, cauliflower, and sweet potatoes.
Eggs and cottage cheese are good sources of protein.
Consult with your veterinarian for additional vitamin and mineral supplements recommended when feeding a home-cooked diet.
Recipe for a beef entreé
Versatile, economical, and nutritionally sound, this easy-to-remember, one-to-one ingredient ratio entrée yields about 4 1/2 cups of food or one daily ration for a small dog about 15-to-30 pounds.
For toy dogs, weighing up to 15 pounds, a daily ration is a little less than two cups.
For medium dogs, weighing 30-to-60 pounds, a daily ration is six-to-seven cups.
For large dogs, weighing 60-to-90 pounds, a daily ration is about eight cups.
For giant dogs, weighing over 90 pounds, a daily ration is nine-to-10 cups.
Bring two cups of water to a boil. Add one cup of brown rice and simmer for about 40-to-45 minutes until tender. Blend in one cup of cooked ground beef, one cup of cooked kidney beans, one tablespoon of chopped, fresh parsley and one tablespoon of finely grated carrot or zucchini.
Refrigerate unused portions up to two days or make larger quantities and freeze in individual portions in airtight containers. Thaw portions by adding a little warm water and gently mixing with a fork.
Always check with your veterinarian before changing your pet's diet, medication, or physical activity routines. This information is not a substitute for a vet's opinion.