Your precious pooch needs to be in Boston by noon Tuesday. The problem is you live in New York and it's currently Saturday. Shipping pets by plane is not a new phenomenon, but it has become a more convenient and cost-effective way to get your pooch from point A to point B. While you can travel with your dog on a plane, you can pay the cost to fly a dog alone.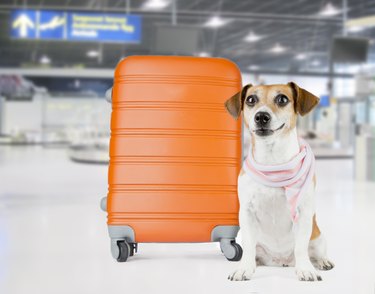 Breed size can increase price
Generally speaking, the larger your dog, the more it will cost to ship him. While small breeds inside a carrier can stay in the cabin with their owner underneath seats, large breeds must travel in the cargo area. Since all dogs must ride in a carrier on any airplane, the size of their carrier and the dog's weight can be used to determine the final cost.
For instance, an American Airlines flight from New York to California with a dog under 25 pounds will cost $265, while dogs weighing 25 to 50 pounds will cost $334. American Airlines dog shipping for breeds weighing 51 to 70 pounds costs $419. Large breeds ranging from 71 to 100 pounds, like Great Danes, will cost $529.
Delta, on the other hand, ships dogs traveling from New York to California in a small carrier for about $244. Dogs in an intermediate carrier (24 inches high and 22.5 inches wide) cost about $457, while dogs in large containers (27 inches high by 25 inches wide) cost nearly $343. Additional charges may and probably will apply.
The cost to ship a dog with United Airlines in-cabin is $125 each way. United also charges an additional $125 service charge for stopovers lasting more than four hours long inside the U.S. and more than 24 hours outside of the U.S.
Southwest Airlines only accepts in-cabin small cats and dogs at a fee of $95 each way. Be advised that your dog counts as a carry-on. Southwest Airlines accepts only one pet per ticketed passenger. The company doesn't accept pets in-cabin for international flights and never accepts pets in the cargo bin.
American Airlines' dog shipping depends on the destination and the size of the dog.
Consider dog age and health
On domestic flights with United, puppies must be at least eight weeks old. For international flights, puppies must be at least four months old.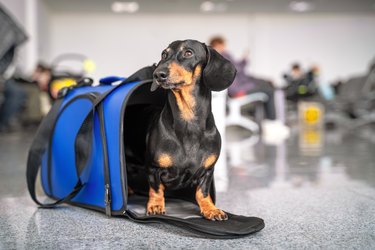 Delta doesn't have a maximum age requirement, but the airline does require a health certificate to make sure that it's safe to ship your dog as cargo.
Distance makes a difference
According to the American Airlines website, USDA regulations state that dogs cannot be transported on a single airplane ride for 12 hours or more.
Of course, you can ship dogs internationally. However, they may be quarantined for a period of time or follow specific regulations depending on the country they travel to.
You might have to work with an official pet shipper to get your beloved canine companion on an international flight. You can work with a company approved by the International Pet and Animal Transportation Association. The cost depends on the specific company. Dog Gone Taxi, for instance, will ship pit bulls for $600 plus an agency fee of $350.
Delta requires that international shipments be booked by an approved pet shipper.
Not all carriers will ship your dog or even allow them in the cargo bin at all. United Airlines does not accept specific breeds for transport in its climate-controlled compartment because, according to its website, they have "physical or behavioral traits that put them at a higher risk to be negatively affected by air travel." United also doesn't let pit bulls ride in-cabin. (Due to COVID-19, United has temporarily suspended its pet transport program.)
Southwest Airlines may deny boarding for dogs who scratch, growl, bite, or lunge. Dogs that urinate or defecate in the cabin or gate area may also be denied a flight.
High temperatures prevent pet shipping
Many carriers will not ship a pet under any circumstances if the temperature will rise above 85 degrees Fahrenheit at any point during the flight. For this reason, carriers like American Airlines and Delta will have restrictions on pet travel seasonally.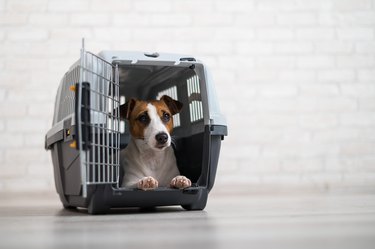 American Airlines has rules against pets traveling in cargo in areas that get hot at certain times of the year. Pets are not allowed to travel in cargo through Phoenix, Tuscan, Las Vegas, and Palm Springs from May 1 to September 30. Delta doesn't ship pets when the temperature falls below 20 degrees Fahrenheit.