If you think your dog has a cold, contact your veterinarian as soon as possible. Offer him comfort and fluids in the meantime, but when these symptoms show up, it's best not to wait and see. While the cold could simply be a virus, cold symptoms in dogs sometimes indicate a more serious health concern. Symptoms that last a short time may be allergies.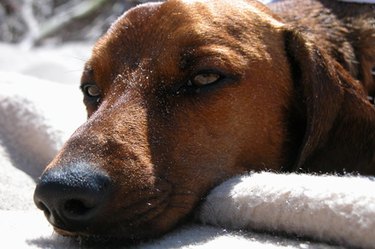 For sniffles lasting more than a couple days, the best puppy cold remedy is a visit to the veterinarian. Your pet's doctor can figure out the cause of your dog's cold symptoms, and in treating the cause, the cold should go away. He may do allergy testing, check for cardiac problems, or look for another infection. If it is caused by a viral infection, administer medication prescribed by the vet and keep your pet fed, hydrated, and comfortable to help him get well soon.
Dog cold symptoms may be just that — signs of her body fighting off a virus. If you notice sneezing, sniffles, coughing, and watery eyes, your pet may have a cold just like humans can catch. Do not ignore the symptoms thinking they will go away, though.
Sneezing and breathing issues can also be a sign of allergies in dogs, but hives, swelling, gastrointestinal problems, vomiting, frequent grooming, and itchy skin are also indications that your dog is intolerant to something. If you think your dog's congestion and sneezing is a sign of allergies, have your veterinarian do testing and consider an elimination diet to find the cause.
Sometimes, these symptoms indicate a more serious illness, health problem, or disease. Your dog may have caught kennel cough, which can usually be resolved through treatment, but it is more risky for immunocompromised canines. Your dog's veterinarian will be able to diagnose what is making your dog feel sick.
Other causes of dog colds
Cold symptoms in dogs can be a sign of an underlying condition, such as a cardiac issue or parasitic infection. These problems are often medical emergencies that need to be addressed promptly, as they can lead to complications or death if left untreated.
A common cause of canine cold symptoms in small or toy breeds is a tracheal collapse. This condition leads to wheezing and a "honking" cough and causes difficulty breathing. It often happens due to other lung issues. Tracheal collapse can become a medical emergency, but with treatment, it can be manageable. Coughing and nasal drip also appear when a dog has a fungal infection or canine influenza, so since the symptoms are so similar among different health issues, it's best to get a professional diagnosis when your dog is ill.
If other ailments are ruled out and your veterinarian determines your dog's cold symptoms are virus-related, keeping your pet comfortable and hydrated is key to helping him recover. The best puppy cold remedy is proper nutrition, fluids, and rest. Make sure he has a comfortable bed in which to sleep. If it's dry in your home due to the season or climate, put out a cool-mist humidifier to help your pet get relief from cold symptoms.
Administer any medication recommended or prescribed by your veterinarian but do not give your pet any over-the-counter pills without the vet's approval. To prevent future colds, make sure your dog gets necessary vaccinations and keep him away from ill animals as much as possible.
Stay informed on whether there are viral outbreaks in the area before taking your dog to a dog park or having him stay in a kennel. Also be aware of how common cases of illnesses like parvovirus are in your state. With this in mind, also keep your dog quarantined if he has symptoms or a diagnosis of a contagious illness to prevent spreading it to other pets in the area.