Hooray for dog-friendly restaurants! Not only do they make the joy of dining out even more joyful by allowing our pooches to tag along, but they also provide us with a great excuse to eat out in the first place: "Yeah, I only stopped by In-N-Out because Barkley here was craving a Pup Patty but, hey, since I'm here I might as well have a Double-Double, fries, and vanilla shake to-go, please." Here are a few places that give dog treats.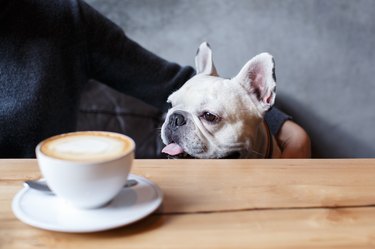 If your dog can handle a shot of dairy every now and then, treat them to a Puppucino from Starbucks. It's simply a small cup filled with whipped cream.
2. In-N-Out: Flying Dutchman
Next time you're picking up a Double-Double for yourself, treat your dog to a Pup Patty, a plain patty sans the salt, delivered in a doggie bag. Or if your dog deserves a little something extra special and is dairy-tolerant, go for a Pup Patty Flying Dutchman: two pieces of cheese sandwiched by two burger patties (make sure you ask for the unsalted pup patties!).
It's not really a secret because it's on the regular menu, but the Sprinkles menu offers Pupcakes (aka doggie cupcakes) that are basically sugar-free versions of their signature scrumptious cakes topped with yogurt frosting. Pupcakes are only available for local delivery or bakery pickup.
4. Handel's Homemade Ice Cream: Dogsters
Handel's ice cream chain carries a dog-friendly ice cream called Dogsters. At Handel's, dog ice cream comes as a vet-approved icy treat available in peanut butter and mint flavor.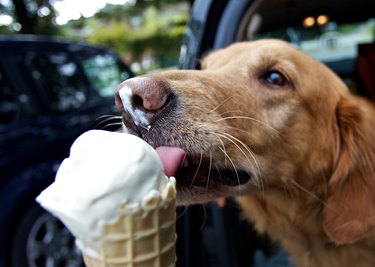 5. Tim Hortons: Doggie Timbits
Fan of Tim Hortons' Timbits bite-sized doughnuts? Did you know you can also order your pup a sugar-free doggie version? Now you do, so there's no excuse not to pick up a treat for your pooch.
6. Dairy Queen (some locations): Pup Cup
Not only will some DQ locations serve your pup, but they'll also even do it for free. Call up your local Dairy Queen to see if they offer Pup Cups, then bring your pooch 'round for the royal treatment of a dog treat tucked into the middle of vanilla ice cream.
7. Shake Shack: Pooch-ini
Like Sprinkles, this dog-friendly establishment has pooch items right on the regular menu. These include the Pooch-ini (dog biscuits and vanilla custard) and the Bag O' Bones (five dog treats). Note: Shake Shack's Pooch-ini isn't created with small pups in mind, so just give them a small lick or bite.
One of the most dog-friendly spots of them all, Rock & Brews has an entire menu just for pups. You can choose from five dog-friendly menu items including Addie's Feast, a dish with roasted chicken, brown rice, sweet potato, and veggies, or the Bow-Wow burger with two unseasoned burger patties. Pets are welcome to dine with you in their patio area, where they're given a dog water dish upon request.
9. Johnny Rockets (some locations): Doggie burgers
Though dogs are welcome at all Johnny Rockets locations and are offered a water bowl upon request, some restaurants have a dog menu featuring items like doggie hamburgers, ice cream, and even pupcakes.
10. Le Pain Quotidien: Dog treats
Feel a coffee-and-pastry craving coming on? Grab your pooch and head on over to Le Pain Quotidien! Dogs are welcome in their outdoor seating area, and dog treats are offered by staff on request.
11. Culver's (some locations): Vanilla scoop
We love Culver's for their daily-made, fresh, and creamy frozen custard. Your dog will love Culver's dog ice cream that includes a milk bone biscuit inside a scoop of vanilla ice cream. Check to see if your local Culver's secret menu serves up this pup-friendly treat!
12. Lazy Dog Restaurant and Bar: Grilled chicken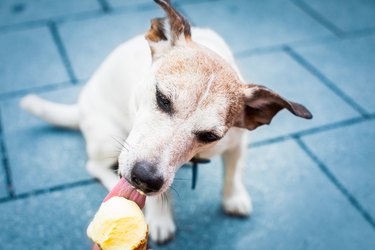 A dog-friendly meal is definitely something you'd expect from a place called the Lazy Dog Restaurant and Bar, and this dish is pretty doggone good! Treat your pup to a generous portion of grilled chicken with a side of brown rice and veggies. If your pup prefers beef, order up the grilled hamburger patty bowl that comes with brown rice and veggies.