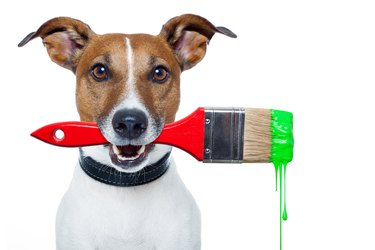 We love our dogs, but they can be expensive. Between food, toys, trips to the vet, and the occasional overnight stay at their favorite doggie hotel, we pet parents can spend a pretty penny keeping our pooches happy and healthy. But for most of us, budget is a concern. We want to spoil our dogs, but we could always afford to save a little money. Well, sometimes saving money means getting our hands dirty. We've collected some awesome DIY projects that will save you big bucks down the road.
Recycle old t-shirts by braiding them into rope toys.
Who among us hasn't blown the budge on fun new toys for our furry friends? But our dogs can often destroy our new purchases as fast as we can buy them. Save a little moolah by upcycling your old t-shirts. This simple tutorial will teach you how to turn them into a rope toy that your pup will love.
Save money by weaving your own dog leash.
Those gorgeous rope leashes look awesome, but they can also be pricey. And while we might want a different kind or color of leash for different occasions, that doesn't really make financial sense. The good news is, you can make one yourself. With this simple DIY, you can weave a stunning leash out of paracord that that will look stylish and be strong. That way, you can customize the colors, so it fits you and your dog's personality perfectly.
Why buy expensive pill pockets, when you make them yourself?
Specialized treats and food can be some of the most expensive things we can buy. But when our dog needs to take a pill, delicious pill pockets are a great way to make sure they swallow them. There's no need to spend money on these custom-shaped treats, because you can make them yourself. Check out this tutorial to make pill pockets out of peanut butter that your doggie can't resist.
Turn your old sweater into a new sweater for your dog.
Honestly, if we could afford it, our dog would have as extensive of a wardrobe as we do. But unfortunately, we can't quite swing it. However, there's a way to keep your small to medium doggie looking dapper without breaking the bank — by recycling your old clothes. Follow this DIY tutorial to turn one of your old sweaters into a super snuggle-worthy dog look.
Keep your dog busy with this treat-dispensing tennis ball.
Treat-dispensing toys are, well, indispensable. Trying to get treats out of them can keep your dog busy for hours AND tire out their brains. However, the various toys available to buy can get a little pricey, but instead, you can make one yourself. If your dog is like most, they love a good tennis ball. Well, with this simple DIY project, you can turn a tennis ball into a treat-dispensing toy. Bonus, you can customize the cut to make the ball harder or easier for your pup.
Turn that old tote bag into a stylish carrier.
Need a new pet carrier, but realizing that they cost a pretty penny? Don't fret. If you've got an old tote bag lying around, then we've got a very easy tutorial will teach you how to repurpose your old tote into a chic dog carrier. Plus, the inside liner is removable, so it's super easy to wash.
Create a treat-filled rope toy that stands up to strong chewers.
If you have a dog that constantly destroys everything almost instantly, then you need a sturdier toy. Try this tutorial for a rope ball with a treat inside that will keep your destructive chewer busy for hours. And it's totally cheap to make, so you won't have to worry if your dog chews through it.
Save money on doggie shampoo by making your own.
Let's face it — Fido needs a bath. But good natural pet shampoos can be a little pricey. So why not make your own? Our DIY doggie shampoo uses a blend of totally natural ingredients that will keep your pup clean and happy. Plus, it adds the scents of rosemary and lavender, so your dog smells as good as it looks.
Bake these healthy and totally cheap sweet potato treats.
Dogs love treats, and we like to feed them. However, high-quality treats can come be super pricey. And if your dog's in training, then you know how many treats you can go through in a day. However, you don't want to over-treat your pup, so you need something healthy. How about these DIY dehydrated sweet potato treats? Dogs love them, they're healthy, and they're so cheap to make it's crazy.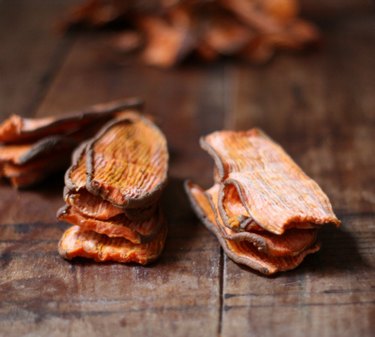 Do you love pet DIY projects? Check out our DIY hub to find the best projects to do at home, and then like us on Facebook for more how-to guides. You're about to take your DIY game to the next level. Congratulations!