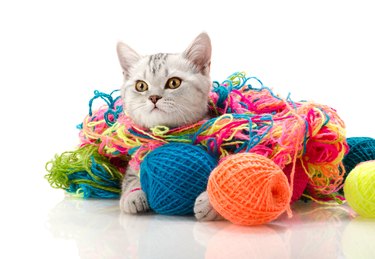 If you're at a loss for a present to buy your pet, why not take a different approach. Why not roll up your sleeves and do a little DIY instead?
Gifts that you make at home are full of love, and the time spent making something is special. Plus, when you make your own pet products, you can totally customize them to your unique furry friend and their individual needs. So put down your wallet and pick up your scissors, because we've collected some awesome DIY gift ideas to show your pet how special they are.
1. Peanut Butter Bacon Dog Treats
There's nothing quite like a tasty treat that's made with a little love. There are TONS of delicious DIY dog treat recipes out there, and we want to try them all. But this blend of bacon and peanut butter sounds way too good for your pup to pass up. Find the recipe from Pet Coupon Savings here.
2. Crunchy Tuna Cat Treats
Don't worry, we'd never forget your feline friends. Of course, they love a tasty treat, too. We love this simple but sophisticated-looking recipe for crispy tuna cat treats. Plus, they're small in size, and they use easy to find ingredients. Find the tasty recipe that will drive your kitty wild by Evermine here.
3. Dog Sweater
You don't have to be a master of knitting to make your pup an adorable sweater — just repurpose a sweater of yours. This ingenious wardrobe up-cycling hack will make you feel like a DIY champ, and your pup will be totally cozy. Check out the tutorial at Vok Knits.
4. Pet Carrier
Haul your small dog or cat around in style with this super easy way to turn a tote bag into a fully-lined carrier for your furry friend. Major bonus points — the inside liner comes out, so you can wash it. Watch the video above for the simple tutorial.
5. Colorful Macrame Dog Leash
Give your dog the gift of a fun new leash with this simple macrame technique. This leash is both fun and sturdy, and you'll never see another one like it. Plus, we love that you can make it as long or short as you need. Check out our simple macrame leash DIY here.
6. Kitty Self-Petting Station
Kitties love to run themselves on everything, and the fun textures of this station make that even more fun. Watch your cat roll around and play at this awesome petting station made from carpet and a toilet brush. Check out the easy tutorial from Love Pets DIY here.
7. T-Shirt Rope Toy
We all know our dogs love to tug on their toys, which is why a classic rope toy makes an excellent playtime game. But did you know you can make one at home? By cutting up old t-shirts and braiding them together, you'll make a toy your dog loves. And it's not only because it's fun, but also because your old t-shirts smell like you. Check out the video tutorial above.
8. Shoelace Cat Teaser
You may think that a cat teaser is to complicated to make on your own, but think again. This simple design uses things you can find easily at the craft store. And trust us, your cat will love it. Check out this simple and fun DIY from Building Our Story.
9. Dog Puzzle Toy
Dogs love to play a game that challenges their brain, plus it's good for them. These games keep them sharp and entertained, so they don't get bored and act out. This totally simple DIY puzzle uses 2-liter soda bottles to create a treat-dispensing challenge for your dog. Check out the simple DIY tutorial in the video above.
10. Kitty Cat Puzzle Box
Keep your cat entertained for hours with this totally simple puzzle box. Using just a simple tupperware, you can challenge your cat to try and get its toys out of the box, which stimulates its brain for extra-fun playtime. Check out the simple DIY video above.
11. Customized Doggie Bandana
Make your pup feel extra special when you tie on one of these sharp-looking custom bandanas. Using simple but snazzy iron-on letters, you can make an accessory just for your dog that will be totally unique. Or go a little grander with a fabulous bow bandana using the same techniques. Check out the tutorial from Martha Stewart here.
12. T-Shirt Cat Tent
Cats love to find cozy little holes to curl up in. And we know you probably have a few old (or new) t-shirts lying around that you never wear. With just a shirt and a few other supplies, you can make a fun little cat cave for your feline to hide out in. Check out the simple DIY video above.