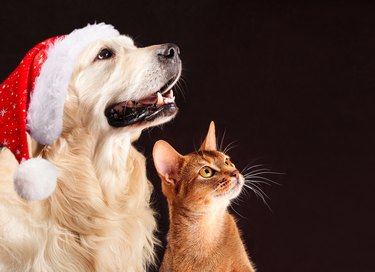 The holiday season is here. And like any good pet parent, you know that the holidays aren't just for humans — pets want to celebrate, too!
If you just got a new cat or dog within the last year, that means you have EXTRA happiness to celebrate. This is your first holiday season with your furry friend, so you might want to go that extra step to make this season memorable.
Plus, since your pet is still new to the family, the holidays are the perfect time to invest in those essentials you might have been putting off all year. But don't worry, we've got you covered with our 12 Days of Christmas Gifts for the special little furball in your life.
1. Custom Pet Ornament
So many of us have a "Baby's First Christmas" ornament, so it seems wrong not to get one for your pet. These simple but elegant Christmas balls can be made with a silhouette of a cat, a custom dog silhouette, or any other animal. And you can add your pet's name in a selection of fonts and colors. These holiday treasures start at $13.
2. Dog Holiday Sweater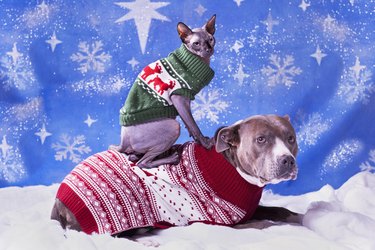 Let your pup show off their holiday spirit AND keep them warm in those chilly winter days. This fair isle-style sweater is adorably holiday themed, but still versatile enough to wear throughout the cold season. You can find it at PetCo in various sizes starting at $7.49.
3. Doggie Sport Pack
If you have a small dog that loves to come with you on adventures, consider investing in a quality doggie backpack. These backpacks are easier for you to carry than a traditional carrier, and they are made for more rugged trips like hikes. This K9 Sport Sack AIR is available on Amazon for $69.95.
4. Cat Lounge and Scratch
Cats love to scratch, but some scratching posts don't quite fit in with the decor in certain rooms. That's why this stylish cat lounge that doubles as a scratching post makes the purr-fect gift for your kitty. Find it on Amazon for $49.95.
5. Hand-stamped Pet ID Tag
If you're still using the tag you got when you adopted your dog or kitty, it might be time to upgrade. A hand-stamped metal tag from Etsy is a beautiful option that will last longer. Check these lovely custom tags out for just $13.
6. An Upgraded Bed
7. Pooch Selfie Tennis Ball Phone Attachment
Get the perfect pic of your pup every time by turning their attention to your phone, where you need it. This hilarious attachment allows you to put one of their favorite toys front and center, so you have a chance to snap your shot. Find it on Amazon for $12.99.
8. Bolt Interactive Laser
Keep you playful cat entertained and occupied with this laser toy that moves on its own. Your kitty can spend hours chasing that elusive red dot. Plus, the laser is calibrated so it's safe for animals and won't hurt their eyes. Find it on Amazon for $17.95.
9. Chuckit!
No dog's toy box is complete without one of these handy fetch toys. And believe us, your arm will thank you. So if you don't have one for your pup yet, they come in various sizes and colors. It will be hours of fun. Find them at PetSmart for $8.95.
10. Madison Food and Water Bowls
Now that your pet has really made their place in your home, why not upgrade their feeding station? This elegant set won't look out of place in your kitchen or dining room. Plus, the bowls are dishwasher safe. Find it at Pottery Barn starting at $69.00.
11. Subscription to BarkBox (or MeowBox)
12. Personalized Pet Stockings
These adorable stockings for your dog or your cat are simply paw-some. And your Christmas decor just won't be the same without one. As a bonus, you can fill it with your pet's favorite treats and toys, so they have a nice surprise on Christmas morning. Find these on Etsy for $15.98.
With fabulous gifts like this, we imagine you and your pets will have a pretty great first Christmas together.