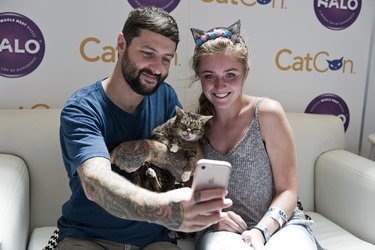 Circle the date, kitty connoisseurs: CatCon, the world's largest convention for all things feline and pop culture, will return to the Pasadena Convention Center on June 29th and 30th for a weekend of celebricat meet-and-greets, workshops, videos, cosplay, and much, much more!
Equal parts "expo" and "symposium," the annual event is a cultural juggernaut and is the original cat convention, inspiring a slew of other cat-themed events and conventions in its wake.
Joining this year's edition of CatCon will be an eclectic roster of internet-famous kittehs, authors, artists, doctors, and podcasters including Dr. Marty Becker ("America's Veterinarian"), Rob Reger (creator of Emily the Strange ), Aaron's Animals, and the Purrrcast.
Oh, and this guy, the Dark Lord, a hairless Sphinx with a wicked glare, "human knees," and more than 106,000+ followers on Instagram.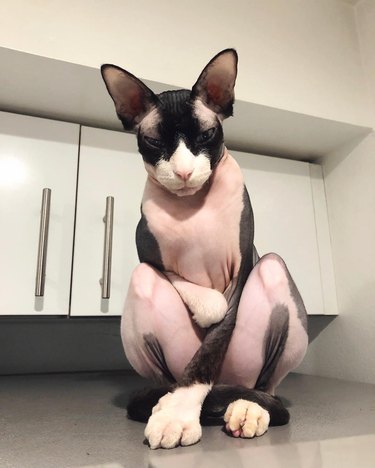 What else can attendees expect at CatCon 2019?
In a press release shared with Cuteness, organizers teased the presence of more than 200 brands and exhibitors peddling all manner of wares for both humans and their cat overlords, about the same number of adoptable kittens (the most, they note, in CatCon history), and experiential activations.
All jokes aside, visitors, who last year traveled to CatCon from more 45 states can also expect programming that "informs, educates, and entertains" — and ample opportunities to snap great selfies (do it from the 'Gram!), rub elbows with fellow crazy cat ladies and crazy cat dudes, snack on a wealth of yummy eats including tacos from neighboring food carts, and learn more about exciting new initiatives from official sponsors like ASPCA®, Fear Free®, okocat™, Kat Von D Beauty, KindredBio, Litter Genie®, Scotch-Brite™, Wellness® Natural Pet Food, World's Best Cat Litter™, Weruva, and this very website, Cuteness.com.
While the majority of the convention-going audience trends millennial-ish, CatCon 2019 is the proverbial family-friendly event perfect (er, purrfect) for folks of all ages and persuasions (except for dog people, because they can't be trusted under any circumstances 😉) .
Even better: As was the case with the first four conventions, CatCon 2019 includes a charitable component and $1 of every ticket sold will be redirected to an assortment of nonprofits in the cat space, which this year includes Kitten Rescue, TinyKittens, Odd Cat Sanctuary, Milo's Sanctuary, and Red Rover. So, WIN-WIN FTW!
For more on CatCon 2019, including info on tickets, scheduling, and FAQs, click through to the event's official website, where you can expect to be sucked into a vortex of extreme cuteness and adorability.