You love traveling with your pup. You find it heartbreaking when you have to leave him all alone at home, so it's important to you that wherever you go, you can take your dog.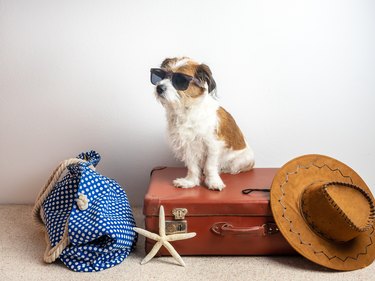 Unfortunately, not all hotels are dog-friendly. If you have a service animal, your dog is allowed anywhere, but if not, you'll have to seek out a hotel that allows you to bring your pooch. You'll want to watch out for additional fees, security deposits and hotels that may ban certain breeds when on the road with your dog.
Here are some tips for locating a dog friendly hotel while you're traveling.
Look for dog-friendly chains
Some hotel chains are known for being dog friendly. For instance, some Four Seasons Hotel and Resorts hotels will allow you to bring a pet that is up to 25 pounds and give you amenities like water bowls and pee pads. Red Roof Inn accepts dogs at 360 of its locations, and you don't have to pay a pet deposit or nightly fee. Ace Hotel is a smaller chain that allows dogs, and Best Western provides pet friendly accommodations at its more than 1,600 hotels. Their fee is low at only $20 per day for bringing your pet.
Check out hotel aggregator websites
If you are looking for a hotel that isn't a chain, you can go onto a hotel search website, such as Hotels.com, and navigate to the pet friendly section under amenities. Typically, the hotels will charge you either per pet or per stay, and allow up to two dogs of a certain size. Prior to making your booking, check with the hotel to ensure you're all set to bring your pet.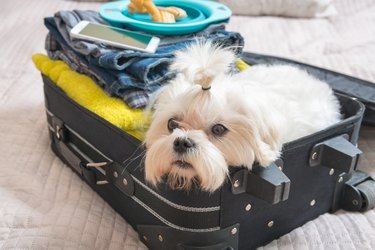 Look on pet travel websites
There are pet travel websites designed specifically for making it easy to locate a dog friendly hotel. For example, on BringFido.com, you can type in the name of your destination and then see the nightly rates of hotels in the area, the pet fees, what kind of dogs are allowed (big or small) and how many pets are allowed. Another site, Petswelcome, shows you the same information as well as the last time the policy was confirmed, so you can figure out whether or not you have to call up the hotel to double check.
Staying in a hotel with your dog
Along with double checking a hotel's pet policies, there are some best practices you should follow when taking your dog to a hotel. Remember to pack his food and water bowls, as well as his crate. When you leave the room, it's a good idea to crate him and to put the do not disturb sign on the door, so that your dog will not startle the housekeepers.
Getting a room on the bottom floor of the hotel is a good idea since you don't want to be too far away from a place where you can walk your pooch. You should also ask the concierge if the hotel has a dog relief area or there is a good place nearby to take your dog for a walk. Since some hotels are on the side of a busy highway, you might have to walk a bit or drive your dog to a park in order to get in a good walk.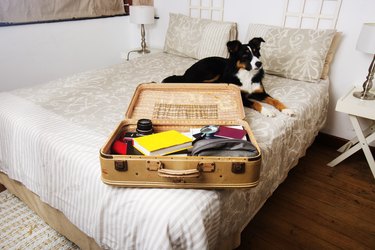 If your dog accidentally goes on the carpet or damages any piece of hotel property, make sure you tell the concierge as soon as possible. You want to take care of any damages and pay charges before you check out.
Once you've found your pet-friendly hotel and know all the rules and best practices, you can gear up for a fun time with your pup on the road.