Do you dream of reenacting the "I'm On a Boat" music video with your dog? Do you yearn to travel the open seas, but without the huge bummer of leaving your beloved pet behind? It might seem like an impossible situation, but it actually (somewhat surprisingly) isn't. Here's everything you need to know about taking your dog on a cruise ship.
Are there dog-friendly cruise ships?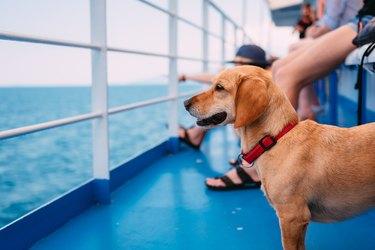 You might assume that traveling international waters would be the kind of experience reserved for only the most highly-trained service animals, but that just isn't the case. There are actually a lot more pet-friendly cruises lines than you might expect.
This doesn't just apply to shorter cruises, either. You can actually cross the Atlantic with your dog. For example, British cruise line Cunard's Queen Mary II offers a kennel program on all trips between New York and Southhampton (on the south coast of England). If you're dead set on taking your pup cruising with you, search specifically for dog-friendly cruise lines from the get-go.
What happens to dogs on pet-friendly cruise ships?
Just because a cruise ship is dog-friendly doesn't mean Fido will be allowed to chill with you on the Lido Deck. Many pet-friendly cruise ships have kennels for dogs who accompany their owners on an ocean liner. On the Queen Mary II, for example, dogs who travel onboard are kept in a special kennel area that's staffed 24/7.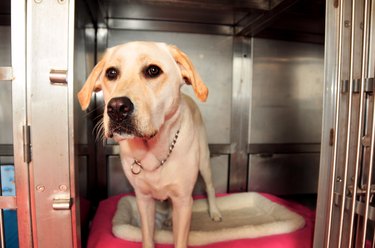 Don't panic, though: even if your pup can't accompany you everywhere on the ship, you can still spend plenty of quality time together on most dog-friendly ships. Guests with pets aboard the Queen Mary II, for example, are welcome to visit and play with their pups during visiting hours throughout the day.
Are Emotional Support Animals allowed on cruise ships?
If a cruise ship doesn't have a pet-friendly policy, it may be tempting to register your pet as an Emotional Support Animal (ESA) in order to bring him along for the ride. While some cruise lines recognized and allowed ESAs in the past, many of those are cracking down on the standards and limiting furry passengers to trained service animals.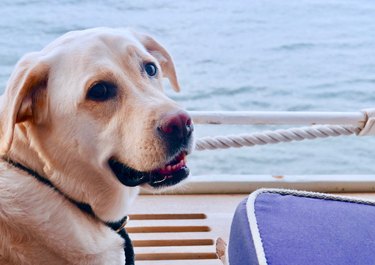 One of the most notable examples of this trend came in 2018, when Royal Caribbean International announced that it would no longer accommodate requests to bring Emotional Support Animals aboard its ships.
"We are updating the policy to differentiate emotional support animals from service animals that are trained and certified to perform a function for a person with a disability," a spokeswoman for Royal Caribbean told MarketWatch at the time. "It is important to us that all our guests enjoy their vacation, which is why we put into practice this new policy. Royal Caribbean's policy remains the same for service animals traveling with guests that have a physical or non-physical disability."
Are Service Dogs allowed on cruise ships?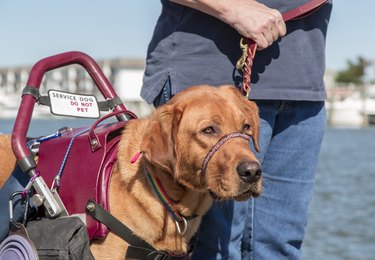 This one is a tiny bit trickier. Access rights for service animals in the United States are guaranteed under the Americans with Disabilities Act (ADA). According to a 2005 Supreme Court decision, the ADA applies not just to cruise ships run by U.S. companies, but also to ships registered in foreign waters if they sail in U.S. waters. This means that, as long as a cruise includes travel in U.S. waters, service animals should be allowed on board.
What rules apply to service dogs on cruise ships?
Even though service dogs are guaranteed the right to travel with their owners on cruise ships, it's important to note that there are some limitations and rules handlers will have to keep in mind.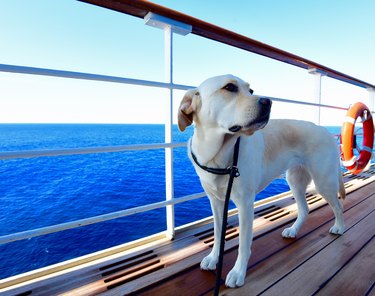 First, most cruise lines will require the handler (or another member of their party) to remain with the dog at all times—meaning the dog can't be left alone in its handler's cabin or stateroom (or, obviously, in any public areas on the ship). What's more, there may be some areas on the ship that will still be off-limits to a service animal for safety reasons, like pools, for example.
Can service animals go on port excursions during a cruise?
Many cruise ships include stops—and opportunities for adventures at the cities of port. A service animal's ability to accompany its owner on these adventures varies by country and it's important to do your research beforehand if you're bringing a service animal on a cruise ship, especially if you plan to de-board during stops. While your cruise line may be able to assist you in determining what paperwork or preparation is necessary for your service dog to de-board, the responsibility for making those arrangements still falls on the handler.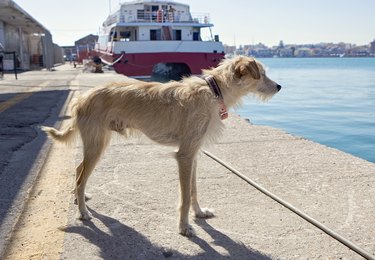 "You are responsible for obtaining the import permits from all countries that require those special documents and must have those original documents available at all times. Specific information may be obtained by contacting the United States Department of Agriculture, or the applicable United States consulate, or embassy of each country to determine such country's policies and obtain the permits needed for each port of call on the sailing itinerary. Please be aware that obtaining those permits can take weeks or months, and some countries may not allow animals to enter at all."
If you do plan to take your service animal off the ship at port, know that your cruise line will likely require that you submit copies of any necessary permits or paperwork before you set sail, so plan this all out well, well in advance.