Walt Disney World in Orlando, Florida is known as across the globe as the Most Magical Place on Earth. Can a place be truly magical at all—let alone more magical than any other place in the world—without doggos? If you're searching for the answers to all things Disney World and dogs, you've come to the right place. Here's everything you need to know about bringing your dog along for a Disney vacation.
Can you bring your pet dog with you to Walt Disney World?
This is a more complicated answer than you might think. Here's the super short version: To your hotel, maybe. To the theme parks? No.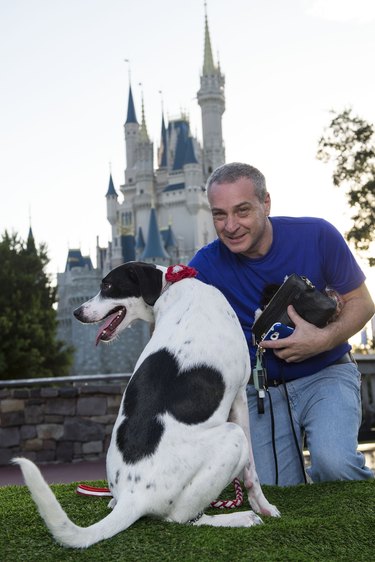 Guests are welcome to bring dogs along with them for stays in select Walt Disney World Resort hotels, but pets are not allowed in the theme parks.
Are Walt Disney World Resorts hotels dog-friendly?
Some Walt Disney World Resorts hotels are dog friendly. The policy is fairly new and was launched in 2017. Disney is testing the waters when it comes to pet-friendly hotels and only four of the resort's 26 Orlando hotels were designated as dog-friendly through the pet-friendly pilot program: Disney's Art of Animation Resort, Disney's Port Orleans Riverside Resort, Disney's Yacht Club Resort, and Cabins at Disney's Ft. Wilderness Resort.
How much does it cost to bring a dog to a Walt Disney World Resort hotel?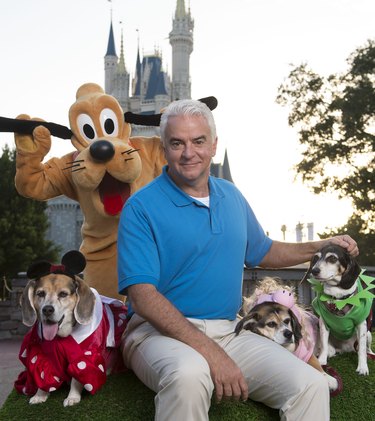 Disney's pet-friendly hotel options are limited and taking advantage of the option to bring your doggo along for vacation will cost extra. Each pet-friendly property at Walt Disney World Resort charges per night pet-cleaning fees:
Are pet dogs allowed in Walt Disney World parks?
The short answer? No. Per Disney, "With the exception of service dogs, pets are not permitted in the theme parks, Resort hotels or on theme park buses."
What can pet owners do with their animals during a visit to a Walt Disney World park?
So, if dogs are allowed in some Disney hotels but not in the theme parks, what can pet owners do with their furry friends during their time in the parks? Enroll their dog in the company's Best Friends Pet Care program.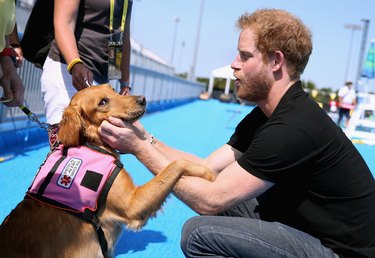 Dogs who are boarded in the program spend their days hanging out with Disney cast members in a specially-designated puppy zone that includes 17,000 square feet of air-conditioned indoor space, 10,000 square feet of covered outdoor runs and play areas, and a 25,000-square-foot dog park. Disney staffs the program with 45 "highly-trained pet care providers." The Best Friends Pet Care program opens one hour before the parks and doesn't close until an hour after the parks close, meaning pet owners who bring their dogs along for a stay at the resort don't have to miss out of a second of Disney magic—and still get to come home to kisses and cuddles every night of their trip.
And the Best Friends Pet Care program isn't just for dogs staying on property; it's open to most common household pets whose owners need a pet sitter during their magical day. The program even offers overnight accommodations and can house up to 300 dogs, cats, and small pets at a time. Reservations at Best Friends Pet Care aren't required, but due to the limited space, they are strongly suggested.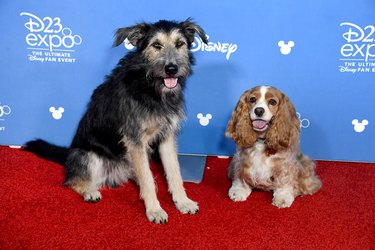 For dogs:
VIP Luxury Suites: Doggos enrolled in this $109 package stay in a 226 square-foot suite and are treated to two potty walks, two playgroups, a flat-screen television, webcam, bedtime story and, after a 3-day stay, a bath.
Vacation Villas: This $93 package includes a 72 square-foot suite, one potty walk, playgroup, a flat-screen television, and a turndown biscuit.
Indoor/Outdoor Suite: This more economy-conscious, $52 package includes a 32 to 48 square-foot suite and one potty walk.
Indoor Suite: Finally, the $47 indoor-only suite is a 36 square-foot space and the booking includes two potty walks.
The program also offers the following add-on services for dog bookings:
Play & Stay- $22 (Four hours of play with other dogs)
Playgroup- $15 (30 minutes of play with other dogs)
Playtime- $8 (10 minutes of play with an associate)
Cuddletime- $8
Walk & Explore- $8
Bedtime Story- $6
Ice Cream Break- $4
Holiday Meal- $5
Premium Bed- $5
For cats:
2 Level Condo: $30
4 Level Condo: $42
For pocket (aka small) pets:
Disney requires that guests looking to enroll smaller pets (including birds, reptiles, and rodents) provide a portable enclosure for the animal. Rates are based on the size of the enclosure:
Pocket Pets (Small): $13
Pocket Pets (Medium): $17
Pocket Pets (Large): $22
Pocket Pets (X-Large): $25
Are there any pets not accommodated by Disney's Best Friends Pet Care program?
According to Disney's website, Best Friends Pet Care cannot accommodate venomous pets or primates and native wildlife or exotic species are not allowed inside the facility.
Everything you need to know about bringing your service dog to Disney World
While pets are not allowed inside Walt Disney World parks, the property is, of course, totally ADA-compliant. That means that guests who require trained service animals to assist with disabilities are absolutely welcome to visit the parks with their assistance animals at their side. The parks do not allow emotional support animals and restrict service animals to dogs and miniature horses—the only species legally allowed to be designated as trained service animals under the ADA.
Trained service animals (but, again, not emotional support animals) are also welcome in all hotels at Walt Disney World Resort. I recently visited Walt Disney World for a press event celebrating the fact that the new, fancy photorealistic CGI remake of The Lion King is now available to own as part of your personal library and was accompanied, as I am literally everywhere I go, by my service dog, Sidekick. My stay included time in the parks, a stay in an official Walt Disney World Resort hotel, and trips on the official park shuttles to and from the airport and between the hotel and the parks.
Here's what you need to know about visiting the Walt Disney World Resort with a service animal, including the official Disney policies and rules you need to know and some firsthand tips for things the company's website won't prepare you for.
What is Walt Disney World's official policy on service animals?
The official word from Disney on service animals: "We value all our Guests with Disabilities and service animals are welcomed at most locations throughout Walt Disney World theme parks and Resort hotels.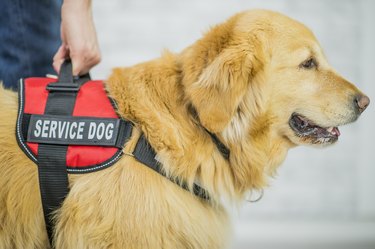 At Walt Disney World Resort, a service animal is a dog or miniature horse that is trained to do work or perform tasks for, and to assist, an individual with a disability."
Translation: In order to qualify as a service animal, a dog must be trained to perform specific tasks that help a person with a disability navigate their daily life. Also, even task-trained service animals only qualify for ADA protections when they're accompanying the human they've been trained to assist. There are a lot of common misconceptions about service dogs, thanks in large part to confusion about the differences between service animals, emotional support animals, and therapy dogs. We have an in-depth breakdown of the differences here, which is worth reviewing if you're unsure what category your helpful doggo falls into.
Are there any rules for service dogs and their handlers while in Walt Disney World parks?
While service animals are welcome to accompany their handlers freely in Disney parks (with a few exceptions, noted below), they must stay under their handlers' control at all times. Disney World requires that service animals be on a leash or in a harness at all times while in the park, however, if your service animal must be off leash in order to perform the task it does to assist you, you'll have good standing under the ADA to request an exemption from the rule. Keep in mind though that the ADA does give businesses the right to ask customers (or, in this case, park-goers) with service animals to leave if they lose control of their animal. Since Disney World is a particularly crowded and stimulating environment—even for a old pro of a service dog—make sure you're positive that your dog can handle being off leash under the circumstances if you decide to request an exemption from the leash/harness requirement.
Another rule: Cast Members are not able to take control of service animals. This one probably feels like a given for anyone with a service animal (most of whom would never want to be separated from their assistance animal to begin with, for obvious reasons), but it's one of the few rules Disney specifically calls out in its service animal policy online.
Can service animals go everywhere inside Disney World?
While the ADA guarantees reasonable accommodations and access for service animals and their handlers, there are a few places inside Disney World where this just isn't possible.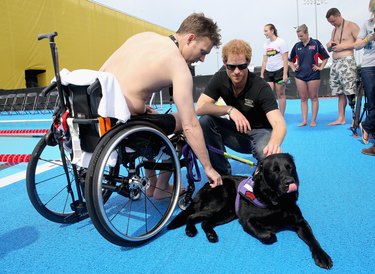 First, there are some rides and attractions on which service dogs are not permitted. This isn't to punish guests with service animals, of course—it's for the animals' safety. Some rides and attractions just aren't safe for animals. The parks still offer options to allow guests with service animals to access these rides and attractions during their visit however, like Rider Switch with a member of the handler's party (in which the handler can take turns riding with another member of their group and leave their animal in their friend or relative's care for the short duration of the ride) or a portable kennel (in which the animal would wait while the handler and their guests ride). Ask a Cast Member at impacted rides (a full list of which are available here) about the options available.
Second, service animals are not allowed in the water—including water features and fountains—or closer than four feet to the water on wet decks. This is a public health issue and pretty standard for service animals.
For more information or to ask about exceptions to any of the parks' stated service animal policies, you can contact Disney's disability services at (407) 560-2547 or email disability.services@disneyparks.com.
Are there places for service animals to use the bathroom in Walt Disney World parks?
Yes! Relief areas are actually one of the easiest aspects of visiting Walt Disney World with a service animal, thanks to the company's liberal animal relief policy:
"Service animals are welcome to use any open outdoor area for relief as long as the owner picks up after the animal and leaves the area clean. Relief areas include the theme parks, Resort hotels and other Guest areas."
In other words: If you're outside, your service dog is allowed to potty—as long as you clean up afterwards.
In addition to the liberal "pee anywhere that doesn't have a roof" policy, Walt Disney World provides 4-5 designated animal relief areas in each of its parks. All designated relief areas are marked on park maps and Cast Members are happy to direct you to the nearest one when nature calls for your furry friend.
And now for some real talk about some of the aspects of navigating a Walt Disney World Resort stay with a service dog that aren't covered on the official website.
How good is Disney—really—at accommodating guests with service animals?
My totally honest answer: Disney is fantastic when it comes to accommodating guests with service animals. I've been matched with Sidekick for more than two years now and he's accompanied me to a lot of place, including several theme parks. Visiting Disney World has, so far, been the absolute best experience I've had with him at a park (although, full disclosure: His favorite experience is the Animal Actors live show at Universal Studios Hollywood—he gets totally star struck):
How are guests with service animals accommodated at Disney World?
The primary way Disney World accommodates guests with service animals is through the ride return system. Basically, if predicted wait time for a ride is shorter than 30 minutes, the handler and dog are asked to wait in line just as they usually would. If the wait time is longer than 30 minutes, the guest is given a return time equal to the current wait.
To request a return time, talk to a Cast Member at the FastPass entry point (all guests are allotted a set number of FastPass reservations with their admission ticket, which allow visitors to pre-book time slots for popular rides and attractions to cut down on time spent in lines) where your ticket (or MagicBand) is scanned and you're given a return time. The return time is set for the length of the current wait time for the ride, meaning that, if the displayed wait time is 90 minutes, the customer with a disability requesting a return time will have to wait at least 90 minutes to come back and ride—they just won't have to spend that time physically standing in the line, which can be physically taxing on many people with disabilities.
Guests with disabilities can also get return times for up to five other people in their party, but all guests who want a return time for a ride have to be present at the FastPass entry point when the return time is requested. The guest with the qualifying disability must be present for any return time requests in their party. Although the guest with the disability doesn't have to physically ride the attraction, they do have to return with the members of their party who intend to ride.
The return time system is really effective and generous accommodation, and extending it to other members of a guest's party is intended to allow guests with disabilities to stay with their group. If your party decides to split up for all or part of the day at the park, the ride return privileges won't extend to anyone who isn't with the qualified guest.
What can you expect when visiting Disney World with a service dog?
At security: When you arrive at the park of your choice, you'l go through security, where your bags will be checked—including any bags or fanny packs holding dog supplies and any pockets or satchels on your dog's vest. You'll walk through the metal detector and, depending on your leash set up and comfort level, you can walk through with your dog or put them in a stay and go through separately. Either way, your dog's vest or leash will likely set off the alarm, so prepare to be wanded—and for your dog to be checked with the portable metal detection wand as well.
At the entry gate: I was shocked by the lack of issues or instructions at the gate. At many parks, the gate attendant will radio to alert other employees of a service dog entering the premises and/or direct handlers and their dogs straight to guest services to answer the ADA-approved questions (Is the dog trained to assist with a disability? And what task(s) is the dog trained to perform?) and register the dog for the day. At Disney, none of this happened. The gate attendant also never asked the ADA questions or even acknowledged my service dog, for that matter. My ticket and finger print were scanned and I was welcomed to the park exactly like every other guest. On the one hand, this was incredibly refreshing. On the other, I hesitate to even share the experience (which was repeated over multiple days at multiple Disney parks) for fear that it will embolden people looking to abuse the ADA.
At guest services: Even though I wasn't required to check in with guest services, I immediately did (and recommend it to anyone with a disability arriving at any major theme park—guest services employees are able to answer questions about accessibility and provide special maps and brochures to help guests with disabilities navigate their day). There, I still wasn't questioned about the legitimacy of my service animal, which continued to floor me, since, as someone with an invisible disability, I'm used to being questioned about my service dog on a daily basis, including at places where service dog policies are abused far less frequently than at Disney World.
You'll need to visit guest services if you want to request accommodations like ride return times—and if you plan to ask to add other members of your party to your ride return accommodation, they'll need to be present, too.
On rides: I never take advantage of Rider Switch or kennel options for rides that aren't safe for Sidekick, so I can't speak to that experience, but the rides we did go on were great. Some rides, like Toy Story Midway Mania, have special accessible cars that are large enough to accommodate a service animal sitting at a guest's feet. Other attractions, like the Kilimanjaro Safaris in the Animal Kingdom, are equipped with additional harnesses for service animals to make sure they're completely secure and safe during the ride.
From other guests: As they tend to everywhere, service animals attract a lot of attention at Disney World. A lot of other guests will ask about your service dog and some (both children and adults) will even walk up and pet your dog without asking, regardless of any vest patches or stitching discouraging it. If the park is especially crowded when you visit, you'll want to keep an eye out for distracted guests who could run into or trip over your dog.
Is Disney World a scary place for a service animal?
If your service dog is easily started by crowds or loud noises, it stands to reason that a theme park might be a little anxiety-inducing. While Sidekick has a lot of experience in crowds and noisy areas, there was one thing that threw him a little off his game: The park characters.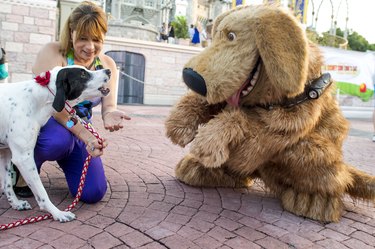 Since dogs don't have a frame of reference for what the giant cartoon characters with the comically over-sized heads are, the non-human characters took some getting used to. I was able to give Sidekick a chance to get to know (and warm up to) Mickey and Minnie at one photo op, which helped lower his anxiety about other characters we passed or encountered throughout the rest of the day. If you plan to give your dog permission to interact with a character, make sure you okay it with them (or their handler, particularly in the case of non-speaking characters, who are strictly forbidden from breaking character and will be limited in their communication) and respect their space if they don't seem comfortable letting your dog approach.
Are service dogs welcome at Walt Disney World Resort's non pet-friendly hotels?
Short answer: Yes—but those hotels (and their staff) might not be the most prepared for hosting a service animal.
Long answer: Service dogs are welcome at all Walt Disney World Resort hotels, free of charge, but the hotels that aren't pet-friendly aren't necessarily the best-equipped for hosting furry guests. During my recent trip, I was put up at the Animal Kingdom Lodge, which was gorgeous and luxurious and everything you would expect a pricey Disney resort hotel to be. While the staff were all incredibly friendly and polite and accommodating when it came to my service animal, potty breaks did pose a problem. First, the (again, friendly and wonderful) staff weren't used to fielding dog-related questions and sent me (unintentionally and while genuinely trying to help) on a wild goose chase for a patch of grass.
In the end, I don't blame any of the employees for struggling to answer my question—there just wasn't much grass on the hotel's property to direct me to. Because the Lodge's landscaping didn't include any accessible patches of grass near the main building. There's a stunning recreation of the Savanna behind the hotel, in which giraffes and other African wildlife just roam freely, but that area is (so, so understandably) gated off. The rest of the area outside is landscaped with very pretty plants and beds of mulch and the hotel—which is not part of the pet-friendly pilot program—does not have a designated animal relief area. As a result, Sidekick and I had to walk to the other side of the hotel's property, behind a tennis court for guests, to get to the closest patch of grass. It wasn't terrible, but in the Orlando climate (which is hot, humid, and often rainy), it didn't always feel not terrible, either.
It's very important to note that this may not be an issue for every service dog owner. Sidekick is very resistant to using the bathroom on anything but real grass; he even insists on holding it during layovers rather than using the astroturf area airports provide for service animals. I know this about him and usually plan accordingly, but since I didn't book my own travel for this trip (and made some flawed assumptions about the landscaping), I was caught in a less-than-ideal situation for my service dog. If your service animal is also persnickety about where they relieve themselves, I would strongly recommend calling concierge at the Disney hotel you're looking to book and asking about the relief area situation. Since the employees at the hotels that aren't pet-friendly may not be used to answering animal-specific questions, it would also worth doing some digital stalking on Google maps for extra peace of mind.
When it comes to dogs—both pets and the working variety—Disney is ahead of the curve.