Fall is officially here! From pumpkin spice everything to Halloween and Thanksgiving right around the corner, there are many reasons to embrace the season. Humans have a cornucopia of fall-friendly options, but what about our feline friends? With this list of fall-themed cat toys and accessories, your cat doesn't have to miss out on all the fun. Featuring beautiful autumn colors (and no shortage of catnip), these gifts would be the purr-fect way to show your cats some love this season.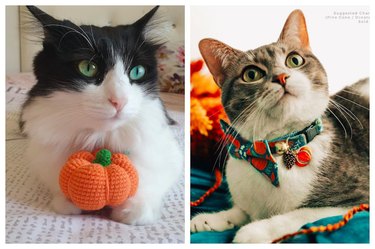 1. Pumpkin Spice Latte Catnip Toy by PawsitiveVibePrints
Cats might not be able to enjoy a pumpkin spice latte the way their humans would, but these PSL toys by PawsitiveVibePrints on Etsy are the next best thing. Handmade using felt, nontoxic felt glue, embroidery floss, and polyfill, they're stuffed with organic catnip that's sure to be a hit with your cat. The pumpkin spice latte measures approximately 3 1/3 inches wide and 6 2/5 inches long, while the pumpkin spice mug measures nearly 4 inches wide and 5 inches long. You can purchase each toy separately or get both in a bundle.
2. Catnip Pumpkin Toy by SusluPawPetToys
This handmade pumpkin toy by SusluPawPetToys on Etsy not only comes stuffed with catnip, but also a rattle for extra playtime fun. Made from cotton yarn, each pumpkin is roughly the size of a hacky sack. You can also opt to leave out the catnip, rattle, or both. Your cat won't be able to resist this soft and colorful toy. Maybe your cat can learn to play fetch?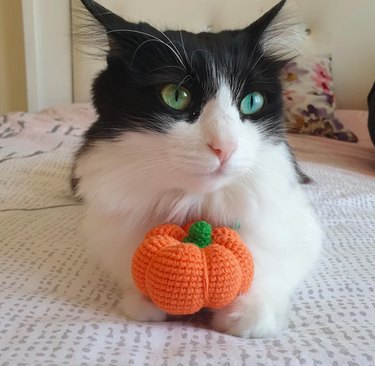 This seasonal teaser toy features two leaves and an acorn stuffed with catnip and crinkle paper. The wand measures 18.75 inches long, while the cord the toys are attached to is 24 inches long. If the bright colors and fuzzy textures don't pique your cat's interest, the catnip sure will! Your cat will have a blast swatting and pouncing to his heart's content.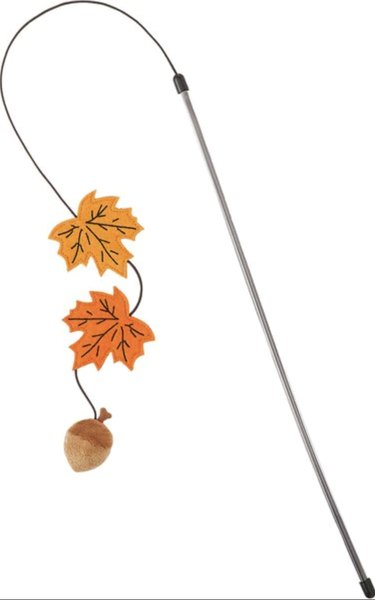 4. Catnip, Jingle Bell or Rattle Pumpkin Pie Cat Toy by CherryWillowPets
This mouthwatering slice of pumpkin pie looks good enough to eat, but it's actually made of 100% cotton yarn and polyfill stuffing. Handmade by CherryWillowPets on Etsy, each toy comes with one of three options: catnip, a jingle bell, or a rattle. Measuring 4 1/2 inches long, 4 inches at its widest point, and 1 1/2 inches thick, your cat will love carrying and tossing it around the house.
5. Pumpkin Patch Harvest Breakaway/Non-Breakaway Cat Collar & Accessories by MadeByCleo
These cat collars from MadeByCleo on Etsy showcase the true beauty of autumn with their harvest pattern and color contrast. Handmade using premium cotton fabric and soft, durable industrial-grade nylon webbing, each collar is 1/2 inch wide and available in multiple neck sizes ranging from as small as 6 inches to as large as 16 inches in circumference.
You can choose between two different buckle clasps: breakaway and non-breakaway. Breakaway buckles are the most common type on cat collars and designed to auto-release if tugged on with a certain amount of force, enabling an emergency getaway if your cat gets caught on something. Non-breakaway buckles, on the other hand, do not auto-release and people don't usually use them with cats. They're better suited for when you're walking a dog on a leash attached to a collar (but dog harnesses are safer and more comfortable for your dog). Cat-walking using cat harnesses is definitely a thing, though, and even a good idea because it's a safe way for your little tiger to see and experience the outdoors.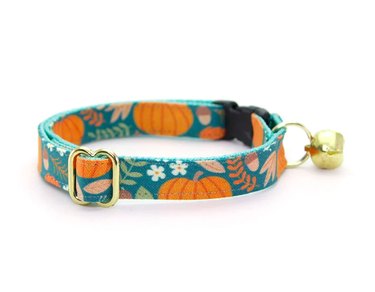 All cat collars come with a removable matching bell, but that's unfortunately where the literal bells and whistles end. However, MadeByCleo offers a number of add-on accessories—some of which even go specifically with this pumpkin harvest collar if you want to complement the look. Your cat will look paw-sitively adorable—and fashionable, too!
​Here are our favorite add-ons:​