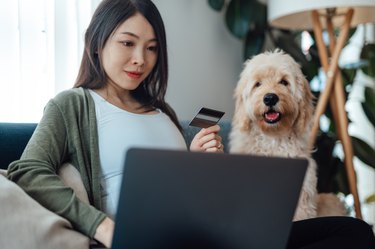 Pets are family and worthy of a spot on your holiday shopping list. Whether you're looking to load up on Christmas stocking stuffers, gifts for Hanukkah, or simply want to score a deal on your pet's expensive raw food, Black Friday and Cyber Monday are great opportunities to save.
This year, Black Friday falls on Friday, November 26th (the day after Thanksgiving) with Cyber Monday taking place on Monday, November 29th (the start of the following week). However, most pet supply retailers stretch the shopping holiday into an entire week of savings. Beat the rush by starting your shopping early this year—ongoing labor shortages and shipping delays could result in supply shortages and longer delivery times.
Ready to spoil your dog or cat with holiday goodies? Bookmark this page to stay up to date on the latest Black Friday and Cyber Monday deals. We'll keep updating it with the best discounts, before and after the 'official' sale dates.
Chewy: Mum's the word on Chewy's Black Friday plans for 2021, but its Today's Deals section offers savings across every category, from toys to food to apparel. It's easy to filter by the type of pet you're shopping for and there are hundreds of treats and toys for under $10 each. Last year, the retailer's biggest sale of the year began the day before Thanksgiving and ran through the end of the month, so stay tuned for further updates.
Amazon: The online mega-retailer recently launched its earliest-ever pre-Black Friday deals. Although the deals change daily, the sale is expected to run through the New Year. The pet sale section offers savings on beds and furniture, tech devices like automatic feeders and treat-dispensing cameras, walking accessories, enrichment toys, and more.
Petco: The landing page is live for Petco's Black Friday sale but the "holiday steals are on their way." The four-day shopping event will take place from November 26th to the 29th, and will be accompanied by pre- and post-Black Friday sales beginning on November 1st and ending December 25th. In the meantime, pet parents can shop Petco's top deals.
PetSmart: Little is known about Petsmart's upcoming Black Friday sale. In 2020, its "lowest prices of the year" kicked off Thanksgiving Day (at least online) and included can't-miss deals on dog beds, cat towers, plush toys, pet cameras, and more. For now, shoppers can peruse PetSmart's sale section for low prices on over 8,500 items.
Fable Pets: Design aficionados will want to sign up to Fable's email list to be notified of their Cyber Monday sale. Last year, the fashion-forward retailer offered free shipping and a container of their all-natural, biodegradable pet wipes if you spent $50 or more and used the applicable promo code. Hopefully, this year brings even better savings!
Walmart: Walmart's Black Friday landing page is now live, but prompts shoppers to "check back later." It appears as though the retail giant will once again run its 'Deals for Days' promotion—in 2020, Black Friday sales occurred on six different days in November. While you wait for these epic deals to be unveiled, you can check out the Pet Savings Center, which boasts reduced, rollback and clearance prices on holiday gifts for your dog or cat.
Pet Supplies Plus: In 2020, Pet Supplies Plus held a one-week Black Friday sale with up to 50% off for Preferred Pet Club members. Information about this year's sale has not yet been revealed, but the homepage is always plastered with weekly deals on things like pet food, treats, grooming supplies, and apparel.
Entirely Pets: While you wait for Entirely Pets to fill you in on all the Black Friday deets, you can shop their extensive sale section. Right now, shoppers can score 20% off sale specials using the code 20EP. There are also buy 2 get 1 free deals on products like pet shampoo and supplements.
Wayfair: Most people associate Wayfair with furniture and decor, but the company also carries thousands of pet products, including carriers, beds, crates, bowls and puzzle feeders. Shoppers saved up to 60% on dog and cat essentials during last year's Black Friday sale. If you don't want to wait until November, there are endless deals to be found in Wayfair's pet sale section.
Bed Bath & Beyond: Bed Bath & Beyond's Black Friday landing page is live, although the specials are not yet advertised. If you sign up to become a Beyond+ member ($29 per year), you'll be able to access the sale a day earlier than the general public. There are ways to start saving now on pet products, but we'll be on the lookout for deals on robot vacuums, food storage containers, and water fountains come Black Friday.
Cabela's: For the adventurous dog, shop Cabela's selection of toys, treats, and beds. The outdoor outfitter carries useful products for those who like to take their pups on hiking or camping trips. Cabela's typically celebrates Black Friday for an entire week, and last year promoted a cozy-looking dog bed for just $10. For the time being, you can browse the sale section dedicated to pet items.