Is your dog excited for fall? Autumn is here, the weather is cooler and it's a great time to get out and explore with your dog! If you're looking to take some festive fall photos, or just looking for an afternoon adventure, pumpkin patches, corn mazes and fall festivals can be a great opportunity to have fun with your dog.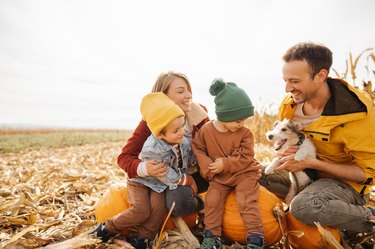 Should you bring your dog?
Any time you bring your dog out on an adventure, especially to a busy seasonal festival or event, be sure to be thoughtful about if the event will be fun for your dog. If your dog is anxious in new places or uncomfortable around large groups of people or around other dogs, it would be best to leave your dog at home where they can be cozy. Or you can plan a quieter outing like a hike. Especially after the last year and a half of lockdowns, reentering the world can be challenging for some dogs. When going out, make sure you are prepped for spending the day focusing on your dog, and ensuring they are comfortable.
If you're bringing your dog on a fall outing, it's important to come prepared with what your dog will need for the day. In addition to your phone or a camera to document your festive adventures don't forget to bring:
Comfortable harness and/or collar
Updated tags - always important any time you take your dog on outings
Leash - six foot or shorter in length, to keep our dogs close to us, and avoid retractable leashes
Treats - bring lots of treats your dog is excited about to help reward and encourage good behavior
Collapsible water bowl and water
Poop bags
Finding dog-friendly events
Before loading your dog up and heading out, make sure that you have confirmed the event is dog-friendly. Even though most fall events take place outside, unfortunately, not all will be welcoming to dogs. Most open to the public autumn events or farms have rules posted for attending, which will say if dogs are allowed.
Depending on where you live, there may even be dog-specific autumn events with festive activities, games, and photo booths. Many of these events will be fundraisers for local pet-related charities. To find dog-friendly autumn events in your area, check your local dog social media pages, rescue groups and humane societies.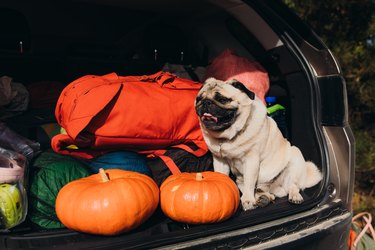 Agritourism and pumpkin patches
To most of us, a trip to a pumpkin patch is a festive seasonal outing, but many pumpkin patches are referred to as agritourism sites. This means that in addition to being places where people can go to enjoy festive fall outings, they are also working farms, and adhere to regulations around food production from the US Department of Agriculture. For hygiene reasons, dogs aren't allowed in these types of fields where the pumpkins are being grown.
Depending on the pumpkin patch, they may have a separate area for selecting an already-picked pumpkin that is also dog-friendly. Make sure to respect any posted rules about where on the farm dogs can and cannot be, and if you're unclear about a certain area, ask the staff. If you can bring your dog into the pumpkin patch or pumpkin picking area, be respectful of the pumpkins. Don't pose your dog sitting on pumpkins that you don't intend to purchase, and also don't allow your dog to pee on any pumpkins.
A classic festive outing is a trip to a local corn maze. Depending on the farm you visit, corn mazes may be open to leashed dogs to go through with their owners. Some autumn event sites or farms will have specific hours where they are dog friendly, and some won't allow dogs at all. Again, it's important to obey all posted rules about where dogs can and can't be at the farm. Corn mazes can be a lot of fun for dogs and are a great opportunity to practice walking calmly through groups of people. They can also allow your dog to take in lots of new scents, which is great for all dogs, especially city dogs.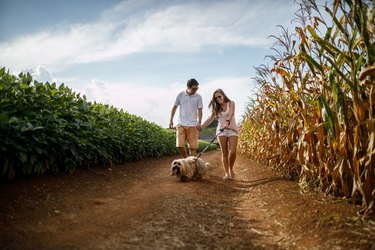 When going through the corn maze keep your dog on a leash and close to you. Don't allow your dog to pull ahead of you inside the maze, especially around the corners. If they turn a corner without you, your dog might startle a person or come face to face with another dog who may not be comfortable being approached by a strange dog. While in the corn maze it's perfectly fine to let your dog sniff the corn, but don't allow your dog to trample or excessively pee or mark the corn stalks. If your dog poops don't forget to scoop and bag the poop to take it out of the maze.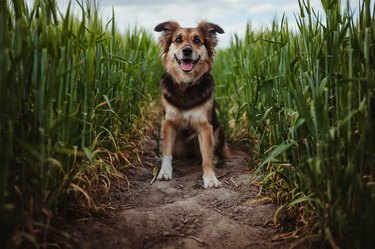 Having fun & staying safe
While you're having fun with your dog on your autumn outing, make sure to help your dog make good decisions and be on their best behavior. Keep your dog close to you and don't allow your dog to approach other people, which could impact their enjoyment of the outing. Don't allow your dog to greet other dogs unless you have asked and received consent from the other dog's owner. Being out in a new and busy environment can be exhausting for dogs, so be sure to take lots of breaks while you're out. Follow the signage about where dogs are allowed. Be sure to pick up after your dog if they poop, and don't allow your dog to pee or mark any of the hay bales, inflatables or other decorations.