Black Friday may have already passed, but the savings continue with Cyber Monday! Amazon's offering dozens of Cyber Monday deals on dog products, so if you feel like you missed your chance to do some smart shopping on Black Friday, it's not too late to score some sweet deals. Whether you're holiday gift shopping for your pup or keeping an eye out for major discounts on everyday dog essentials, we've rounded up some of the best Cyber Monday deals on dog products for you—available now at Amazon.
1. Furbo Dog Camera: Treat Tossing, Full HD Wifi Pet Camera, Compatible With Amazon Alexa
As seen on "The Ellen Degeneres Show," this high-tech and interactive device doubles as a stand-up 1080p full HD camera and treat dispenser that captures both live picture and audio as it shoots out treats into your dog's mouth. Not only is it a fun way to toss dry dog treats, but it also serves as a home security camera with its 160-degree wide-angle view, both day and night, and also features two-way audio and a barking sensor that lets you know what's going on at home via the Furbo app. This is a "got to have it!" product that will be loads of fun during the holidays, and now is the best time to get it while it's 30% off.
2. Cadet Bully Sticks Dog Treats (100% Beef), 12 Ounces
These high-protein bully sticks for dogs have just one ingredient—100% beef pizzle. Sourced from high-quality cattle and slow-roasted to bring out their naturally savory flavor, these chews are long-lasting and highly digestible, making them an excellent treat or reward for your dog. All Cadet brand chews undergo a thorough inspection process and adhere to United States FDA guidelines. These bully sticks come in 6-ounce, 8-ounce, or 12-ounce bags, with regular and extra-thick options for variety.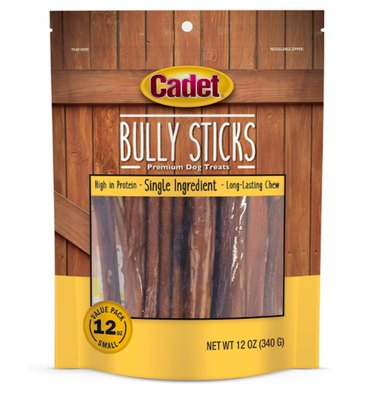 3. PetSafe CozyUp Folding Pet Steps
These pet steps are perfect for helping your small or aging dog climb up onto couches and beds that may be a bit too tall for them. The steps fold down easily for easy storage and will fit underneath most beds. The standard steps measure 20 inches wide, 19 1/2 inches tall, and can support up to 150 pounds, while the extra large steps measure 25 inches wide, 25 inches tall, and can support up to 200 pounds. Featuring non-slip feet, fabric tread covers, and side rails, you won't have to worry about the steps moving around or your pup falling off.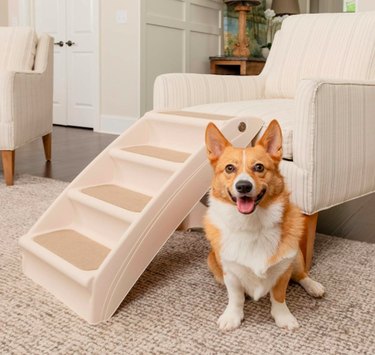 4. PUPBUDD Calming Donut Self-Warming Dog Bed
This ultra-comfy dog bed is your dog's ticket to an excellent night's sleep—or the perfect spot to chill during the day. Made from durable nylon and luxurious faux fur that's reminiscent of a mother's fur coat, it's also stuffed with eco-friendly fiber to give your dog's joints plenty of support. The bed is shaped like an oval donut and comes in assorted sizes ranging from 24 inches long and 18 inches wide to a very roomy 44 inches long and 34 inches wide, making it well-suited to small and large dogs alike. The bed is completely machine-washable, but PUPBUDD recommends washing it by hand.
5. Pet 'n Shape Chik'n Breast Jerky Dog Treats
The name of these jerky treats might suggest that they're plant-based, but real chicken breast is actually he number-one ingredient. Made from 100% natural chicken breast fillets, all Pet 'n Shape treats are lab-tested for safety and carefully roasted to ensure maximum flavor. They contain no artificial colors, additives, or preservatives and are free from corn and soy. The bags are resealable for long-lasting freshness and come in 4-ounce, 8-ounce, 1-pound, and 2-pound portions.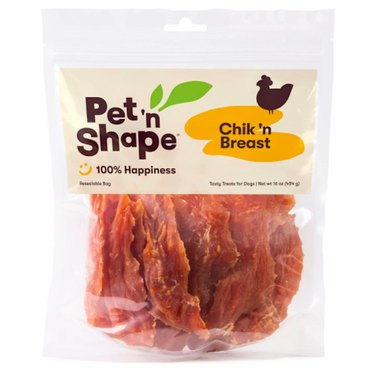 6. Tractive Waterproof GPS Dog Tracker
Check this out: it's the dog equivalent of a fitness wristband that uses GPS tracking technology. It comfortably secures to most dog collars and provides live tracking, location history, all-day activity monitoring including active time, rest time, and calories burned, and even informs you when your dog has left virtual safe spaces that you designate and alerts you when they've returned. The tracker is small, lightweight, and 100% waterproof. You can manage all features via the Tractive app for iOS and Android, but you will need a subscription plan: Tractive offers monthly, one-year, two-year, and five-year plans starting at $5.99 a month. You can rest assured knowing your dog's whereabouts and can use the activity monitoring data to provide your dog with a healthy lifestyle.
7. YUDODO Pet Dog Sling Carrier
This pet dog sling carrier for puppies and small dogs allows you to bring your pup with you when you do your holiday shopping—completely hands-free. Made from leather and soft, breathable mesh that's comfortable for your small dog, the sling carrier features a high-quality reinforced buckle and zippers for safety and comes with a wide, padded shoulder strap to keep you comfortable, as well. Available in three sizes ranging from 8.7 inches to 11.5 inches wide, the range of carriers can support small dogs from under 5 pounds to dogs up to 14 pounds. These carriers are ideal for small breeds such as miniature pinschers, Chihuahuas, Pomeranians, Yorkshire terriers, miniature poodles and Schnauzers, and even cats.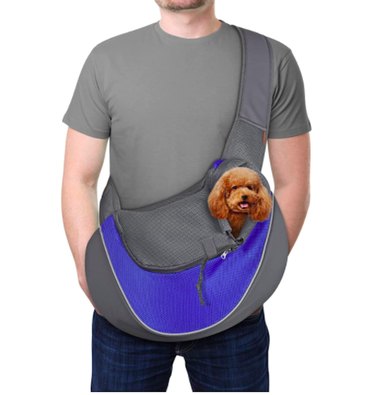 Your small dog (or cat) will feel safe and secure in this super snuggly pet bed that features a detachable and reversible sleeping cushion. One side of the cushion features super soft microfiber fleece, while the other side is made from smooth, water-resistant Oxford cloth that stays cool during warm weather. Made from polyester and plush and featuring an anti-slip, rubber bottom, the walls feature a padded cushion design so your pup is comfortable on all sides. The small bed measures 20 inches long, 19 inches wide, and 6 inches tall, while the medium-sized bed measures 25 inches long, 21 inches wide, and 9 inches tall. The entire bed is machine-washable to make your life easier.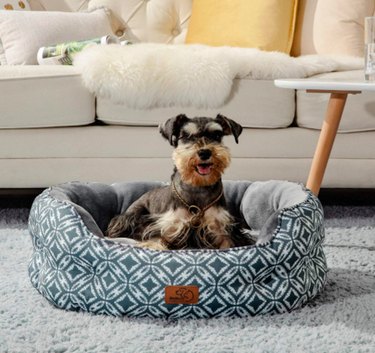 9. JdPet Washable Dog Pee Pads (2-Pack), Plus Free Grooming Gloves
Dog potty training may not be the most glamorous activity, but this versatile dog pee pad can be so many other things, as well—a crate or car seat protector during travel, a furniture cover, a rug, a liner for a dog kennel or playpen, and even a mat to place underneath food bowls and cat litter boxes. It consists of four layers: a 100% polyester surface layer, a super absorbent and high-density middle layer, a breathable and waterproof PUL inner layer, and an anti-slip silica gel bottom. Available in various sizes ranging from 36 inches long and 31 inches wide to a massive 72 inches square, each pack comes with not one, but two pee pads. Plus, you'll also get a free pair of pet grooming gloves that help you remove loose fur from your dog or cat while giving them a massage that they'll love.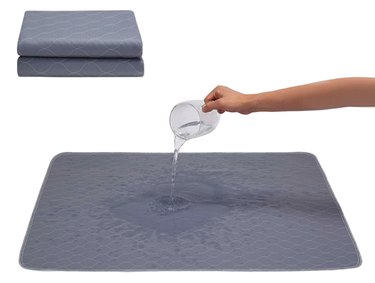 10. RUNDA Snuffle Mat for Dogs – Interactive Feeding Game for Boredom
This unique dog training mat encourages your dog to find small snacks or toys hidden amongst the mat's fibers, while helping them avoid destructive behavior and boredom. Made primarily from a soft felt cloth, the mat features a nonslip bottom and two suction cups (one on each end) that you can use on the floor to keep the mat in one place. Designed to train your dog's sense of smell, the mat also helps your dog engage in non-destructive activity that may even facilitate weight loss. The entire mat is machine-washable or washable by hand. Your dog will love burying their snout into the forest of soft fibers while searching for hidden treasures.