Black Friday may be over (although some deals may still be active), but Cyber Monday brings new opportunities to save! Amazon is offering dozens of Cyber Monday deals on cat products, so if you missed your window on Black Friday to do your shopping, it's not too late to land some great deals. Whether you're hunting down the perfect holiday gift or on the prowl for significant discounts on everyday cat essentials, we've rounded up some of the best Cyber Monday deals on cat products for you—available now on Amazon.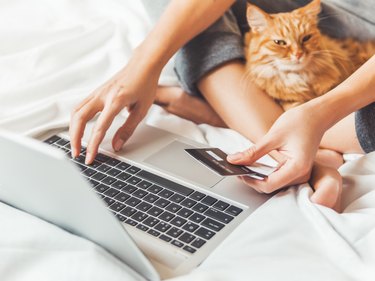 1. PetSafe ScoopFree Automatic Self-Cleaning Cat Litter Box (Uncovered)
This may very well become your new favorite litter box! With PetSafe ScoopFree's crystal litter tray and litter box, you won't have to scoop, clean, or refill your cat's litter box for up to four weeks at a time. The crystal litter works much more effectively than clay litter (which tends to clump together) and it all but eliminates odors by absorbing urine and dehydrating solid waste. All you have to do is pour the pre-proportioned package of crystal litter that comes with each tray (tray refill packs are also available at Amazon) into the tray, place the tray under the litter box, plug in the litter box, and sit back while it does all the work. After about four weeks, remove the tray, cover it with the provided lid, and dispose of it. It's that easy! The ScoopFree litter box is available in both covered and uncovered versions, but this particular deal is for the uncovered litter box.
2. Temptations Creamy Purrr-ee Lickable Purée Cat Treats (44 Pouches)
These savory and delicious purée cat treats come in three sumptuous recipes—chicken, salmon, and tuna. Each squeezable pouch contains 12 grams of high-protein puréed food that features real meat among the top ingredients. You get 11 packets with four pouches each for a total of 44 pouches. These creamy treats work great as a meal topper or as a fun treat all by itself, and your cat may be sorely tempted to help themselves to seconds! Feed one to two pouches daily per 10 pounds of body weight per cat.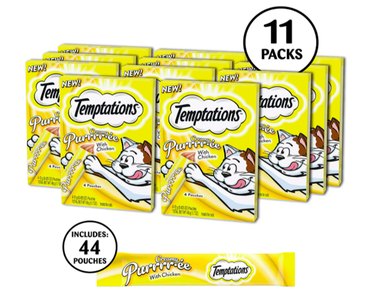 3. CRAVE High-Protein Dry Cat Food (10 Pounds)
This high-protein dry cat food provides all the essential nutrients your cat needs to lead a healthy and active lifestyle. Available in three recipes, chicken, chicken and salmon, and salmon and ocean fish, each recipe features the selected protein(s) as the number-one ingredient. Each recipe is inspired by your cat's ancestral diet and packed with all-natural ingredients, providing energy from high-quality carbohydrate sources, in addition to other vitamins, minerals, and essential nutrients for developing muscle, aiding in digestion, and supporting healthy immune systems. All recipes contain zero chicken by-product meal, corn, wheat, or soy protein. This dry cat food comes in 2-pound, 4-pound, and 10-pound bags.
4. PAWZ Road Cat Scratching Post
This isn't your average, beige-colored scratching post. Shaped like cactus plants and bursting with bright shades of green, this cat scratching posts consists of three posts of varying heights made from sisal and carpet, mounted on a round base. It comes equipped with a hanging toy that's a fun way to stimulate your cat's predator-like behavior. Available in two sizes, the smaller size stands 23 inches high and 12.6 inches wide at the base, while the larger size stands 27 inches tall and 16 1/2 inches wide at the base. If you want something a little more fun and vibrant for your cat than the typical scratching post, this is it.
5. TOOGE 2-Pack 11-Inch Realistic Moving Fish Catnip Toy for Cats
Your cat will love chasing after these realistic moving fish toys—which you can fill with catnip to make them extra irresistible. Each fish toy (you get two of them) is made with a soft plush fabric designed to resemble the scales of a fish, and each toy comes with a packet of 100% organically-grown catnip that you can insert in a small compartment inside the toy. Instead of requiring batteries, each toy features a USB charging port (which you can zip up after charging). Better yet, whenever your cat touches the toy, its built-in sensor will activate the toy to begin wiggling and flopping around like a real live fish, encouraging your cat to be active.