A dog pool is a great way for dogs to splash around and cool off in water when you don't have access to a nearby swimming pool, lake, or beach (or don't feel like schlepping to one). There are small, medium, and large pools for dogs of all sizes who enjoy getting wet when it's warm outside. They might look like kiddie pools (and some of them can be also be used for kids), but the difference is that most dog pools are coated in durable PVC that can better withstand your dog's nails than regular plastic. Although, it's probably in everyone's best interest to trim your dog's nails before they hop in any dog pool.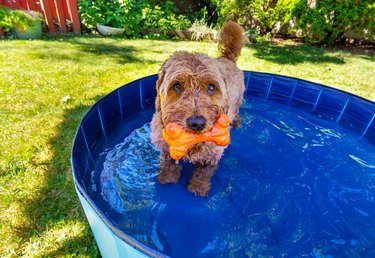 For any dog who loves water, a dog pool is a super fun place to spend time on a hot day, but it also makes for a convenient dog bath. All you'll need is a hose, shampoo, a towel, and your dog. It's important to remember that although dog pools are shallow, you'll need to keep an eye on your dog to help prevent accidents.
What to Consider When Purchasing a Dog Pool
​Dimensions:​ The dimensions of a dog pool are important for a couple of reasons. First, it needs to be the right size for your dog. A pool that's too small for a large dog might not be much fun for them since they wouldn't have space to splash around, and a pool that's too large could be dangerous for small dogs. Second, the dog pool you're interested in buying will need to fit in your outdoor space, so taking measurements is recommended.
​Material:​ Pools designed specifically for dogs are typically made of polyvinyl chloride (PVC), a tough and long-lasting plastic that is durable enough to stay intact even after being played in and jumped on by the most enthusiastic dogs. Kiddie pools are generally a less expensive option, but those are usually made with thinner, less durable plastic that can easily be damaged by a dog's nails. So, while you might get a few uses out of a cheap kiddie pool, you run the risk of frequently needing to buy a new one.
​Set Up:​ Most dog pools are easy to fill with a hose and have a plug that can be opened for draining. You may need to tip the pool to drain excess water before putting it away. Dog pools are usually foldable so you can store them when not in use.
Below you'll find our top picks for the best dog pools of 2022.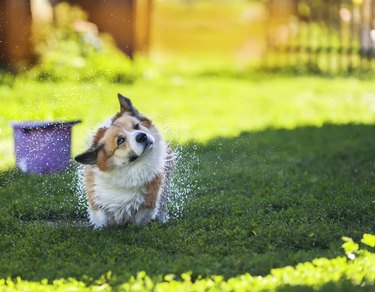 The Best Pool for Large Dogs​
Jasonwell Foldable Dog Pool
Here's a dog pool that's big enough to fit your large dog as well as one or two kids. It comes in various sizes, but the extra-extra-large allows for the most space to splash around. The pool is foldable and portable with slip-resistant PVC material on the bottom. Size options include small, large, and extra-extra-large.
Dimensions: 32" x 32" x 8" (small), 47.24" x 47.24" x 11.81" (large), 62.99" x 62.99" x 11.81" (extra-extra-large)
Material: PVC
Set Up: Foldable
The Best Pool for Small Dogs
The setup for this pool is quick and easy, with no assembly or air pump required. All you need to do is unfold it and fill it with water. It's made of PVC with a non-slip bottom and a wide mouth drain valve for quick draining. When it's dry, you can easily fold it for storage so it's ready to go next time. This dog pool is available in sizes small, medium, and large.
Dimensions: 31.5" x 31.5" x 7.9" (small), 47.2" x 47.2" x 11.8" (medium), 63" x 63" x 11.8" (large)
Material: PVC
Set Up: Foldable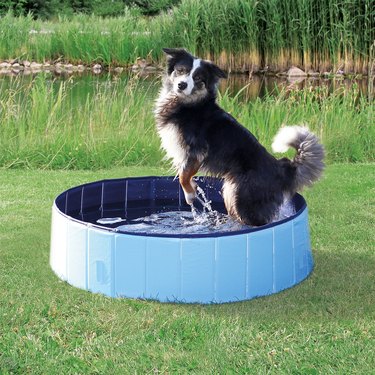 Alvantor Pet Swimming Pool
If you want a dog pool that's super easy to set up and folds into a small enough size for easy storage, Alvantor's Pet Swimming Pool is a great option. A steel spring frame allows the pool to quickly pop up. It can fold into a compact size, and it's about half the weight of comparable dog pools. To drain, push your finger on the edge until the water flows out. It's available in sizes small and large.
Dimensions: 42" x 42" x 12" (small), 63" x 63" x 12" (large)
Material: PVC, alloy steel
Set Up: Pop-up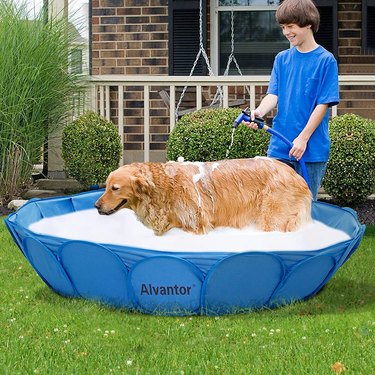 The Best Portable Dog Pool
Coziwow Portable Pet Swimming Pool
This dog pool is a great portable option as it can be folded into a compact size and even placed in a suitcase or bag for traveling. While the material is strong and durable, if your dog tends to bite things like furniture, keep a close eye on them so the pool doesn't puncture. It comes in sizes medium and large.
Dimensions: 11.8" x 47" (medium), 11.8" x 63" (large)
Material: PVC, medium-density fiberboard (MDF)
Set Up: Foldable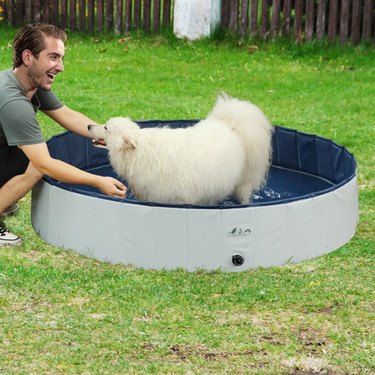 The Best Rectangular Dog Pool
K&H Pet Products Dog Pool
This pool is made of non-slip vinyl and comes in size small for small breeds. It's built with a durable frame that keeps water inside and prevents the sides from caving in. It has a plug that lets you drain the water when your dog is done. The pool can hold up to 17 gallons of water. You have the option to buy a matching canopy, which you can check out below.
Dimensions: 25" x 32" x 7"
Material: Vinyl
Set Up: Assembly without tools
K&H Pet Products Dog Pool with Canopy
This canopy is sold separately from K&H Pet Products' pool (see item above), but it's worth the extra cost if your dog requires or prefers shade. It's also an effective way of keeping debris out of the pool. To set up, insert the stakes into the corners of the pool and secure them with the built-in bungee straps. The entire canopy can be machine washed on a gentle cycle with cold water.
Dimensions: 25" x 32" x 23" (small), 30" x 42" x 28" (medium), 32" x 50" x 35" (large)
Material: Nylon
Set Up: Pop-up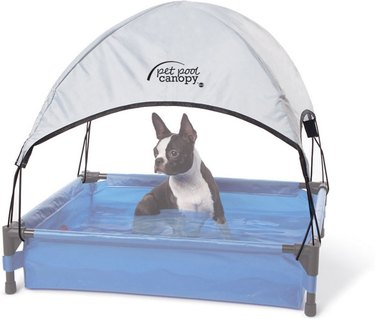 The Best Printed Dog Pool
Frisco Flamingo Print Dog Pool
This flamingo-printed dog pool really sets the mood for having a great time in the sun. To set it up, all you need to do is unfold it and fill it up with water from the hose. When your dog is done swimming and splashing around, simply twist the cap and the water will drain. The company notes that the pool isn't ideal for chewers.
Dimensions: 31.5" x 31.5" x 7.87" (small), 47" x 47" x 11.8" (large)
Material: PVC
Set Up: Foldable