If you have a canine companion in your home, chances are you've experienced restless nights thanks to your dog's tendency to take up your entire bed, no matter their size. Having a dog bed for your friend to call their own is important for both of you and finding the right bed takes a little searching. Dog beds come in a variety of styles, with the most popular including pillow beds, cuddler donut beds, and bolster beds. Dog beds may also come with added design and functional elements, like heating capability, elevated design, headrests, and more. Finding the perfect dog bed will depend on your dog, their preference, and your budget.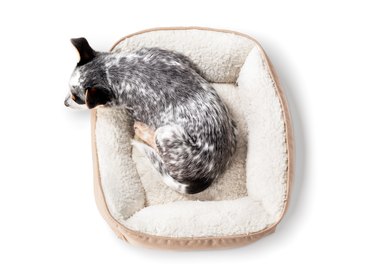 What to consider when purchasing a dog bed
‌Style:‌ Dog beds come in many styles, and we're not just talking about the aesthetic look (although that may play an important role in making a decision for some shoppers). Dog beds are designed to offer a number of things, and familiarizing yourself with the types of beds out there is a great place to start. Dog bed styles include bolstered beds, which are made with walls for support, flat beds, heated beds, elevated beds, sofa beds, cave beds, cuddler donuts, and many more.
‌Needs:‌ The reason that there are so many different types of beds is due to the fact that not all dogs require or even prefer the same type of sleeping arrangement. Dogs with sore joints may prefer a firm bed or something elevated that can offer orthopedic support. Some dogs need warm beds to rest in, while others may prefer a simple throw that they can burrow in and toss around. Understanding your dog's preferences and physical state of being is very important to consider when shopping for a bed for your furry friend.
‌Size:‌ Obviously, the bed you choose for your dog should fit them, but how do you know what the ideal bed size is? Part of that will depend on their preference—some dogs like being cuddled up tight, while others prefer to circle their spot a few times before plopping down. Dog beds are usually sized by weight. Generally, small beds are ideal for dogs under 25 pounds, medium beds are for 25-50 pound dogs, large beds should support a 50-100 pound dog, and extra-large beds are meant for dogs over 100 pounds. Some beds will vary, however, so always be sure to check the specs on your specific bed of choice.
‌Material:‌ The material a bed is made of can determine whether or not it will stand the test of time, and should be considered along with your dog's lifestyle. Machine-washable beds or coverslips are ideal in any scenario. Some beds are made with water-resistant materials like vinyl, which can be a practical choice for dogs who have incontinence issues or who tend to drool a lot.
If you're looking for a heated dog bed, your dog likely loves to be cuddled and warm when they rest, so a bolstered bed like this one offers a great way to conserve heat. The cover is machine-washable polyester and removes from the rest of the bed easily. The heating mechanism is controlled by a low-wattage thermostat so it's an energy-efficient choice that's sure to keep your dog comfortable no matter the temperature in the room. Additionally, the heater is removable so you can still use the bed during the warmer months.
Dog sofa beds do cost more than most beds, so shopping for a high-quality piece like this one will allow your dog to enjoy the investment for years to come. This sofa bed is sold in three sizes and is available in 10 colors across five different fabrics—leather, tweed, velvet, cotton, and versatility. All beds come with a waterproof liner, and feature removable covers that you can clean in a washing machine. The supportive memory foam base provides stability, and the couch holds two cushions, which are surrounded by firm but smooth arms for your pet to rest their head on.
For a bed that fits inside a dog crate, many people opt for thinner, pad-like pieces that won't take up too much room but still offer comfort and support. This dog crate bed is sold in five sizes, providing the right fit for any canine. Although it's fairly flat, it is plush and soft so you know your pet will be comfortable resting on it. It won't stand up well to chewers as it isn't chew-resistant but it is made from polyester fill and PV plush, so the mat will hold its shape over time. That said, it can be machine-washed and dried and comes vacuum sealed for easy delivery.
The best bed for senior dogs
Every senior dog will have different needs, but a good overall choice to make for many of them is a dog bed that's soft to the touch, supportive, and has a heating option, especially if hair loss or weight loss is a reality for them. This senior dog bed checks all those boxes and is sold in three sizes with a Sherpa microfiber cover that's machine-washable. It's made with two layers of orthopedic memory foam for ample support and comes with a removable heater that warms to the average dog's natural body temperature of 102 degrees Fahrenheit when they're laying on it.
There are many great outdoor beds for dogs on the market, and we chose this one for its durability, portability, and affordability. Made of water-resistant Oxford cloth, this bed will hold up to a variety of elements and terrain, be that on the back porch or in the woods camping. It's sold in two sizes, large and extra-large, and is available in light blue, dark blue, orange, and olive green. The mat is tufted for comfort, is scratch-resistant, and machine-washable, so it can last for a long time if taken care of. It also comes with a matching bag, which you can roll the bed up in and carry along to your next adventure.
Dogs have a natural tendency to burrow and hole up in cave-like dwellings, so it's no surprise that so many of them prefer beds that offer that same shape, and the safety and privacy that comes with it. This cave dog bed is sold in six sizes and offered in a wide range of colors, and three types of materials—cooling gel foam, orthopedic foam, and memory foam to cushion pressure points on the body and distribute weight evenly. The microsuede cover is removable and machine-washable, and the inside is lined with Sherpa fleece creating a soft surface for both big dogs and smaller dogs to snuggle up in.
Some dogs prefer practicality, while other dogs find it most suitable to relax in absolute luxury, and for the latter, a cuddler bed is perfect. Available in five sizes and eight calming colors, this donut design cuddler sleeper is a plush and super comfortable bed with a ton of benefits. It's made with shag fabric to mimic the feel of their dog mamas, and constructed with 9-inch-high walls to work as a headrest, or just something safe to sink into. The bottom features a nylon base that's water- and slip-resistant, and the faux fur outer cover is removable and machine-washable.
The best bed for small dogs
A tiny dog needs a tiny bed to retire in, and that smaller size doesn't mean it needs to skimp on style, design, or quality. This orthopedic bed features an egg-crate base, a soft fleece lining, and thick foam bolster to create a super plush resting space. It provides comfort and support for the little friends in your life, reducing pressure on their joints and muscles. The low entry means your dog won't have to jump or climb into it, which can be ideal for older pups or dogs with limited mobility. It comes with a patterned gray cover that's removeable and machine-washable. The cover also touts a Teflon coating that repels water, odors, other stain-causing liquids, so it'll look good as new for years to come.
The best bed for large dogs
On the other hand, a big dog needs a big bed, and finding one that's sized to support the height and weight of a large friend is probably more essential than any other dog size. This bed is made for a big pooch and is offered in large, extra-large, and giant sizes which can support up to 300 pounds, and comes in four color options. It supports dogs using three stages of memory foam, which is guaranteed for 10 years to retain 90% of its shape or your money back! This memory foam mattress comes with a machine-washable cover and will stay cool under heavy weight, making it one of the best orthopedic dog beds for large-size canines.
The best personalized dog bed
We all know who that bed belongs to, but for a personal touch that leaves no room for mistakes, this bed is a unique option and a fun find. This handmade sleeping surface is created with polyester micro velvet, fiberfill, and faux Sherpa for a super soft and very plush bed your canine companion will love. The base is made of waterproof denier material, and the large and extra-large beds come with a removable cover that can be tossed in the washer for cleaning. The best part of this bed is the optional personal touch it comes with. To get your bed personalized, just choose from one of the 10 primary bed colors, then add your pet's name in the order form and choose the font and font color you like best.
Not everyone would consider this choice a dog bed, but some dogs would, and that's why it made this list. Many dogs prefer a flat, solid surface that they can still burrow into and shape to their preference, and this throw blanket allows them to do just that. Available in three sizes and four colors, this thermal-encased blanket is made of faux lambswool on one side and terry on the other for a sleeping surface that's machine-washable, waterproof, water-resistant, and self-heating. This blanket isn't chew-proof, but it is safe for use by dogs aged from puppies to seniors and is easy to pack up and take anywhere.