Wet food is very exciting to most dogs and can entice even the pickiest eaters to actually finish their meal. Wet food can be used as an occasional treat, mixed in with your dog's dry food to encourage them to eat, or serve as a complete meal. For seniors or puppies who may not have a lot of teeth, wet food can make eating easier or more comfortable. It also works as 'stuffing' for a hollow chew toy to keep your dog occupied in their crate, or it could be smeared on a lick mat to distract your dog during grooming or a vet visit.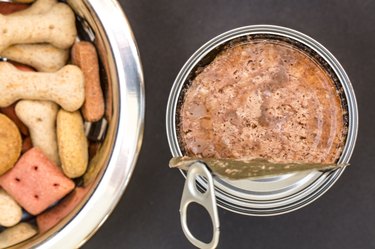 What to Consider When Purchasing Wet Dog Food
​Life Stage:​ When choosing a type of wet food for your dog, it's important to consider their age. Most wet foods are formulated for adult dogs, but some are specifically designed for growing puppies or senior dogs. Wet food for puppies will often contain DHA (docosahexaenoic acid) to support brain and eye development, while wet food for seniors often promotes joint health or increased energy levels.
​Medical Conditions:​ Keep your dog's medical conditions and food sensitivities in mind when purchasing a new type of wet food. If your dog has any known allergies, you'll want to avoid wet food containing ingredients that aggravate your dog's condition. Read the label carefully and consult your vet if you're unsure about any of the ingredients.
​Food Consistency:​ Wet food comes in different consistencies. Some wet dog food is pâté (the French word for paste), which is compressed into the can and can be scooped up and mashed up for your dog to consume. Some other popular types of wet food are chunky or shredded, resembling a stew-like consistency. Consider your dog's wet food preferences when deciding on the right consistency, or simply purchase several different options to see which type they like the best!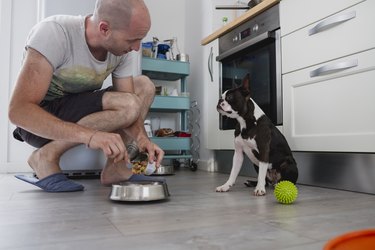 The Best Wet Dog Food for Seniors
Blue Buffalo Homestyle Recipe Senior Chicken Dinner with Garden Vegetables Canned Dog Food, 12-Pack
Developed specifically for senior dogs, this wet food is made with natural ingredients. It includes glucosamine and chondroitin to support senior dogs' joint health and to maintain and improve mobility. The food is made with real chicken, mixed with fruits and vegetables. The food doesn't include any by-product meal, soy, corn, wheat, or artificial flavors and preservatives. With an emphasis on supporting your dog's healthy muscle maintenance, this wet food can help keep senior dogs active. The pâté-style food has a smooth consistency that's easy for dogs to eat.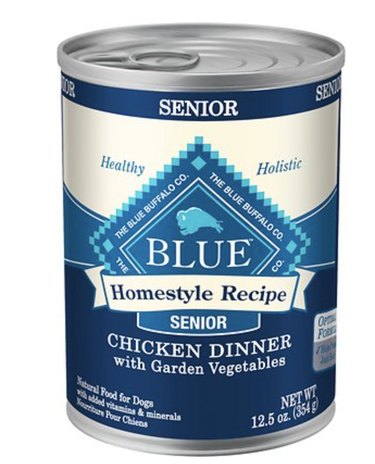 The Best Wet Dog Food for Puppies
Merrick Grain-Free Wet Puppy Food Puppy Plate Beef Recipe, 12.7-oz can, 12-Pack
This grain-free wet food is made specifically for growing puppies. Made in the U.S. with Texas-raised beef, this wet food is poultry-free. In addition to beef, the recipe includes carrots, sweet potatoes, and apples in a savory gravy. The wet food has DHA added, which supports a puppy's cognitive development. It doesn't include any corn, soy, wheat, by-products, or preservatives. Filled with real meaty chunks, this food is easy for puppies to eat and is a great way to encourage reluctant eaters.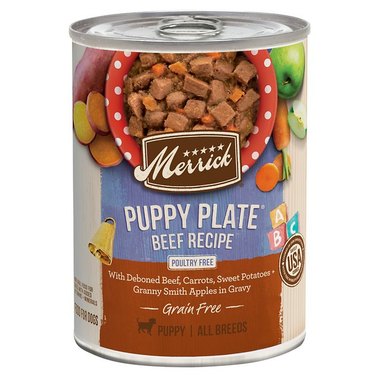 The Best Wet Dog Food for Small Breeds
Merrick® Lil' Plates™ Adult Dog Food - Small Breed, Grain-Free
Made specifically for small dogs, this wet food comes in easy-to-open, single-serving containers. Deboned lamb is listed as the first ingredient, which can help to build and maintain a small dog's muscle tone. Beef broth is used to create the gravy the food is covered in, adding delicious flavor. The 'lamb chop stew' includes probiotics and prebiotics, which promote digestive health. The food also has added glucosamine and chondroitin to support your small dog's joints. The food also has omega-3 fatty acids, contributing to a lustrous coat and supple skin.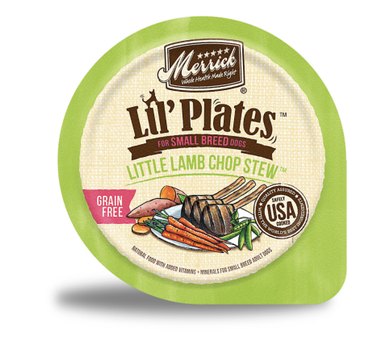 The Best Limited-Ingredient Wet Dog Food
Simply Nourish® Limited-Ingredient Diet Pate Wet Dog Food - Natural
This pâté-style wet food is made with real lamb. The limited-ingredient food is intended to help your dog's digestion by including only a single source of animal protein. Made with deboned lamb as the number one ingredient, this wet food doesn't include white potatoes, grains, or chicken, which some dogs struggle to digest. Made with lamb and peas, the recipe is ideal for dogs who need to eat a diet with limited ingredients.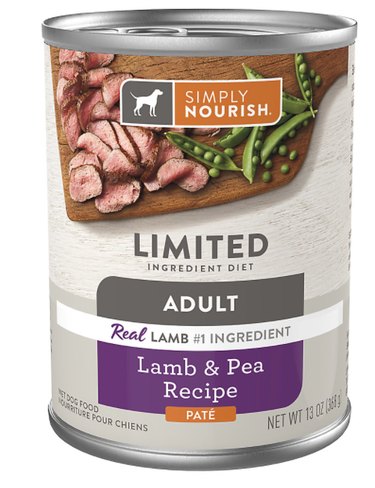 The Best Vegan Wet Dog Food
Halo Holistic Garden of Vegan Recipe Adult Canned Dog Food, 12-Pack
This vegan wet food can help you reduce your carbon footprint and treat your dog at the same time. It's made with plant-based ingredients, including sustainably sourced, non-GMO fruits and vegetables—think chickpeas, potatoes, carrots, and spinach, just to name a few. This type of wet food is ideal for dogs who have protein sensitivities. It features a pâté consistency and provides an extra boost of hydration to dogs as they eat. Designed for dogs of all sizes, the food doesn't contain any corn, wheat, or soy.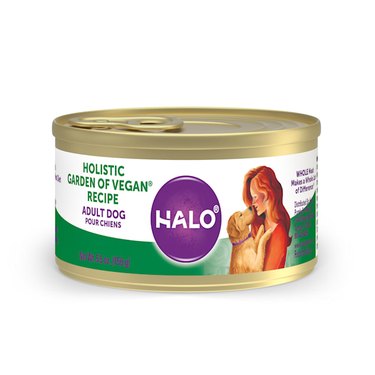 The Best Wet Dog Food for Weight Control
Hill's Science Diet Canned Wet Dog Food, Perfect Weight Adult, 12-Pack
For dogs who are overweight or who struggle with weight management, this wet dog food can help them reach or maintain a healthy weight. Designed for breeds of all sizes, this wet food is a good source of protein, which helps dogs build lean muscle instead of fat. Made in the U.S., the recipe includes hearty vegetables in a chicken stew. That being said, chicken broth and pork liver are listed as the first two ingredients, so that's something to keep in mind if your dog is sensitive to pork. This wet food is intended to support healthy weight loss and can also help dogs maintain that lower weight.
The Best Wet Dog Food to Mix With Kibble
This stew formula contains 95% animal ingredients, primarily chicken and turkey. The meat is both shredded and chunked to encourage dogs to eat, making it a great meal topper. In addition to meat, this wet food includes organs and bones to provide dogs with essential nutrients, vitamins, and amino acids. This food is high in moisture to help keep dogs hydrated and also support your dog's gastrointestinal health.
The Best High-Protein Wet Dog Food
Instinct Original Grain-Free Real Rabbit Recipe Natural Wet Canned Dog Food, 13.2-oz, 6-Pack
Made with farm-raised rabbit, pork, and liver, this wet food has a high concentration of animal protein at 95%. In addition to meat, the recipe includes vegetables like peas and carrots, as well as fruits like blueberries and cranberries. It has a loaf texture and utilizes natural sources of omega fatty acids to improve your dog's coat and skin health. This wet food doesn't include grain, corn, wheat, potatoes, soy, or by-product meal and is made in the U.S.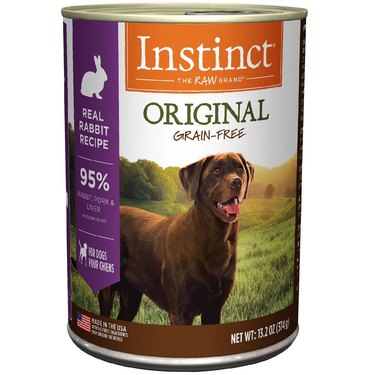 The Best Novel Protein Wet Dog Food
Zignature Limited Ingredient Formula Grain-Free Canned Dog Food, Venison Flavor, 12-Pack
If you're looking for a unique protein for your dog, this wet food lists farm-raised venison from New Zealand as the first ingredient. Its moisture content is 78% to help keep dogs well-hydrated. Vension in rich in vitamin B, which boosts energy levels and metabolism, along with many other benefits. This wet food recipe is a limited-ingredient formula that's ideal for dogs with food allergies—it's free from chicken, corn, wheat, soy, and potatoes.