When bringing a puppy home, it's important to select the right food. Puppies should be fed a diet specifically formulated for growing minds and bodies. In their first year, puppies need about twice as many calories per pound of bodyweight as their adult counterparts. To support your pup's development, you should feed them quality food that's high in protein and rich in key nutrients such as DHA (an omega-3 fatty acid), which improves brain and eye functions. Before we dive into the best puppy foods on the market in 2022, here are a few things to keep in mind as you analyze lists of ingredients and nutrition labels.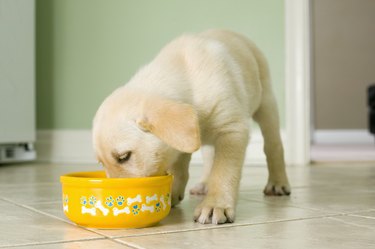 What to Consider When Purchasing Puppy Food
​Size of Puppy​: Different-sized dogs have different nutritional needs and grow at different rates. If you have an idea of how much your dog will weigh in adulthood, you might want to choose a brand that caters to her breed size, complete with right-sized kibble pieces and adequate protein levels. If you're unsure about how much food to feed your puppy and how often, check out this helpful guide.
​Food Type:​ When buying puppy food, consider what type of food you want to feed your puppy as an adult. For example, if you intend to feed a raw or partially-raw diet, or if you intend to feed a certain type of protein or style of food, introduce your puppy to it as soon as they're weaned and ready for solid food (typically after 6 weeks). If you're undecided about what style of food you want to feed your dog in adulthood, it's a good idea to talk with your dog's veterinarian, breeder, or the rescue group about the best options.
​Transition Slowly:​ Ask your puppy's breeder or the shelter/rescue where you adopted him what kind of food he and his littermates have been eating. You don't have to use the same type of puppy food, but it's important to slowly transition your puppy from the formula he's been eating to the new food you'll be feeding him at your house. Transitioning to a new food too quickly can lead to gastrointestinal upset.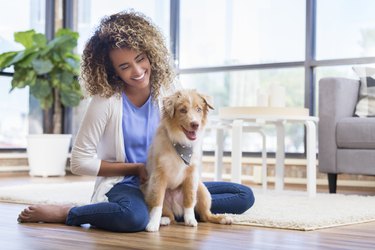 The Best Overall Puppy Food
Our pick for the best overall puppy food is made with wild-caught fish, free-run chicken and turkey, as well as cage-free eggs. This high-protein food (minimum crude protein of 38%) is made of animal ingredients including meat, organs, cartilage, and bone. The recipe prioritizes fresh meat sources and provides puppies with ample protein, vitamins, and minerals to help them grow. Designed to be nutrient-rich, this food also includes fresh vegetables and fruits such as lentils, kale, pumpkin, and apples. A whopping 2/3 of the ingredients are fresh or raw (meaning they're uncooked or gently cooked), which boosts the nutritional content. Plus, the puppy formula is free of gluten, potato, or tapioca. Compared to adult dog food, Orijen Puppy is higher in fat (minimum 20%) and calories (475 calories per 8-ounce cup) to promote healthy growth.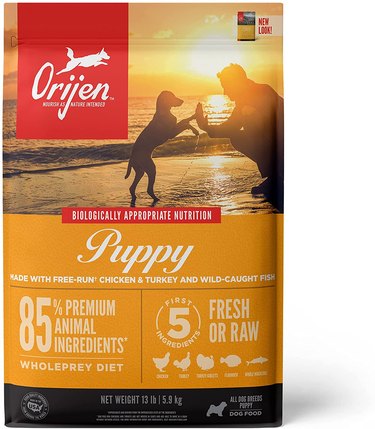 The Best Value Puppy Food
Hill's® Science Diet® Puppy Dry Dog Food - Chicken Meal & Barley
Created just for growing puppies, this food strikes the perfect balance of ingredients and essential minerals. Chicken meal is the first ingredient, followed by whole grain wheat and cracked pearled barley. The recipe also includes DHA, an omega-3 fatty acid from fish oil that promotes the development of lean muscles, as well as brain and eye development. It's made in the U.S. with global ingredients and has a minimum crude protein level of 25%. There are 374 calories per 8-ounce cup. Hill's Science Diet Puppy Dry Food is made without any artificial preservatives, synthetic colors, or artificial flavors, and contributes to a healthy immune system.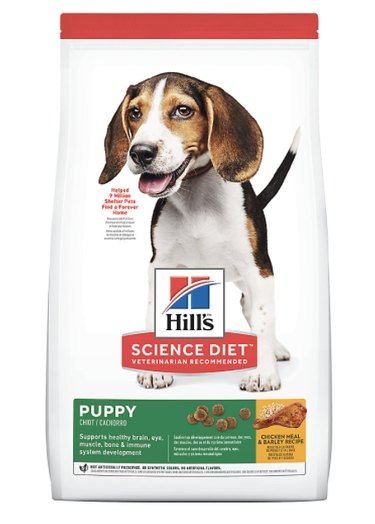 The Best Raw Diet Puppy Food
Instinct Bites Chicken Recipe Grain-Free Cage-Free Raw Frozen Puppy Food, 3-lb bag
This puppy food made with raw ingredients lists cage-free chicken as the primary protein. It's sold frozen to preserve freshness and nutrients. The formula includes beef organs, which support a puppy's healthy muscle growth and development, as well cod that's rich in omega-3 fatty acids. There are also fruits, vegetables, vitamins, and minerals, among them phosphorus and calcium to aid developing teeth and bones. This raw food is made without artificial colors and preservatives and does not include grain, wheat, soy, or corn. This food should be kept frozen until mealtime and served cold. It's surprisingly not as high in protein (minimum 13%) as other brands on this list and has 190 calories per 8-ounce cup, so you may need to feed it to your growing pup more frequently.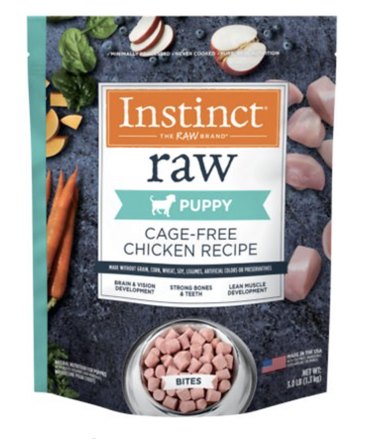 The Best Partial-Raw Puppy Food
Instinct Raw Boost Puppy Grain-Free Recipe with Real Chicken & Freeze-Dried Raw Pieces Dry Dog Food
If you're not yet ready to switch your puppy to an all-raw diet, here's a convenient way to introduce them to raw ingredients. This kibble includes a 'raw boost' with freeze-dried raw pieces of meat. The freeze-drying process locks in flavor and nutrients, and best of all, your puppy is provided with bites of real meat in each serving. The first ingredient in this dry food is cage-free chicken, but there are other animal protein sources such as turkey, fish, and lamb meal. Overall, it's high in protein at a minimum of 34% and contains 504 calories per 8-ounce cup. The kibble also includes natural DHA for eye and brain development. It's made in the U.S. without grain, corn, wheat, potato, soy, by-product meal, artificial colors or preservatives.
The Best Puppy Food for Sensitive Stomachs
Taste of the Wild High Prairie Puppy Formula Grain-Free Dry Dog Food
This grain-free puppy food is created with novel proteins, aka those not commonly found in commercial puppy food, for puppies with protein allergies or sensitivities. Combining water buffalo and bison meat with real fruits and vegetables, this grain-free puppy food is easily digestible. It's high in protein (minimum 28%) and calories (415 calories per 8-ounce cup) to support your pup's growing bones, joints, and development of lean muscles. Taste of the Wild's puppy food also has essential minerals chelated with amino acids, which help with absorption. It's made in the U.S. using 'trusted and sustainable' local and global sources. Plus, the recipe is free of grain, corn, wheat, artificial flavors, or artificial colors.
The Best Large Breed Puppy Food
Wellness CORE Large Breed Puppy Food - Natural, Grain Free, Chicken & Turkey
Specific to the needs of growing large breed puppies, this formula combines proteins like chicken and turkey with nutrient-rich superfoods including blueberries, kale, sweet potatoes, and spinach. It supports healthy slow growth and development for the biggest of puppies by bringing together DHA from salmon oil to encourage healthy brain development and antioxidants to boost your puppy's immune system. Additionally, the recipe contains calcium and phosphorus to encourage proper bone and muscle development. The minimum protein content is 35% and each 8-ounce cup has 387 calories, contributing to lean body mass and muscle tone development. The kibble also boasts omega fatty acids for a lustrous coat and supple skin. It's made without any meat by-products, fillers, or artificial flavors or preservatives.
The Best Small Breed Puppy Food
Merrick Classic Healthy Grains Dry Dog Food with Real Meat
This healthy dog food was developed specifically for small breeds. Although it's not puppy food per se, it has a minimum protein level of 27% and contains 404 calories per 8-ounce cup—both perfectly adequate for growing pups. The recipe lists deboned chicken as the first ingredient and is combined with healthy grains including brown rice, barley, and quinoa. Added glucosamine and chondroitin promote joint and hip health. This dry food is made without peas, lentils, and potatoes, and touts omega-6 and omega-3 fatty acids, resulting in a healthy coat and skin. Made with bite-sized kibble to make eating easy and comfortable for small dogs—including puppies—the food is cooked in the U.S. using quality-assured global ingredients. It's currently sold in 4-pound or 12-pound bags on Amazon.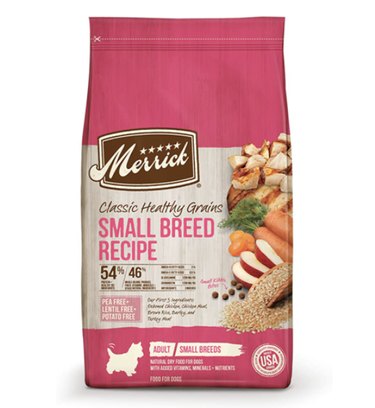 The Best Toy Breed Puppy Food
Royal Canin Size Health Nutrition X-Small Puppy Dry Dog Food
Developed for extra-small puppies up to 10 months old, this food is specifically made for puppies whose adult weight is anticipated to be under 8 pounds. It's specially formulated to meet the high-energy needs of extra-small puppies. Providing tiny puppies with the nutrients needed during the short but intense growth period, this formula supports their overall growth and immune system health. The tiny kibble pieces make it easy for toy breed puppies to enjoy their meal and are comfortable on their mouths, teeth, and jaws. This puppy food is made with prebiotics that aid digestion and encourage a 'balanced intestinal flora' to produce healthy stools.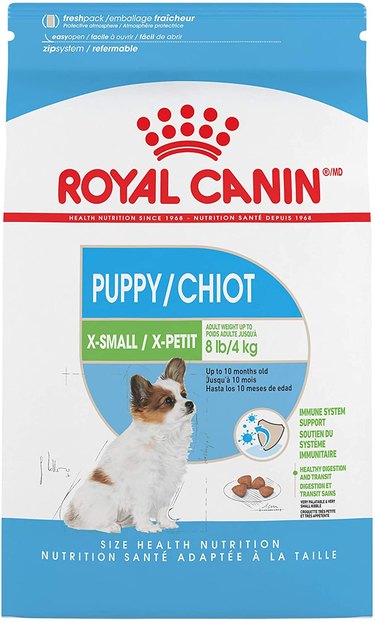 The Best High-Protein Puppy Food
Blue Buffalo Wilderness High Protein, Natural Puppy Dry Dog Food
Edging out Wellness' large breed puppy food by a single percentage point, Blue Buffalo's protein-rich puppy food has a minimum of 36%. It's got deboned chicken as the number one ingredient, as real meat encourages healthy muscle development for growing puppies. This puppy food includes DHA and ARA, the same fatty acids that are in a mother dog's milk. These fatty acids bolster cognitive and eye development. The recipe also features a blend of antioxidants, vitamins, and minerals to improve your puppy's immune system. The texture of the cold-formed kibble helps to naturally remove tartar on a puppy's teeth. This formula is made without any poultry by-product meals, wheat, soy, corn, or artificial preservatives or flavors. There are 428 calories per 8-ounce cup.