Have you ever tried clicker training with your dog? Clicker training is a popular and effective positive reinforcement training approach. A clicker is small and typically has a plastic exterior with a metal strip inside. When pressed, it makes a clicking sound. The click on its own isn't magical, rather it's a signal that is very effective for teaching dogs (and other animals) new skills. By pairing the consistent sound of the click with a reward like a high-value treat, the dog will quickly make the connection that whatever they are doing at the exact moment when they hear the click is a behavior that is desirable.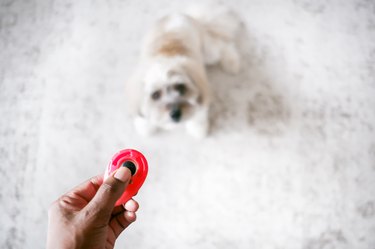 Behaviors that are reinforced are more likely to be repeated, which makes clicker training effective for teaching dogs new behaviors, including very complicated skills. Clickers work by creating a clear and consistent sound that dog owners can use to mark when a dog performs a wanted skill or desired behavior. Incorporating clicker training in your training sessions is an easy way to mark and reward good behavior, help dogs learn new tricks, and master obedience training.
What to consider when purchasing a clicker
‌Sound Sensitivities:‌ Although most dogs quickly make the connection that the sound of the clicker means a reward is coming, for particularly sound-sensitive dogs, clicker training can be challenging. For dogs with sound sensitivities, it's a good idea to use a clicker with an adjustable volume. This allows you to start with a low-volume click that the dog won't find upsetting.
‌Comfort:‌ It's important to find a clicker that is comfortable for you to hold in the palm of your hand, carry, and use. Depending on hand strength and dexterity, some people find certain styles of clickers more comfortable than others. In general, clickers with a raised button are easier for people with different physical abilities to press than box-style clickers. Box clickers tend to be a little louder, so it all comes down to your personal preference for the sound and feel of the clicker, and how your dog responds to it.
‌Style:‌ If you do a lot of training on the go, you may want to purchase a clicker that can be worn on your hand like a ring, or one that has a wrist strap. Being able to comfortably wear a clicker will help keep your clicker accessible while you are out on walks.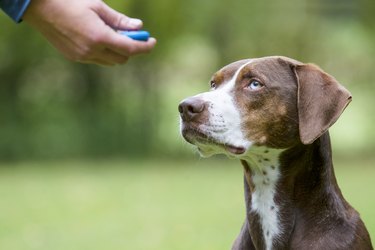 The best ergonomic clicker
This one-handed clicker features a unique ergonomic design. The clicker has a built-in ring with a silicone clasp that expands or contracts to fit most finger sizes. There's also an adjustable wrist lanyard that makes the clicker easy to wear and prevents you from dropping it during training sessions. The button is raised, so you won't need to look down at the clicker to find it. The sound of the clicker isn't super loud, so it's a solid choice for dogs who are sound-sensitive. The clicker is sold in black or red.
The best clicker for beginners
Available in black, blue, or teal, this basic clicker is ideal for starting clicker training with your dog. The clicker produces a loud, clear sound when pressed. The clicker's bulb shape is comfortable to hold in your hand and it features a large, raised center button that is easy to press while training. This clicker also comes with a bungee that can be worn around your wrist or attached to a treat pouch for use on the go. Depending on which color you choose, you can purchase it in a count of one or two.
This classic box clicker produces a clear, loud click sound. It's distinctive, which is useful if you're training in a public space or with a group. The clicker comes in a pack of two—one red and one lime green. This clicker has a durable design with an internal metal clicker. It's easy to hold, and the bright color makes it easy to find in your purse or training bag. The clicker has an attached key ring, which can be attached to your keys, treat pouch, or lanyard.
The best clicker for sound-sensitive dogs
Ideal for sound-sensitive dogs, this clicker has built-in volume/tone control. Simply slide the tab on the back of the clicker to select one of three volume levels. The lowest setting is quiet and less startling, the middle is considered 'normal,' and the highest is quite loud. This clicker is comfortable to hold and has a raised thumb button for ease of use. It comes with an elastic wrist strap (so you're less likely to drop it while training) and a multipage guide for getting started with clicker training.
The best wearable clicker
If you're looking to treat yourself, this clicker ring is small, compact, stylish, and comfortable to wear. The clicker is available in colors red, blue, gray, purple, pink, and lime. The clicker is adjustable and fits onto your finger like a ring that can be worn while training or just out for a walk with your dog. It comes in sizes small, medium, large, and extra-large, so be sure to measure your finger with a ring sizer, or a piece of string or paper, before making a purchase (there are different charts for each method). This hands-free design is especially convenient for dog owners who struggle to hold onto or keep track of a clicker while training. It produces a nice, medium-volume clicker sound.
This affordable clicker has it all. It comes with an elastic finger strap, allowing the clicker to be worn as a ring, and a plastic loop that can be connected to wristbands, keys, or lanyards for easy access. This clicker produces a clear, medium-volume click, and has a raised button that's easy for your finger to find and press. The clicker comes with an introduction to clicker training guide to help dog owners get started with clicker training. The only drawbacks are that it's a bit clunky and the sound is a bit quiet for use in training classes, but the price is hard to beat.
The best multipack of clickers
Once you start clicker training, you can never have too many clickers! This pack of seven clickers allows you to have a clicker anywhere and everywhere you need one—in the pockets of your coats, inside your car's glove box, or attached to your dog's leash. These clickers are durable and brightly colored, making them easy to find and use. Each clicker has an attached keyring and a wrist bungee, and emits a soft, consistent click sound that's suitable for sensitive dogs. These clickers are lightweight and comfortable to hold with a raised button that can be pressed with your palm or thumb. These clickers are rust-free and hardwearing and the sound they make is even tolerable for some cats.
The best target stick with clicker
Looking to do some advanced training with your dog? This retractable target stick has a built-in clicker on the handle. The target stick telescopes from 6 to 23 inches. The target stick helps your dog learn complicated behaviors and the built-in clicker allows you to mark that behavior without having to hold a separate clicker. It has a raised button that is easy to find and press, and there's an included belt clip. The clicker stick also comes with a training guide to help you and your dog on your training journey.