Are Canada's national parks dog-friendly? Yes, most of the Canadian National Parks, run by Parks Canada, allow dogs. The parks allow dogs for both day visits and overnight tent, trailer, and backcountry camping — with restrictions. There are 38 official national parks open to visitors across Canada, 10 additional park reserves, and several historical sites.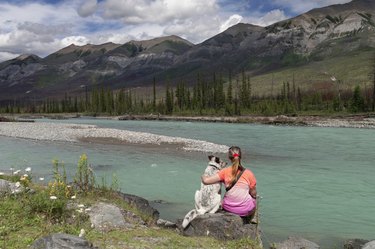 Dog-friendly national parks are in every province and territory of Canada. They make up a total of 3.3 percent of the country's landmass. The west coast province of British Columbia holds the record for the most national parks. Though the most popular national parks — Jasper and Banff — are in Alberta.
Dog-friendly Canadian national parks
Why does Parks Canada permit dogs on site when other national parks do not? The answer is visitor demand. According to Sophie Borcoman, visitor experience manager for Parks Canada, the Canadian national parks are always looking for ways to expand their markets and types of visitors. She notes that includes multi-generational travelers, the LGBTQ community, and pet people. It's all about being inclusive, and that includes those traveling with dogs. Parks Canada responds to the needs of all of their visitors.
Pet-friendly backcountry camping
Park policies have evolved with the times, particularly with the ways people define family and go on a family vacation. Accommodating dogs and their people at Canadian national parks are a part of that evolution. Not only are most Canadian national parks dog-friendly for day visits, but opportunities for camping with your dog have also expanded over the past several years.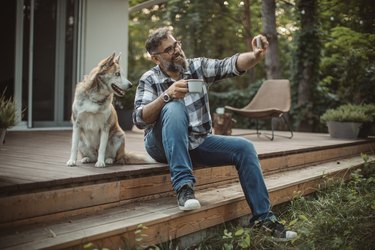 Dogs are usually allowed for backcountry camping (deep in the woods, off the grid) and at select tent and trailer sites throughout the parks. Most Canadian national parks offer pet-friendly backcountry camping sites. This is rugged or remote camping usually in an isolated spot. They require a significant amount of self-reliance since there is no water source or electrical hookups on location.
Parks Canada has pet-friendly accommodations
Recently, as Parks Canada has added unique "glamping" options, the list of dog-friendly accommodations grew too. For instance, unique to Parks Canada is the oTENTik, a combination A-frame cabin and tent complete with bunk beds, table, and chairs, deck, and firepits. Several Canadian parks have designated select oTENTiks to be specifically dog-friendly. One of them is the pet-friendly oTENTik number 408 at Kejimkujik National Park in Nova Scotia, Canada. The doors and windows of oTENTiks are secure, so there's no risk of losing your dog at night.
Dog-friendly hiking trails and more
Leashed dogs are permitted on most of the 22 miles of trails through the park. However, some of the trails are also shared by cyclists. As a recommendation, trails and shorelines are locations where people with dogs should spend most of their time. True to most national parks, dog-friendly hiking trails range from short and easy, looping back to a starting point, to more challenging and longer routes.
Another activity many Canadian national parks offers is canoe and kayak rentals. Dogs who are confident on the water are welcome to ride along in a canoe. Outfitting your dog in a canine lifejacket is recommended, especially when venturing outside of shallow rivers.
Kejimkujik National Park in Nova Scotia has pet-friendly locations
On the east coast of Nova Scotia, you'll find the Kejimkujik National Park and Historic Site. This park is the country's third most popular — based on the speed at which the campsites sell out on the first day of booking season. Kejimkujik also has a high number of dog-friendly options: 22 miles of on-leash trails, a waterfall park, a dog beach, pet-friendly glamping accommodations, and canoe rentals — that permit your dog on board.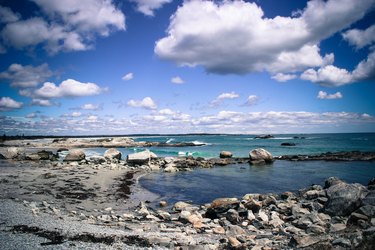 Kejimkujik has a 3.2-mile trail winding through an ancient Hemlock Forest. Also at Kejimkujik, one-third of the main beach is designated for people and their pets, but dogs must stay on a leash even on the dog beach. Not all Canadian national parks have dog beaches (or beaches at all), but those that have been established were done so in response to visitor requests. According to Parks Canada, some visitors preferred areas free from dogs, while others with dogs are more comfortable enjoying the shoreline with their pups away from young children.
The Mi'kmaq petroglyphs are open to small groups of people only
It's understandable why the 155 square mile Kejimkujik National Park is popular in Nova Scotia. Kejimkujik has important cultural significance for the First Nations Mi'kmaq people. The indigenous Mi'kmaq people's petroglyphs are hundreds of years old and are a draw for visitors to the park. Petroglyphs are small etchings on rocks around the park, but they are restricted to prearranged tours only. To protect the site, it is only open to small groups of people — no pets are allowed at this location.
Leash dogs at Canadian national parks
Of course, there are rules when bringing your pup to any Canadian national park. This applies either for the day or for an overnight stay. As a rule, dogs must remain on a leash no more than nine feet long while at any of the Canadian national parks. According to Parks Canada, free-running dogs can trigger aggressive behavior from wildlife such as coyotes and even deer. Dogs can also inadvertently kill or damage protected species and habitats if they are not under control.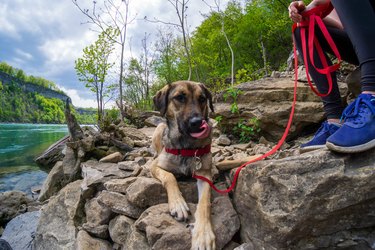 Dog waste must be picked up and put in garbage bins with controlled lids. Most parks have dog bag dispensers on the grounds. Dogs are not allowed to be left unattended at campsites, in cars, or in other accommodations. This also includes in the oTENTiks. Finally, consider your dog's limitations when selecting hiking trails. Several advanced hikes require rock climbing or can be very long routes. Bring water for both you and your dog.
Pet-friendly booking with Parks Canada
If camping in a dog-friendly Canadian national park appeals to you, note that sites book up quickly, in particular pet-friendly accommodations like oTENTiks, which are at most parks. However, cancellations are common — park staff recommends you check with the park regularly to see if sites become available. Weekdays are slightly less busy than weekends during the summer season.