Ready to spend some time outside with your dog this summer? You might want to get them dressed! Appropriate summer clothing and accessories, including sun shirts, cooling vests, and goggles, can help keep your dog comfortable and protect them from the sun's harsh rays. These outfits can help prevent sunburn and keep your dog's fur and skin safe from sun damage—something that's especially important for hairless breeds and breeds with short, thin coats. Sun-protective clothing can also be worn under a harness or a life jacket when your dog is in the water.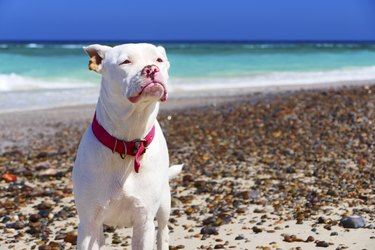 What to consider when purchasing sun-protective dog clothing and accessories
‌Temperature:‌ It's important to keep dogs cool in the summer. Overheating can be dangerous for their health, leading to heat exhaustion, heat stroke, or even death in extreme cases. Although sun-protective clothing and accessories can make your dog more comfortable and protect them from harmful sun exposure, these items are not a replacement for keeping your dog out of the heat. These outfits also should be paired with dog sunscreen to protect a dog's nose and other sensitive skin if they will be in the sun.
‌Fit:‌ Pay close attention to size charts before ordering sun-protective clothing or accessories for your dog. You may need to whip out the soft measuring tape to measure their chest girth or back length. Select the most appropriately sized outfit, making sure that your dog still has a full range of motion in whatever they are wearing.
‌Introductions:‌ Be thoughtful when introducing your dog to any outfits or accessories. Start slowly, first letting your dog just investigate the outfit. Then when it's time to get dressed, go at your dog's pace, pairing the clothing item with praise and treats to create a positive association with the outfit. If your dog seems uncomfortable, remove the clothing immediately.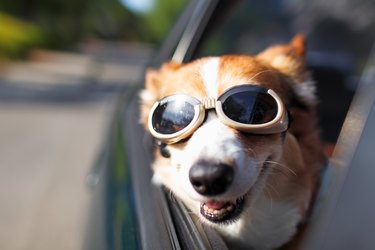 1. Gold Paw Sun Shield Dog Tee
This protective sun shirt blocks over 98% of the sun's UV rays. Available in eight colors and 21 size options, the lightweight shirt has ventilation to keep dogs comfortable even in hot weather—perfect for dogs with dark coats or those recovering from surgery. The machine-washable sun shirt is made with recycled materials so you can feel good about helping the environment while protecting your dog. It's also designed with four-way stretch fabric, giving your dog freedom of movement and making it easy to put on and take off.
2. Louie de Coton Sun Shirt for Dogs and Cats
Made in Seattle, this Louie de Coton cooling shirt with UPF50+ helps protect dogs from the sun, overheating, and pesky insects. It's also a solid choice for dogs with wounds or surgery stitches that need to be covered. The vest has 3M reflective strips along the shoulders to help keep your dog visible at night or early in the morning. The shirt is available in sizes 3XS to 6XL to fit dogs of all sizes. There are also four different color combinations to choose from.
3. Frisco 30+ UPF Dog and Cat Beach Rash Guard
Available in sizes extra-small to extra-extra-large, this pullover beach rash guard helps block up to 98% of harmful UVA and UVB rays while your dog is playing outside. It's lightweight and made of a breathable polyester/spandex blend to keep your pup cool. The pullover design doesn't include any hook-and-loop fastener, allowing it to stay on in the water, but this means that it might not be suitable for fussy pets. The bright yellow shirt with a white, marble-like print also makes it easy to spot your dog while you're out and about.
4. Sychien Dog Quick Dry Shirts, 2-Count
If you live by the water or your dog just spends a lot of time outdoors during the summer months, you might want to invest in a two-pack of sun shirts so you always have one that's dry and ready for your dog to wear. These quick-drying shirts are made of 95% polyester and 5% spandex, meaning they're lightweight, breathable, and have high elasticity. They claim to offer UV protection, although the actual amount is not listed. The shirts come in sleeveless and short-sleeve options, both with high-cut bellies that make it easier for dogs to pee. There are multiple colors and delightful patterns including Hawaiian, leopard, and zebra. Choose from sizes 2XS to 3XL—just be sure to follow the sizing instructions closely. If your dog is between sizes, it's recommended to size up.
5. Rex Specs V2 Dog Goggles
These dog goggles are made specifically to fit a dog's face and provide protection for their face and eyes. Beyond shielding your dog's eyes from the sun, they're great for trail debris and dusty air. Rex Specs V2 Dog Goggles have a curved lens that offers better peripheral vision. They also have fully adjustable strap systems, shatterproof polycarbonate lenses, and durable frames. The goggles are even suitable for highly active dogs, whether they're joining you for a swim, hike, or backcountry skiing. However, even if your dog isn't ‌that‌ adventurous, the goggles are designed to be impact-resistant and block harmful UV rays.
6. PlayaPup Dog Sun Shirt
This rash guard-style shirt is available in a variety of fun summer colors and patterns—think flowers, turtles, manta rays, and shark camo. The sun-protective shirt blocks 98% of UVA and UVB rays and is made in the United States. It's got a pull-over design with short sleeves, a long back for added protection, four-way stretch fabric, and lock stitching to help prevent chafing. The shirt comes in sizes 2XS to 4XL to fit a wide range of dogs. It's comfortable for dogs to wear while playing in the water or on land.
7. Pawaboo Dog Baseball Cap
If your dog will tolerate wearing a hat, this baseball cap has a wide brim to shield their face and eyes from the sun. It's a fun yet practical summer accessory with an adjustable neck strap and two ear holes at the top. The baseball hat has a water-resistant Oxford fabric outer layer and a 100% cotton lining, making it suitable for everyday use. It's sold in seven colors, including a floral design, and four sizes ranging from small to extra-large.
8. Hipetime Dog Cooling Vest
If you're looking for a cooling vest, complete with UV-reflecting capabilities for good measure, this is the one to get. The pull-over shirt comes in four different sizes and is made specifically for small and medium-sized dogs—reviewers say it runs small, however, so it's important to measure your dog and consult the sizing chart before clicking 'add to cart.' It's made with microfiber, which helps accelerate evaporation and reflect heat. The cooling shirt is also lightweight and well-ventilated. On really hot days, you can soak the cooling vest in cold water, wring it out, refrigerate it for 10 minutes, and then put it on your dog. The vest is machine-washable for easy cleaning and highly reflective for better visibility.
9. Pet Life Active 'Aero-Pawls' Heather Tank Top
Designed with four-way stretch, this sleeveless pullover shirt offers dogs a comfortable and personalized fit. The Pet Life Active 'Aero-Pawlse' shirt boasts quick-drying technology that helps to wick away moisture and maintain your dog's body temperature. It's also equipped with anti-odor technology to prevent that unpleasant wet dog smell. The tank provides UV protection (although the exact amount isn't listed) and has reflective stripes for greater visibility. The top layer of the shirt is made with microfiber, and the bottom layer has perforated and breathable panels for better ventilation. Choose from eight colors and sizes extra-small through extra-large.
10. Doggles Originalz Dog Goggles
These dog-specific goggles are made with shatterproof polycarbonate lenses. The lenses tout 100% UV protection and anti-fog technology. Doggles were developed to provide a comfortable fit for breeds with deeper-set eyes like bulldogs. They have an adjustable chin and head strap to keep the goggles properly secured on your dog's face. At the time of publishing, Amazon sold the goggles in size large, while the manufacturer, Doggles, carried them in sizes extra-small and medium. Not only are they stylish, but they're also a great way to protect your dog's eyes from sun, wind, and water.